During the pandemic, our community experienced widespread lockdowns to help keep us safe and minimize the spread of COVID-19. Unfortunately, because of these changes, particular community services were threatened in their ability to continue to serve people in need. The Thurston County Food Bank is an essential part of our community and works hard to keep any person from going hungry. Development Director Judy Jones shares how their team of staff and volunteers pulled together to develop new ways to get people the food they needed even through the recent crisis.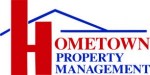 Judy has been doing nonprofit work for 35 years. She attributes this career choice largely to the way she was raised and the values she adopted from a young age. "My parents were great role models in being conscientious about taking care of the community and investing in it," she shares. "I really learned about the importance of thinking of others, even before ourselves." Her father was a social worker and her mother was an activist, so she grew up with the core belief that it is our responsibility to help each other.
Judy attended University of Wisconsin before transferring to The Evergreen State College to finish her degree in social work. The first nonprofit she worked for was the Boys & Girls Clubs of South Puget Sound, where she stayed for almost 20 years. As the branch manager, she adopted all sorts of transferrable skills to other nonprofit organizations. "It really lent itself to being in operations and having a team when I moved to the Thurston County Food Bank," she says. More importantly, Judy found great fulfillment and satisfaction working in this sector, and feels grateful to have this in her role at the Food Bank. "It is just such a rewarding feeling," Judy adds.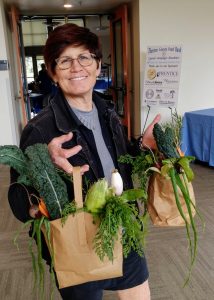 As of September, Judy will have been with the Food Bank for 11 wonderful years. She originally started in a volunteer coordinator position and was responsible for securing an ongoing workforce to help process, sort and distribute the food. Five years later, she was promoted to operations manager of the downtown Olympia facility and handled everything the facility needed. After 2.5 years, Judy moved into her current role as development director and works at the Tumwater warehouse handling donor cultivation, grant writing, and identifying resources locally, regionally and nationally.
In every role Judy has had, she has found one common thread through it all. "The unifying factor in feeding people can be inspiring," shares Judy. "It is powerful to me to see how the mission of giving everyone access to food could bring everyone together." The team is very diverse, coming from all different walks of life, ethnicities, educational backgrounds, ages and experiences. This has really opened Judy's eyes to the impact of the work she does. "We are all here because we believe feeding people is the right thing to do," she says. "Everyone deserves to have food."
Serving Through COVID-19
When the pandemic hit, there was immediate concern for how people in need would continue to get the food they relied on every week. People were no longer allowed to come down to shop due to the new restrictions. Despite this obstacle, the Food Bank hasn't skipped a beat. "We have been and continue to be responsive to the needs of our community," Judy says. In order to support senior citizens that relied on the food, the Food Bank adopted a home delivery service and has been providing food to 500 seniors a month. "We didn't know we could do that," Judy says. "We now deliver to 500 seniors every month and will continue this program into the future."
Many other people in the community depend on the food provided by the Food Bank, but were unable to shop due to the new guidelines. "It is unrealistic to believe that everyone can come to one of our distribution centers to get food," Judy says. "COVID drove that point home." To continue to serve the community, the Food Bank started doing pop-ups where they would set up for the day. The pop-up model is used during emergency response plans, so it made sense to start implementing that during the pandemic. "At the peak of COVID we had 5 different pop-up sites throughout the county," Judy says. "People have been overwhelmingly grateful to get food, and that felt great."
The Food Bank plans to continue these programs even though they have reopened for walk-in service at all of their locations, including their newest site in Lacey that opened in April. They are currently using a hybrid shopping model in Lacey to allow for prebuilt bags and some selective shopping for community members. "So far it is working well," Judy says. "It is a modified experience as we work our way back toward a full shopping model."
Thanks to continued contributions from the community, such as grocery stores, retailers, and farms, they have been able to provide food to every person. Judy is so grateful for these partnerships as they have helped keep the mission of the Food Bank alive.
Through it all, Judy has been impressed and thrilled with the support from the community, especially the volunteers and staff that worked through the pandemic to keep people fed. "It was never about if we could continue to serve, but about how," she says. Through a collective effort, Judy feels they have truly been stronger together.