For many, September 1 means fall! We dust the moth balls off the sweaters, and start dreaming of pumpkin pie and pumpkin spice lattes. It also means trips to the pumpkin patch and favorite haunted houses. As you look for fun things to do as the weather turns frosty, check out these fall activities in Olympia and surrounding areas.
NorseWest Viking Festival
September 11: 10 a.m. – 6 p.m.
September 12: 10 a.m. – 4 p.m.
Wilkowski Park
Rochester Street SE, Rainier
It's the "Year of Ragnarock" at the annual NorseWest Viking Festival in Rainier. There will be local food vendors and a beer garden so you can eat and drink your fill. Then, burn off all those calories by dancing with your favorite shieldmaiden or Norse warrior. Tradesmen will be on hand to not only show off their craft, but show you show they do it! From forging and weavers to handmade jewelry artists and stone masonry, it's something you don't want to miss. Shop dozens of other local vendors as well. For kids there is an entire area with activities and face painters. Look for Viking reenactors through out the festival. And be sure to stay for the music from 6 p.m. to 9:30 p.m. Saturday night. For more information, visit the NorseWest Viking Festival website and Facebook page.
Northwest Glass Pumpkin Patch
September 11: 9 a.m. – 5 p.m.
Farm 12
3303 #B 8th Ave SE, Puyallup
October 23 9 a.m. – 3 p.m.
Pioneer Park Pavilion
330 S Meridian, Puyallup
The Northwest Glass Pumpkin Patch tour is something you do not want to miss if you are looking for unique fall decorations. Whether you are looking for the perfect enduring pumpkin for yourself or a loved one, these glass gourds will never rot and can stay in your house all season, and year after year. As always, admission is free and each event is rain or shine. There will be anywhere from 1,000 to 2,000 glass pumpkins at each event that have been hand-blown and are one-of-a-kind. While they are not returning to Lacey this year, it's worth the drive to Puyallup to check them out.
Howl-athon
September 25: 5 p.m.
Wolf Haven International is having their Howl-A-Thon again this year, in lieu of their in-person Wolves & Wine event. it's promised to be a night of brand new videos and photos of the wolves you love, as well as interviews with your favorite Wolf Haven humans! Fun and fundraising for the wolves you love. Event will be streamed live via YouTube. Got to the Wolf Haven website for more information.
Children's Day
October 2: 11 a.m. – 2 p.m.
Huntamer Park
618 Woodland Square Loop SE, Lacey
Kick fall off with a fun, free, family-friendly event in Lacey! The City of Lacey's Children's Day is full of fun games, activities, arts and crafts, food, entertainment and more! The 2021 event is superhero themed, so come dressed in your favorite cape and mask! The event is held rain or shine. For more information visit the City of Lacey website.
BOO-CODA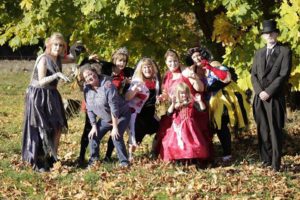 October 1-31
Bucoda
Nothing kicks off the Halloween season like a trip to BOO-CODA (Bucoda)! Their month-long Halloween Spook-Tacular includes all kinds of family fun! There will be some of the best haunted houses in Washington State open every Friday and Saturday night from approximately 7 p.m. (dark) to 11 p.m., On October 27,28 and 31 it will be open 7 p.m. (dark) to 10 p.m. There will also be many other family-friendly activities throughout the month! For more information visit the BOO-CODA website.
Olympia Fall Arts Walk
October 1-31
Downtown Olympia
The Olympia Fall Arts Walk has expanded from one weekend to a month-long celebration of local artists. It's a great time to get out and see all the good things Downtown Olympia has to offer while celebrating the talented local artists that call our area home. There will be arts, demonstrations and performances throughout the streets of Downtown – be sure to pop into the locally owned shops and restaurants as you wonder through. For more information visit the new Arts Walk Olympia website.
My Morbid Mind Haunted House
October 2: 7 p.m. – 10 p.m.
October 8-9: 7 p.m. – 11 p.m.
October 15-16: 7 p.m. – 11 p.m.
October 21: 7 p.m. – 9:30 p.m.
October 22-23: 7 p.m. – 11 p.m.
October 24: 7 p.m. – 9:30 p.m.
October 27-28: 7 p.m. – 9:30 p.m.
October 29-30: 7 p.m. – 11 p.m.
October 31: 7 p.m. – 10 p.m.
Kids Walk Thru October 30 and 31: 5 p.m. – 6:30 p.m.
4548 Marvin Rd SE, Olympia
360-455-3330
If it's not Halloween until you have jumped and shrieked in good fun, then you need to make plans to visit Olympia's premier haunted house, My Morbid Mind Haunted House. One of the best haunted houses in Washington State, My Morbid Mind is 5,000 square-feet of macabre thrills and chills! Find real live actors, props, special effects and a separate 3D Experience that gives you two haunts for the price of one! There is popcorn, soda and candy available for purchase. This event is recommended for brave kids 12-years-old and older. Special kids walk-thrus happen on October 30 and October 31 only. During these events the lights are turned on and the event is aimed at being family friendly, where the monsters hand out candy instead of scares! Buy tickets in advanced. For more information visit the My Morbid Mind website or their Facebook page.
Have a fun fall event or activity you want added to the list? Email submit@ThurstonTalk.com.