While you may lament the end of summer, fall is actually a wonderful time of year to hit the kitchen and create some healthy, homemade staples to keep your family full and happy all winter long. Feeling short on skills or inspiration? The Rolling Pin in Olympia has everything you need to add some homemade meals to your weekly routine, including the how-to! This fall, step into the kitchen and create healthy meals everyone will love—even those with food sensitives or allergies—thanks to The Rolling Pin.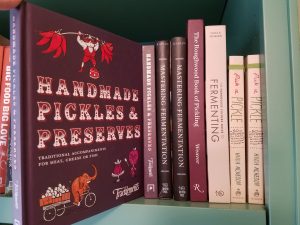 September Food Demonstrations
Kick start your fall cooking, baking and preserving with The Rolling Pin's professional food prep demonstrations! Every Sunday in September they will have a different demo from 1 p.m. to 2 p.m. that is sure to boost your healthy eating habits, and taste good too! Tickets are just $10 each and include a 15% discount on items purchased at the time of the event, so you can make sure you have all the supplies needed to practice your newly learned skills!
September 5: Fermenting Foods for a Healthier Microbiome
Ever wondered about the process of fermenting? Or why it's so good for you? Cathy Visser is going to unveil the mystery at the "Fermenting Foods for a Healthier Microbiome" food demo. Throughout the hour-long talk, she will explain the benefits of prebiotics and probiotics and how to add them to your diet. And of course, since they are all about cooking, the demonstration will show you how to ferment at home! "We will demonstrate a quick and simple veggie brine fermentation that you can make at home," says Alicia Elliott, owner of The Rolling Pin. "We'll also make a fruit shrub or sipping vinegar."
September 12: The Art of Gourmet Noodle Making
Who doesn't love noodles? And as the weather turns cooler, we all look for a bit more carbs and starches. Have a gluten sensitivity? Don't worry! This class will include both gluten and gluten free homemade pastas! Joanna Lopez will demonstrate three different types of pasta making: a classic hand cut wide egg noodle, a simple vegan fettuccine noodle using a pasta machine, and a gluten free pasta dough. Joanna will also cover important information on the different flour types, safety tips when working with ingredients and equipment, and how to troubleshoot if things go wrong.
September 19: How to Can Salsa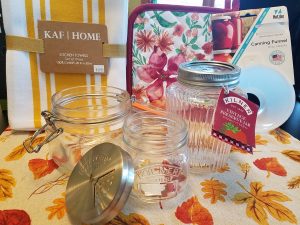 Have an overabundance of goodness from your garden that you can't possibly eat before it goes bad? Canning is the answer! And while you have probably thought about canning peaches or pears, you may not have thought of canning something as simple and delicious as salsa! There is nothing like fresh salsa, and if you attend this demo, you can have fresh, homemade salsa year-round! Cathy Visser will be teaching you how to make a tomato-based salsa. Learn when you need a pressure cooker versus a water bath canner. "We will demonstrate the basics of salsa making and show you the simple equipment you need," shares Alicia.
September 26: The Rustic Loaf – Getting Started with Homemade Bread
I can smell the warm, homemade bread, fresh from the oven, just reading the title of this mouth-watering demo. Once you have had fresh bread, you will never want to buy store-bought again. Sourdough is a favorite of many, with good reason, but it can be tricky! Let Joanna Lopez take the mystery out the important sourdough starter in this demonstration. After the starter, learn the steps to make a rustic, crusty round loaf – from start to finish. "I'll also go over a variety options of tools people can use for bread making, the differences with sourdough and commercial yeast, types of flours most commonly used for bread, food safety, and common problems that can happen in the process and how to correct them," says Joanna.
Once you take this class, you will be looking for reasons to make bread! If so, check out Community Loaves, a group that makes sourdough bread for those in need. Your new-found skills will be a welcomed addition to their volunteer circle.
Stock Your Pantry at The Rolling Pin
Don't forget to use your 15% discount from the demo to stock your pantry with everything you will need to welcome fall, including items to try out your newly found skills from the demonstrations. "The Rolling Pin stocks all the equipment you'll need to get started canning and pickling your fall harvest from home," shares Marty Lauer, The Rolling Pin manager. "We carry plenty of glass jars, canning funnels, sieves, spice bags, picking cookbooks, and even full-on fermentation kits. All of these products are reusable year to year, and they are sure to make your first batch of home-made pickles both easy and fun!"
Be prepared for Halloween and fall festivals with items like autumn-themed placemats, kitchen towels, Swedish dishcloths, along with other kitchen and dining room utensils and décor. Check back each week as new items arrive! Then, get ready for a bunch of hocus pocus with Halloween-themed cookie cutters including ghosts, pumpkins, bats and skulls. "Plus, we have plenty of fun shapes that could match a costume party such as robots, dinosaurs, unicorns and more," Lauer adds.
Need to get your knives sharpened? "While The Rolling Pin no longer offers our Knife Sharpening Service, you can always call or stop in to ask our staff about any knife-care or blade-handling questions you may have!" says Lauer. "Plus, if your blades are still in need of a sharpening, just ask our staff for their best recommendation on where you can get your knives sharpened in the Thurston County area!"
The Rolling Pin is your one-stop fall canning, fermenting, pasta-making extravaganza, so don't miss out! They are open Tuesday-Saturday 10 a.m. to 4 p.m. to serve you. Visit them online anytime on The Rolling Pin website. And don't forget to buy your tickets to the Sunday demos as they are sure to fill up fast!
The Rolling Pin
1909 Harrison Ave NW Floor 2, Olympia
360.754.3955
Sponsored