Submitted by Gateway Rotary
Dead Lee, a folk duo from Portland, Oregon, is comprised of Brian Koch (current and founding member of Blitzen Trapper) and singer-songwriter Kara Harris. The duo represents a mutual love of the darker folk and country traditions. Don't miss Dead Lee live at the 9th annual Brats, Brews & Bands Festival in Lacey on September 11, 2021.
"It's hard to think of a more welcome antidote to the challenges and difficulties of the last year than hanging together in the sun, eating brats and drinking brews to the sounds of live music," shares Brian Koch of Dead Lee.
Expect this event for adults 21 and over to sell out. Tickets are $25 in advance with 5 drink tastes, and $30 at the door. From 2017 to 2019, the BBB doubled in attendance annually from 800 to over 3,200 attendees. Buying tickets in advance guarantees you through the door, especially with COVID-19 crowd restrictions.
"When we started the BBB, we knew Brats, Brews & Bands would be a hit," shares Eric Rowe, past Gateway Rotary president. "There was something in the air with its end of summer celebration that mattered to the community. Great food, cold beer and live music, it doesn't get any better than that."
The Brats Brews, & Bands Festival is a one-day, 100% volunteer-operated event for those 21-years-old and over. Hosted by the largest rotary membership in the area, Gateway Rotary, the event raises thousands of dollars annually for local children's charities in the area. Rotary International has over 1 million members, and has been helping provide humanitarian service and advancing goodwill globally as a non-political, non-religious organization since 1905.
"I see people having fun, a staple of the Gateway Rotary culture, and then realize that all this fun is going to help local charities, especially the kids in Thurston County and those who need our help," says Len Faucher, past Gateway president & BBB chair. "It is great to connect those dots."
"The Brats, Brews & Bands Festival will be a great chance to get outside and have fun!" adds Nathan Peters, Gateway vice president & BBB chair. "There will be hand washing stations and other safety precautions in place to ensure you have a fun time while also mitigating any risk."
It features over 50 types of craft beers, ciders and Washington wines, and a lot of great food, including brats and tacos. It is the end of the summer party before we head into the fall.
"It's fun to see people trying different beers and watching them discover a new favorite," shares Amanda Vey, incoming Gateway president for 2021-2022.
Gateway Rotary Member Spotlight
Meet Gene Vey. Gene is an active volunteer with the Gateway Rotary Club of Thurston County.  But Gene isn't even a member of the Club! Gene frequently joins his wife, and Gateway club president, at many of the club's service projects. So many that he really should join the club. Gene is not afraid to dig in and help make the club's service projects and fundraisers successful.  Gene consistently demonstrates the Rotary motto of "Service Above Self." Our community is made better through Gene's actions. Thank you, Gene!
What We Do In The Community: We Are Gateway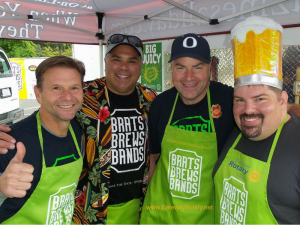 Our fundraising from the Brats, Brews, & Bands Festival creates impact in our community. In June 2020, six Rotarians distributed yard signs throughout Olympia, Tumwater, and Lacey, to assist Senior Services for South Sound advertise a new program available to Thurston County seniors in need. Rotarians placed 220 of the 250 signs posted in the county and took the signs down in October after the program ended.
Founded in 2011, Gateway Rotary meets in an Irish Pub (O'Blarney's) every Wednesday at 7 a.m. with a membership of 114 and growing. We provide a high-energy experience to those who want to help their community, roll up their sleeves and engage in a setting that welcomes a great group of active people in our area.