Since 1982, the Thurston Economic Development Council (EDC) has been devoted to helping build and sustain local businesses and their employees. As such, the EDC's board is made up of the region's civic and business leaders who gladly share their experience and expertise. Reid Bates, owner of Olympia's Express Employment Professionals, has dedicated himself to the same cause, both professionally and as a board member.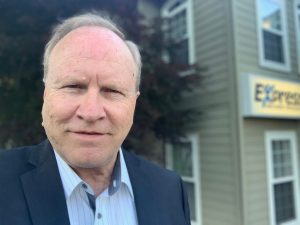 "Our missions and business are really well aligned," says Bates. "The EDC recruits and retains employers and businesses and helps them expand. It's about having the community prosper through strong businesses and employers. And that is my business, matching good employers with qualified candidates."
Bates explains that Express Employment Professionals has maintained a westside Olympia office for the past 38 years, though the name changed in 2008. He is the fourth owner and has owned the franchise for 14 years. "The more quality employees and employers, the better it is for our community and I'm playing a matchmaking role."
Bravely enough, Bates purchased the franchise while living in Chicago and moved not knowing anyone locally. He'd done his research and told the franchise that "If there's an owner ready to retire, I'd be interested." After being presented with 10 scenarios across the U.S., he chose Olympia as his new home.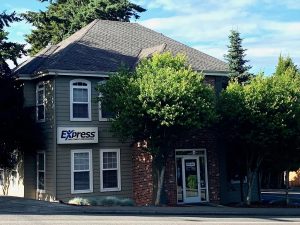 "A lot drew me to Olympia," recalls Bates, "especially the quality of life." He'd spent time in the Pacific Northwest for other jobs and appreciated how the Express office there "was well respected and had great growth."
Since taking over, he admits that "we've weathered a few cycles like the Great Recession in 2008 and 2009 and the Coronavirus." But now he has plenty of employers scrambling for good talent and is extremely busy, business is doing well.
Very quickly after moving, Bates was introduced to EDC Executive Director Michael Cade. "We sat down and talked about business and our complementary missions," he shares. And he's been on the Board for nearly 12 years after being approached by Cade at another civic group they belonged to. "I jumped at the chance," he adds. It's now the longest he's ever served on a single board. Coming from someone who volunteers on many organizational leadership roles, that's saying something. "It was an easy decision and I'm going to stay until I get kicked out!" he says.
Bates believes that because the EDC is an organization with active business owners, active business leaders, public officials and people who are connected, it makes for a stronger Olympia. His professional office works towards that goal as well. "Our clients are among the preferred in Thurston County," he shares. "At Board meetings, I know firsthand some of the challenges clients are feeling and facing."
When Bates meets with a new prospective employer, he refers them to many of the EDC's classes, training courses and resources. Especially their PTAC, or Procurement Technical Assistance Center, ScaleUp Training Series, Real Estate Forum and Regional Economic Forecast & Innovation Expo. He has even sponsored EDC training for his managers. He loves the large EDC-sponsored events. "They are always outstanding quality, well-attended and educational," he says.
He likes to visit new employers on-site to get a sense of their company's culture. "We've incorporated more technology, but we still wear out the shoe leather," he says. Outside of work, Bates is a talented carpenter who makes decorative wooden boxes from fallen trees on his property. He's even been known to give a few away to friends and family.
Industry reports understand that "To ensure that the U.S. economy is as productive and robust as possible…business leaders must find new ways to create and promote not just more jobs, but good jobs that are stable, free from discrimination, sufficiently skilled, and compensated well-enough to sustain workers and families. Full employment, healthy workplaces, and living wages are all vital to the future of American workers and the United States as a whole."
If employers are looking to hire or individuals are seeking work, they're welcome to stop by the office at 1120 Harrison Avenue Northwest, send an email to jobs.olympiawa@expresspros.com or call 360.357.7195. Follow the team on Facebook for updates, new listings and activities.
To learn more about the EDC's resources and programming, contact them online or call the office at 360.754.6320 and someone will direct you to the best items for your needs. The EDC is also on Facebook where they post details on grant opportunities, business trends and upcoming events.