Jensen Milner Cap City Law PS and Swanson Law Firm, PLLC, are moving forward to provide more comprehensive and flexible services to their clients. The two firms are now engaged in an 'of counsel' relationship. Both practices retain their offices and teams but have a trusted avenue to share resources. This new working relationship reflects their parallel philosophies regarding the importance of collaboration to assist clients. Law partners Jessica Jensen and Nick Milner, along with Alan Swanson, are all also long-time community supporters, volunteering, serving on local boards, actively participating with the Thurston County Chamber of Commerce and the Economic Development Council, and generally advocating for non-profits in our own backyards.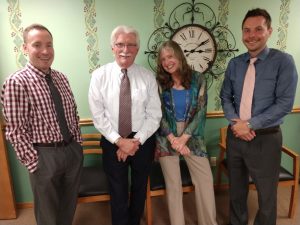 "I am looking forward to the relationship," says Alan, who has spent his life and career in Olympia. Even after working since 1975, Alan maintains a full-time practice because he still gains fulfillment in serving his clients in their legal matters. Years of experience have honed his efficiency and knowledge. His business is conducted with the utmost integrity and concern for his clients along with a dose of humor. His father, Ralph G. Swanson, was also a well-respected local attorney. Alan began practicing alongside him.
"It's a win-win for both of us," explains Jessica. Alan brings exceptional depth and experience, which are hallmarks of a desirable 'of counsel' relationship. The Jensen Milner team offers flexibility and competent support for increased workloads and working within limited time constraints. This relationship offers an opportunity to serve clients of both firms through expanded resources from mutually trusted and respected firms. Both offices believe in a holistic approach to practicing law. This includes using highly skilled professionals outside of the legal profession who work to meet the needs and goals of their clients. Attention is given the person and his or her life in addition to the legal issues at hand. Both the Swanson Law Firm and Jensen Milner Cap City Law understand people want to be heard and understood.
An 'of counsel' designation means that while Alan is not a partner or employee with Jensen Milner,  "he can provide high level consulting" explains Jessica.  The Cap City team can assist him on selected cases as well. "All practices are changing," notes Alan. This relationship benefits both practices in many ways, not the least of which is providing improved service to clients.
Jessica is a self-described main street lawyer. She wants to live in a town where people know you by name and know you are available to take care of their legal needs, whether they are personal or business in nature. Her unique approach to practicing law focuses on solutions that avoid unnecessary litigation. Jensen-Milner is fully capable of entering a courtroom, but it is not the first course of action. The team collaborates with other professionals like accountants, business advisors and tax experts to form a full picture, providing clarity to move forward. Her partner Nick Milner shares this approach and confirms that this practice model is attracting new clients.
"We are busy," says Jessica "We need another attorney or two." In fact, Jensen-Milner is looking for an attorney experienced in handling business, real estate, and/or estate planning; maybe a lawyer in a solo practice who is ready to become part of a collaborative office. It is essential the incoming attorney understands and believes in a holistic manner of practice. Hopefully, this culture would already be a part of their practice. "We would like them to hit the ground running," says Jessica. The attorney must want to live and work in the Olympia area. Our community offers a different lifestyle than those afforded in larger cities like Tacoma or Seattle – a lifestyle Jessica and Nick openly welcome and embrace. "We are actively engaged in the community, making a positive contribution," adds Jessica. She and Nick participate with many nonprofits and organizations that receive their time and talents. For an attorney that wants to join a practice that cares about the business of your life, opportunity is knocking.
Creating trusting relationships is a critical foundation in moving through life. Sometimes assistance from an attorney is necessary as well as incredibly helpful. Your attorney is there to support solutions to business and personal matters to lower your stress, not add to it. Cap City Law is here to move ahead with you to enjoy peace of mind and clarity of purpose. "We are creative problem solvers and can come up with a practical solution to get you on your way," says Jessica.
Jensen Milner | Cap City Law, with the addition of Alan Swanson in an 'of counsel' role, is available to meet with you for the legal concerns of your family and business and is offering both virtual and in-person appointments. You can contact them at the Jensen Milner | Cap City Law website or by calling 360.705.1335.
Jensen Milner Cap City Law
2604 12th Court SW, Olympia
360.705.1335
Sponsored