Submitted by Gateway Rotary of Thurston County
Dakota Poorman, whose newest single "American Made" just hit the top of the charts for Music Row's Country Breakout Radio Chart, will be headlining the 9th Annual Brats, Brews & Bands Festival (BBB) in Lacey on September 11, 2021.
Back in 2019, at the last BBB, Poorman played his tail off in front of a sold-out crowd, putting on a great performance on our country stage. Poorman's music resonates with thousands of fans locally, and we fully expect him to bring another great show to the 2021 BBB.
Expect this event for adults 21 and over to sell out. Tickets are $25 in advance with 5 drink tastes, and $30 at the door. From 2017 to 2019, the BBB doubled in attendance annually from 800 to over 3,200 attendees. Buying tickets in advance guarantees you through the door, especially with COVID-19 crowd restrictions.
The Brats Brews, & Bands Festival is a one-day, 100% volunteer-operated event for those 21-years-old and over. Hosted by the largest rotary membership in the area, Gateway Rotary, the event raises thousands of dollars annually for local children's charities in the area. Rotary International has over 1 million members, and has been helping provide humanitarian service and advancing goodwill globally as a non-political, non-religious organization since 1905.
"The Brats, Brews & Bands Festival is Gateway Rotary Club's main fundraiser, which is used to fund the club's Nonprofit Community Grant Program," says Nathan Peters, Gateway vice president & BBB Chair. "Gateway Rotary Club awards nearly $20,000 to local nonprofits through a competitive grant process each year from the event proceeds."
It features over 50 types of craft beers, ciders and Washington wines, and a lot of great food, including brats and tacos. It is the end of the summer party before we head into the fall.
"It is especially important this year after not being able to enjoy public events during 2020 to have people engaging once again," says Gateway President Janine Ezzell. "Returning to a sense of normalcy and having a chance to revitalize community spirit and wellbeing."
Gateway Rotary Member Spotlight
Meet Nancy LaPointe. Nancy is an active club volunteer with the Gateway Rotary Club of Thurston County. Nancy joined the Gateway club in July 2014 and is one of the club's most consistent volunteers. Nancy and her partner are frequent volunteers at projects that support Every Kid Wins (formerly Homeless Backpacks) and she gives generously to the Club's fundraising efforts. Nancy consistently demonstrates the Rotary motto of "Service Above Self."   Our community is made better through Nancy's actions. Thank you, Nancy!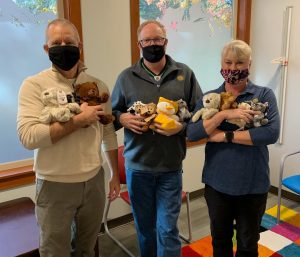 What We do in the Community: We are Gateway
Our fundraising from the Brats, Brews & Bands Festival creates impact in our community. Gateway raised more than $3,000 to purchase 600 plush toys, a three-year supply, for the Providence St. Peter's Sexual Assault Clinic & Child Maltreatment Center patients. The Providence St. Peter Sexual Assault Clinic sees about 350 children annually, and about 550 referrals a year, some that the clinic provides either care or information on how to move forward.
Founded in 2011, Gateway Rotary meets in an Irish Pub (O'Blarney's) every Wednesday at 7 a.m. with a membership of 114 and growing. We provide a high-energy experience to those who want to help their community, roll up their sleeves and engage in a setting that welcomes a great group of active people in our area.
Sponsored