The Olympia High School girls basketball team entered the new season without a single senior on its roster who had varsity experience.

This would be a concern for most programs.
The Bears, however, not only secured a postseason berth under the undesirable circumstances, they also laid the foundation for a successful campaign next year.
You can credit the play and leadership of junior captains Ava Wolin and Claudia Horton for that as the talented duo did plenty of the heavy lifting both on and off the court for the young Olympia squad.
"They both were simply amazing for us this year," said Olympia Head Coach Dustin Workman. "With all the adversity with COVID and everything else going on, to have leaders in Ava and Claudio was so valuable for us this year."
Despite featuring a roster littered with first-year varsity players, including a large sophomore class who were asked to contribute out of the gate, the Bears capped their season by advancing to the 4A South Puget Sound League tournament.
"It was definitely a different kind of season, but it's just been a blast playing with this team," Horton said. "It's been a difficult time, but I don't think we struggled with it too much. I think we were very united as a team and we just tried to make it fun."
Wolin and Horton, who are both two-sport athletes, were recognized at season's end by the coaches of the 4A SPSL with Wolin being named second-team all-league and Horton earning honorable mention distinction.
"They are both just great leaders for our team," Workman said. "They were the ones who were always getting everyone else on board. They have been such positive, influential players in our locker room. Plus they are the nicest players you can ask to coach. We were a very young team this year. They knew coming into the season they were going to need to step up and lead our young sophomore players. And they did just that for us. When you have players like that it makes my job so much easier."
The Bears, who went .500 in conference play to grab the fourth and final tournament seed out of their division, put up a game effort in their opening round SPSL tournament loss to top-seeded Sumner, before bowing out in the consolation round in a loss to Gig Harbor.
Both contests should go a long ways in turning Olympia into a league contender in 2022.
"It makes us hopeful for next year," Wolin said. "We just want to keep building."
Wolin's best performance this season came during the Bear's 56-34 road victory over Graham Kapowsin where she hit a program-record eight 3-pointers to break the previous benchmark of seven set in 2009 by Lauren Herseth.
"I never really thought of myself as a 3-point shooter before that game," said Wolin, who went 8-for-12 from long range and finished with 26 points against the Eagles. "So, it was a pleasant surprise."
The record-setting performance also proved to come on an extra special day as it occurred on her mom's birthday.
"I didn't even know I was close to setting the record until (the coaching staff) told me I needed one more," Wolin said. "And to have it happen on my mom's birthday made it pretty special."
By this time next year, Wolin might hold several additional school records, albeit in a different sport as she is also a standout sprinter for the Bears' track and field program.
Wolin was the 4A SPSL champion in both the 200 and 400 meters and the runner-up in the 100, while also teaming up with Kate Herrick, Katelyn Rigg and Jenna Rigg to win the league title in the 4×400 relay.
She set personal records in all three individual events at the league championship meet. Her time in the 100 (12.59 seconds) ranks fourth all time in school history, trailing the top mark of 12.30 set by Ciairra Austin in 2007. Wolin also ranks third on the Bears' all-time list in the 200 with a time of 25.55 and fifth in the 400 at 57.50. Both times are well within striking distance of the school's best times. Jenni Dunn posted the top mark in the 200 in 1976 with a time of 25.40, while Lisa Terry established the school record of 57.50 in the 400 in 1986.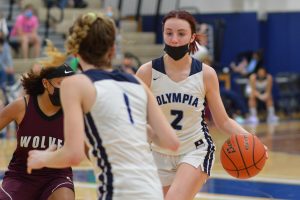 Wolin could own all three records next year with all three coming on the heels of a successful senior basketball season.
"This year wasn't what we expected," Wolin said, "but it prepares us for next season."
Claire Fleckenstein, who was also a starter on the Bears' conference champion girls' soccer team, was Olympia's only senior this year. In addition to Wolin and Horton, the Bears also featured fellow juniors Noelle Jekel, Smriti Somasundaram and Krista Hisole, and sophomores Sarah Boatright, Haelynn Kim, Taylor Whaley, Kennedi Schreiner, Natalie McBride and Hannah Berschauer, who joined Horton as an all-4A SPSL honorable mention pick this season.