Here is something free with no strings attached. Really. And it's fun for all ages. Olympian Lorraine Donner, a painter, friend, wife, mother, grandmother, and volunteer, has created an avenue to channel one of her artistic talents. Her website, LD Paint Color Plus, is stocked with original sketches you can download and use as coloring pages, for free! With inspiration from nature, travel and life, Lorraine includes things like dancing couples, a trio of owls, and irises along a country fence. There is an abundance to choose from, with new offerings being posted regularly.

Lorraine likes to paint, but along the way, she was filled with an idea to provide sketches that could be colored or painted by others. As with many of life's stories, it happened in a roundabout way. Shortly after the pandemic started, a friend asked if she would send a weekly card to a person in a nearby assisted living facility. Feelings of isolation by everyone was growing, and the importance of keeping in contact with others was certain. The man who received Lorraine's cards and her small paintings was thrilled. At the same time, she noticed that many people were into coloring, not just the grade schoolers, but people of all ages and for all sorts of reasons. People colored for meditation or for providing calmness to overactive brains.
"I could draw some pictures, ink over it and make some sketches intricate and some simple," thought Lorraine. She could imagine people coloring her drawings. "Why, you can have your own website," said a voice inside her head. "I had no idea how to do that!" laughs Lorraine, who uses a computer but didn't know a thing about creating a website.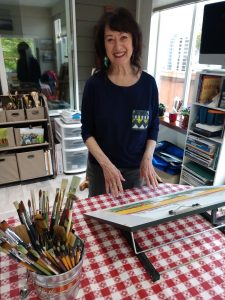 With determination and a willingness to learn, Lorraine found GoDaddy and used the tech help that was offered. In just over a week, the site was launched. Now her challenge is spreading the word. "My mom spent the last three years of her life in a nursing home" remembers Lorraine.
"I think she would have really enjoyed coloring." People need only an internet connection, a printer and some paper.
"I started to draw when I was in kindergarten or first grade," recalls Lorraine. "My art was never that far away from me." She was close to heading to the New York Institute of Art after high school on a scholarship, but life happened, and a career in art did not look like a reliable pursuit. Before long, Lorraine married and had two children.
All along her life path, Lorraine was painting. Sometimes it was the windows in pediatric and maternity wards of the hospital. Other times it was painting holiday scenes on the windows of local businesses. "I used my art to help local churches and advertising activities," says Lorraine.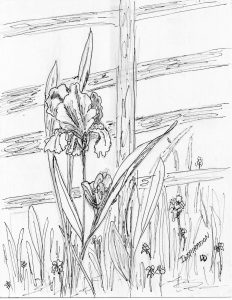 Her professional work life that spanned over 40 years was in human resources and later in real estate. It wasn't until 2015, when she and her husband Bob moved to Jubilee in Olympia that time for art would be available. Lorraine took watercolor classes at The Lodge. She liked the smell and feel of acrylics and got into painting in that media. Taking online classes and watching YouTube helped her skills. She still missed painting with oils. She joined the Olympia Art League and took lessons (pre-COVID) from Cal Capener. "I was a guppy in a pool of angel fish," smiles Lorraine. The progress and inspiration continued to grow.
Recently, Lorraine signed up with a year-long painting program with Randy Sexton through the Tucson Art Academy Online. "He's a remarkable teacher," says Lorraine who appreciated the private Facebook connection, the feedback, and the way classes progress. "Art got me through COVID," she affirms. The class assignments fill hours of her time.
"I'll paint anything and everything," says Lorraine. On a day trip to Ocean Shores, she took a plethora of photos to use for future paintings. "I have an unlimited number of pictures to color, well over a hundred," says Lorraine. When she is not painting, there's plenty of work to do in her fabulous garden and plant-filled yard. She is also a reader and a volunteer.
Please pass along the coloring pages link to friends, family members or anyone or any agency that might find it helpful and fun. Download photos for your children, grandchildren, parents or for yourself. I guess there a few things in life that are free. Thanks, Lorraine!