It's like Christmas without the freezing temperatures at the Olympia Farmers Market, where the reds and greens of freshly-picked produce abound. The long-awaited crisp snap peas provide a welcome answer for the customers who have been asking, "Where are they?!" Peas are quickly finding their way into our snacks, lunches and salads. Strawberries, ripening up across the county, are being packed into familiar green boxes, then lined up for us to "ooh and ahh" in anticipation of biting into these sweet, juicy fruits. We are fortunate to live in Thurston County, where dedicated farmers bring us their nutritious labors of love four days a week.
Rising River Farm is just one of the vendors at the Olympia Market. Soleya Rea works at the farm, planting, transplanting, harvesting and washing all varieties of fruits and vegetables. One day a week she gets to run the stall. "It's hard work at the farm," she says. "I love to have the face-to-face time to see who the food goes to." She is happy to give you information about any of the produce or answer questions about the farm.
Jim Johnson of Johnson Berry Farm is celebrating 45 years of selling berries. "I started when I was nine," he says, appreciative that berries have always been part of his life.
Many farmers attend the market multiple days a week. Check the vendor schedule online to see who is currently at the Market. The follow is a list of farmers currently selling at the Market: Alamere Herbs & Botanicals, Burnt Ridge Nursery, Calliope Farm, Cedar Slope Farm, Chehalis Valley Farm, Constellation Farm, Domina Dairy & Creamery, Heaven's Meadows Flowers, I&E Enterprises, Ironhill Woolworks, Johnson Berry Farm, Kiona Native Plants, Maurrie's Garden, MycoUprrhizal Mushrooms, Ojeda Farm, Piece by Piece Farm, Rainsong Farm, Rising River Farm, Skipping Stone Garden, Skokomish Valley Farms, Spooner's Berry Farm, Spring Creek Farm, Stoney Plains Farms, Tunawerth Creamery, Wiser Worm Farm.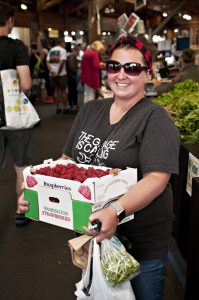 I am a huge berry fan. They herald summertime. Breakfast is a generous bowl of berries along with a cup of hot tea. Lunch will feature the well-known spinach and strawberry salad with poppy seed dressing. Consider adding crumbled feta and a few toasted pecans for a creamy crunch. At the end of the day, I feel grateful about the season with a scoop of super creamy vanilla ice cream smothered with berries. Several bags will end up in my freezer for smoothies later in the year. Jam-making is a project suitable for all ages. Olympia's berry season rolls along with the changing colors of raspberries, marionberries, blackberries and blueberries. Life is sweeter here.
Explore the Olympia Farmers Market: you'll always find something new
You can eat more for less when you use the SNAP Market Match program. Take your EBT card or post-pandemic relief card (P-EBT) to the Market Office and receive up to $40 per day in additional dollars to spend on fresh vegetables and fruits from the on-site vendors. This possibility comes from a collaborative effort between the Olympia Farmers Market and the Washington State Department of Health. The money can help you purchase delicious vegetables, herbs, and mushrooms, as well as seeds and plants. Participating farmers have signs up for WIC and senior checks, too.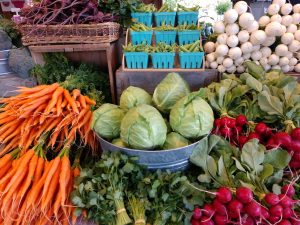 Practically everyone knows that strolling in and around the Market is a classic Olympia activity, but that information bears repeating. It's not just fun once, it can be a new experience every time you go. Green peas, bright red strawberries, glossy chard and so much more colorful produce are abundant and truly welcome palate pleasers. Every week will bring more varieties to experience. The artisan craft and art vendors create original pieces, so what you saw previously has been sold and something new took its place. Plus, you might want to have lunch and the eight unique businesses each have multiple possibilities on their menus. You can pick from around the world flavors.
The Olympia Farmers Market is open from 10 a.m. to 3 p.m. Thursdays through Sundays. There is a large, free parking lot on the back side. Bring your shopping bags. Inhale and exhale the aromas, take in the sights and sounds, and run into friends. There's a lot of life packed into one place. Check out the latest news and other activities on the Market website.
Olympia Farmers Market
700 Capitol Way N, Olympia
360.352.9096
Sponsored