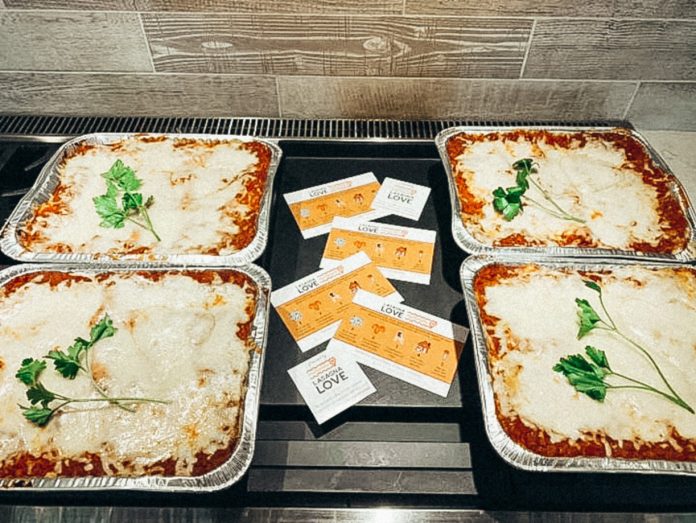 Who doesn't love lasagna? A pan of lasagna is a comforting meal. But many families struggle to find the time or resources to put hot food on the table. Their efforts are made more difficult due to recent pandemic-related income losses or reductions, the reality of more family members regularly gathered around the table, as well as ongoing challenges such as health- or age-related struggles, food insecurity, or just plain exhaustion.
For those families, Lasagna Love may give them a needed break, even if only for one meal. Lasagna Love pairs volunteer home chefs with persons who would like to receive a free lasagna.
Lasagna Love is a national nonprofit with volunteers in Washington. Lasagna Love works to remove the stigma associated with asking for help and it has three principles: feed families, spread kindness and strengthen communities.
Love to Cook? Volunteer to Bake Lasagna!
Lasagna Love's Washington State Regional Leader Darlene Letavec's region includes Thurston County and other counties outside of the greater Seattle area. She says while there are volunteer chefs in the county, they need more. "In any given week I match (regional chefs with recipients) at between 20 to 40 meals per week," she says. By increasing the number of chefs in Thurston County as well as surrounding areas, the organization's volunteers can deliver more lasagnas to local families.
Letavec says she became involved when she saw the organization's founder on the "Today Show" last fall. "Oh, this is perfect," she says she thought to herself. "I am already cooking every day for my parents – this is right up my alley. I can easily cook for other people." Letavec thus began as a local chef in Pierce County and is now a regional leader.
That founder, Rhiannon Menn, started the nonprofit from her California home at the pandemic's beginning. The organization has since grown to a national grassroots movement with an estimated 25,000 volunteers currently deliver about 4,000 to 5,000 lasagnas per week in all 50 states. Lasagna Love has provided more than 80,000 meals since the first delivery in 2020. An oversight board, staff and many volunteer regional leaders oversee the operation.
Those requesting a lasagna, or nominating someone else for a lasagna delivery, can sign up confidentially online once every 30 days. There is no financial screening. Lasagna Love's cooking volunteers–known as "Lasagna Chefs"—also sign up on the website. The chefs choose to provide as many lasagnas as they would like: as few as just one, or multiple lasagnas weekly or monthly. Community groups like churches and scout troops can also volunteer. After chefs and requested recipients sign up online, Lasagna Love matches chefs with families in their local area.
Lasagna recipients are varied. "I have had people nominate someone who is retiring and thought, 'This person really deserves a night off,'" Letavec says. "I have had adult children who live out of state nominate their elderly parents in Washington. We have delivered to military families." She says she recalls delivery to a single mother who was undergoing chemotherapy.
Letavec says it is heartwarming to make and deliver lasagnas. She describes that it is a privilege to feed other people with no strings attached for them. And she says recipients' thanks often bring her to tears. One Lasagna Love website message from an anonymous recipient says: "My lasagna arrived on a day in between months of waiting. Waiting for a job to come through, money to come in and hope to be delivered. The lasagna was like a hug I desperately needed."
Chefs commit to making a 9-inch by 13-inch pan of lasagna. Chefs and recipient families work out contactless delivery details, as well as dietary restrictions, cooking instructions, whether the meal will be frozen, and oven capabilities. "It's a little tricky if they (recipients) can't cook or reheat," Letavec explains. "They will need to find an option that works for them. I encourage the volunteer chef to reach out to them and explore other things, such as rather than a 9 by 13 pan, maybe two smaller ones that are the equivalent of 9 by 13 would work. And especially if the people are frail or elderly, make sure they can lift the pan out of the oven. Maybe divide the pan in two."
Volunteers who sign up to cook receive a brief food safety training and other information. Volunteers who do not want to cook have options such as offering their time in other ways or making financial donations.  Other methods to assist include "sponsoring" a chef by paying for their lasagna ingredient groceries, becoming a corporate partner, or donating through the Amazon Smile online shopping program.
More information about Lasagna Love is posted on its website and Facebook page.