Submitted by Southwest Washington Food Hub
One order, one invoice, one delivery. Southwest Washington Cooperative Food Hub's online platform gives restaurant purchasers in Olympia and Tacoma access to over 25 different local farms and processors in Thurston, Pierce, Lewis, Grays Harbor and Mason counties.
"We know it is hard for purchasers to maintain individual relationships with farmers and purchase enough from individual farmer's small inventories to make it worth the delivery costs," says Jesse Honiker, manager of the Southwest Washington Food Hub (SW WA Food Hub). "The Food Hub is solving some of the trickiest issues in our food system for both our farmer members and our local purchasers of local products,"
Eating local—a consumer preference for locally grown, locally sourced foods—is one of the dominant menu trends impacting today's restaurant industry.
Sourcing locally, however, can be a significant logistical problem for foodservice operations.
Dealing with dozens of local farmers and suppliers isn't cost-effective for using precious management time and talent. Instead, the economies of scale derived from doing business with one of the significant foodservice wholesalers makes better business sense.
Southwest Washington Food Hub provides the logistic support, marketing savvy, and food safety expertise that aggregates a steady supply of locally grown and channels it into the larger scale purchasing systems with which restaurants, hotels, and institutions are already used to dealing.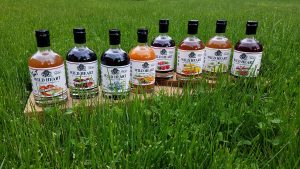 By maintaining multiple relationships with farmers spread over a broad geographic area, a food hub can lengthen the season a product like fresh, locally grown tomatoes are available. Though one farmer's crop may have been entirely harvested, another farmer with more season extension might just be heating up!
"By offering food safety expertise and training to our farmer members, the SW WA food hub can play an important role in keeping locally grown product wholesome as it moves through the food distribution system as well as ensuring compliance with various State and Federal food handling regulations," says Jesse.
The SW WA Food Hub is here to help create a more sustainable local food system by creating customer relationships that help connect purchasers to local products with ease and consistency.
Let's build a more efficient and connected food system together.
For more information or to join our fresh sheet mailing list, please visit the Southwest Washington Food Hub website, email us at info@swwafoodhub.com, or follow us on Instagram and Facebook.