In a season of impressive performances, the Olympia High School boys' basketball team saved their best for last.

The Bears (14-2) captured the 4A South Puget Sound League championship with a dominant 69-49 victory over Curtis in the finals of the league tournament on June 10.
The 20-point title-game triumph for Olympia was the finishing touches on a stellar championship run for the Bears, who defeated Gig Harbor (80-52) in the first round and Sumner (58-52) in the semifinals.
The title comes one year after Olympia finished fourth at the 4A state tournament.
"Once it was settled we would have a season, it just took all that weight off our chest," said Josh Kiley, a senior guard and son of Head Coach John Kiley. "We knew we would be able to go out and show how hard we've worked. We would love to be back at the Tacoma Dome playing in the state tournament, but just being able to put up another league championship banner is something we always strive for around here."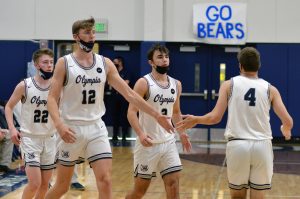 With no state tournament this year, the Bears' postseason was over a quick four-day stretch, but for seniors Jackson Grant, Jack Olsen, Zack Swanson, Sam Grant, Alfredo Ramirez Cortes and Josh Kiley, it was a championship more than a decade in the making.
"It means everything," Ramirez Cortes said. "These guys are more than just my friends. They're more than my teammates. They're my brothers. I've grown up with them, going through life experiences on and off the court."
Under the guidance of Coach Kiley, Ramirez Cortes and his fellow seniors have been playing on the same team together since the second grade.
"It's been such a journey with these kids," Coach Kiley said. "We've talked about that. We want to win every game, but most importantly I want them to have an incredible time together. We've preached that since the time they were in second grade. I think they've really bought into the idea that they can't be biological brothers but they can really be brothers and I think they've really enjoyed this journey."
For the seniors, it all began at the Kiley house usually playing pick-up games in the driveway. It's as if their parents dropped them off more than a decade ago and forgot to pick them up. So, the group just ended up playing basketball together – a lot of basketball.
"It's funny, but that's what it feels like, honestly," said Olsen, who will throw the javelin at the University of Washington after being the state leader in the event during his senior track and field season. "It's been the same core group around here since day one."
"It seems like every day after school we'd go over and shoot some hoops at the Kiley house when we were younger," said Cortes, who also started at quarterback for the Bears this football season, earning South Sound Conference offensive co-MVP honors. "It's really easy to build team chemistry during a short season when you have such a long history together."
And that's just what the Bears did on the court this year as they won 8 out of their last 9 games by an average winning margin of 27 points.
"This season has meant so much to us," Swanson said. "We've grown up together and this is what we've been working for. Every game is important to us. I think every game shows how close we are as a team and how much we play for each other."
Olsen won't be the only member of the group attending to the University of Washington in the fall, as Jackson Grant, a McDonald's All-American, heads to the Huskies basketball program. Grant's final high school basketball game proved to be one of his best as he scored a game-high 32 points against Curtis in the league title contest to become the Bears' all-time leading scorer with 1,352 points.
The group also played a large role in bringing John Kiley back into the coaching ranks. He coached his alma mater for 10 years, leading the Bears to the Class 3A state championship game in 1998, before stepping aside. He began his second stint at Olympia in 2015 with his son's class being one of the main reasons for his return.
"That's why I came back because they were coming through and I get emotional about it," Coach Kiley said. "I am going to miss them, but I am so thankful that I got to be able to come back to my alma mater, a place that I love more than any place on this Earth, and coach this amazing group. I love the blue and white, it's part of who I am, and I am very thankful to have had this opportunity to mentor this group and at the same time learn from them. I just love these kids."