When Theresa Diaz learned that her daughter was engaged to be married in 2019, she rejoiced along with the rest of the family. She did, however, have one stipulation for the couple: they could choose any Saturday for the wedding except for July 13 – the date of the Lacey South Sound Chamber of Commerce's annual South Sound BBQ Festival. The big day was accordingly scheduled two weeks after the event and both bride and groom were on hand to support Diaz and her fellow chamber board members at the festival.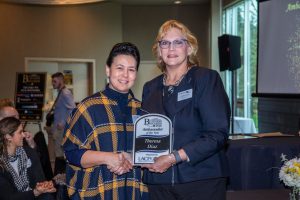 As that story demonstrates, Diaz takes her responsibilities as a chamber board member seriously. She began volunteering as a chamber ambassador shortly after becoming a member out of a desire to support fellow business owners. "I know that surreal feeling of expectancy when you first open a place," she says. "It was nice to go to the different businesses that were opening and just be there for them." In 2020 the chamber recognized her commitment with an Ambassador of the Year award for her work in 2019.
When a seat on the board opened in 2020, the President of the Board approached Diaz about filling it and she decided to deepen her commitment. Despite being an Ambassador for the past two years, she considers herself the new kid on the block. "I'm still learning the ropes," she says. "But I find it fascinating and so fulfilling. I love serving our Lacey and Olympia area."
Diaz brings a multifaceted perspective to the board through a career that has spanned several industries. She spent years in administration and human resources before shifting careers when her last child was due. "I believe God has your steps ordained," she says. "I learned a wealth of information through those years, and I never would have imagined that my husband and I would open a shop where I could put it to use."
That shop is Olympic Transmissions & Auto Care, an automotive business that she launched with her husband Carlos. After her third child was born, Diaz left her office job to start teaching at a small Christian school in Puyallup, which all three children eventually attended. After teaching all day, she would head to the shop and assist her husband with paperwork, then go home and get dinner on the table for their three children. "I was burning the candle at both ends," she says.
Carlos emigrated to the U.S. from Mexico at age 18. He created the company as a reaction to the corruption he witnessed in the automotive industry, with unwitting consumers paying the price. "He would come home at night and tell me, 'When I put my head on the pillow, I want to know that my customers are being taken care of,'" Diaz explains. "That integrity and love for people drove him to start a business because of what he was seeing." Over the years many of the company's clients have become friends. The couple's daughters often babysat for customers, and both their son and one of their daughters now work in the shop. After Diaz left the education field, she could focus full time on the business.
The relationship with the Lacey Chamber has been mutually beneficial, she believes. As an established organization, the chamber provides a sense of structure and procedure that she can bring to her business and both organizations share a commitment to customer service and ethics. For her part, Diaz brings a perspective from multiple industries to board discussions. "I can speak from a viewpoint that maybe other people don't see," she says. "We have many different types of businesses and backgrounds that come together."
What stands out to her the most about the chamber is the level of genuine care among members. During the pandemic, board members and ambassadors took turns checking in on every business to see how owners were doing. "It's been eye-opening to see the love and compassion our chamber has for our fellow members," says Diaz. "We're all about connection. When people were struggling, someone was always there with a phone call or a visit, handing out masks and hand sanitizer. It's a great group of people who sincerely care."
Now that restrictions resulting from COVID-19 are beginning to ease, she's eager to connect with fellow chamber members through in-person events like the monthly Forum, South Sound Connections, ribbon cuttings, etc. Sadly, the barbecue festival has been cancelled again this year but on the bright side, if either of her other two children decides to get married, there will be no scheduling conflicts.
Learn more by visiting the Lacey South Sound Chamber of Commerce website.
Sponsored