What a difference a door makes. When Fort Stevens Elementary School and Prairie Elementary were built over 30 years ago, open-concept classrooms were all the rage and its design reflected that trend, with five classrooms opening onto a central pod – none of them with doors. Aside from creating a security risk in the event of an emergency, the doorless rooms were an ongoing headache for teachers who couldn't use the common area for activities without impacting every other classroom.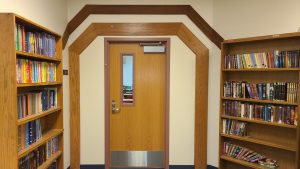 Within the past year, builders from Construction Inc. have retrofit doors onto those rooms. "It's made a huge improvement to overall learning," says Fort Stevens Principal Lisa Crowell. "Now kids can do small group work and play games that are a little bit loud and make learning fun."
This project is just one of many funded by the bond that 64.33 % of Yelm voters approved in 2019. Many of the already completed bond projects at seven of the district's schools took a "Student Safety First" approach improving security of front doors vestibules, cameras, fencing and lighting with Yelm Middle School and Southworth Elementary also being rebuilt.
During the pandemic, progress on those projects has accelerated, yet each has remained under budget, allowing the district to extend the scope of the improvements. It's a rare scenario, according to KWA Project/Program Manager Kasey Wyatt. "The biggest benefit is the return on investment," she says. "The community has put their trust in Yelm Community Schools to do what they promised, and we've been able to extend that to things like doing all-weather fields at Ridgeline Middle School. It's good stewardship of taxpayer dollars."
An additional safety project included new intercoms in every classroom that allow teachers to alert the entire campus if there's a safety issue. "The problem was that if there were an emergency, the only phone that could do an overhead page was in the office," says Yelm Community Schools (YCS) Director of Information Services Jonathan Maynard. "Now, they can do a page or a lockdown from any phone." School gyms have been equipped with audio capacity as well.
Security cameras and upgraded building access technology changed the front entry of schools. Visitors now ring a doorbell and get buzzed into the building after identifying themselves and their purpose on campus. Staff have key cards that double as badges, providing entry in the same way a hotel key card operates. Cameras placed around the schools make it easy to spot potential problems or identify likely culprits after an incident. "It gives our families a sense of security knowing that we're monitoring who's coming and going from our schools," says Maynard. "We can now give our first responders access cards, and they'll have their own username and password to log into our system."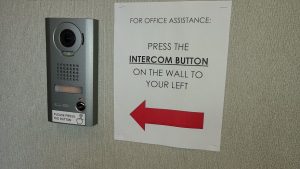 But not all improvements were about security. By the time it's complete, the renovated Performing Arts Center at Yelm High School will have the capacity to simultaneously mic up to 32 performers and will include a stage that extends into the audience with a clamshell-like structure designed to focus sound back out toward the house. The PAC was built on a promise to the community that it could be used after school operations.  These upgrades allow that promise to be realized. It may, according to rumor, even become one of the premiere PACs within the entire state of Washington.
The facility will now allow students of all ages to show case their vocal and instrumental talent. "I'm extremely thankful," says YHS Choir Director Tim Henderson. "We can mic the whole cast so the audience can hear every single thing. We also went with an upper-end speaker system that allows the entire range of music from rock bands and jazz to classical and opera. It's a space we want the community to be proud of, and now I would feel comfortable to invite bigger acts to perform here."
Local groups can additionally take advantage of improved gymnasiums and all-weather fields at several schools. Typically, grass fields on campuses have gone empty for much of the year once the rainy season started. When it became apparent that extra funds would be available through savings, the district went through a transparent process of deciding where to spend that money. Replacing grass with turf seemed like an investment that would benefit the community, not just students.
"Yelm doesn't have a Parks & Rec Department," says YCS Superintendent Brian Wharton. "Based on the nature of our outdoor and indoor facilities, we hadn't been able to let the community use them to the extent that we wanted. We can now offer year-round athletic facilities."
At three elementary schools, the district used the savings to overhaul aging HVAC systems, a move that will extend the building's life by 10 to 15 years, according to Wharton. Additionally, YCS received a Washington State Department of Commerce grant for $115,628 to reduce energy consumption to retrofit original HVAC and control systems, improving ventilation, comfort and safety at Prairie Elementary. Mill Pond and Fort Stevens Elementary Schools will upgrade to LED lighting to improve the learning environment.  These efforts will reduce the need to request bond funds from the community for building upgrades. "We're going to make these schools as strong as we can for as long as we can," Wharton explains.
Bigger projects like the reconstruction of Yelm Middle School and Southworth are obvious to residents but these less apparent campus and safety improvements may have a larger impact on the community. The new fields and PAC can bring in revenue by attracting tournaments and performances, while the safety upgrades give parents and staff greater peace of mind.
"When you're a principal with 500 kids in a building, you want everyone to have a positive experience every single day," says Crowell. "I'm a bit of a safety freak and having an extra layer of protection has gone a long way toward making me feel better. I'm very appreciative that this is something our community approved."
To learn more, visit the Yelm Community Schools website or call 360.458.1900.
Sponsored