Private clubs have an allure all their own and Olympia Country and Golf Club has that as the only fully private club in Thurston County. But the vast majority welcome members from near and far and are often owned in one of three ways. They can be held by an outside management company, a private owner or consortium of members. Over its nearly 100-year long history, the Olympia Country and Golf Club has run the gamut. But now, in the hands of caring member owners, it's a vibrant, thriving golf course and social hub for residents and players alike.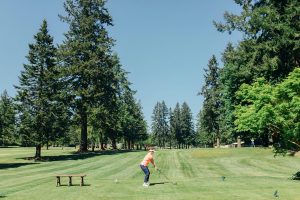 Since the OCGC LLC group took over management, they have dedicated time and effort into making the championship golf course even better, admits head golf pro Mark Jensen. "Member ownership has been a huge positive," says Jensen. "Members can decide what they want and have made a lot of improvements already: the course is in fantastic shape. I've been here through all the phases and I like member owned the best."
OCGC offers golf year round, weather permitting. Due to the small group, inherently distanced nature of the game, even COVID-19 couldn't slow players down too much. As one of the few activities which didn't grind to a halt through most of 2020, staffers and pros have kept busy.
Add in a recent recruitment special that waived initiation fees for new players and brought in more than 60 new members, Jensen's team has plenty to keep them on their toes. "I've been here since 2005," says Jensen, "And this is the biggest one-time increase in members. It will be a very busy year! Member owners have really put the course front and center."
"Doctor Bowen," who owned the Club from 2012 through 2017, "was focused less on golf and more on restaurants and amenities," explains Jensen. "Now the members are focused on improving the course and we're seeing tremendous apples-to-apples improvements since last May alone. It's been a huge positive for the staff here. Whatever the board wants, we're going to do it."
As Coronavirus restrictions ease both county- and statewide, Club social events are starting up again as well. Lessons and tournaments, which have occurred throughout the pandemic albeit with size and start-time restrictions, are returning to normal. Summer Junior programming for young golfers kicks off in late June 2021.
Find the latest information on their Men's Division, Women's Division and Tournament Packages on the Club's dedicated golf portal. The website provides the most current details on team play, hours, Pro Shop updates and private lessons for players of all ages and abilities.
But golf isn't the only lure for OCGC's 600 plus members. They offer a fitness center, complete with group and personal training work-outs, and waterfront, mountain view event space for your long-postponed wedding, work party or family reunion.
And what better way to welcome summer's return than with a trip to the gorgeous Club pool, open Memorial Day through Labor Day. Swimming, lounging poolside, and then enjoying a meal at the Terrace on the Green or golf course's On the Go quick-pickup window is a perfect light lunch, early bird supper or happy hour treat.
Stewardship is defined as the careful and responsible management of something entrusted to one's care. OCGC LLC takes that role very seriously whether on the back nine or basking by the pool. This summer, dust off the mental and physical cobwebs of COVID-19 with a round of golf. Then enjoy all that the Club has improved, lovingly maintained and beautifully has to offer. Visit them on Facebook for photos, videos, event postings and community visits or through the Olympia Country and Golf Club website if you want to join the club.
Sponsored