The NW Remedies Compounding Pharmacy in Olympia is maximizing the latest technology to best serve its customers and the medical community, particularly for those persons using remote means to conveniently communicate their pharmaceutical needs.
The pharmacy specializes in high-quality compounded medications that are customized to offer solutions when commercially available products do not fit a customer's requirements. The newest addition to the tools enabling the pharmacy staff, their customers and the medical community to interact is the NW Remedies Mobile App. The application software (app) can be installed and run on a computer, tablet, smartphone or other electronic device. The NW Remedies app is available for free download from the App Store (for iPhones and iPad operating systems) and from Google Play (for Android cellphones and tablets).
Customers can use the app to refill prescriptions, receive personalized medication dosage reminders, obtain information, and send messages to the pharmacy. Pharmacy Manager Ryan Martin says the app is a user-friendly, easy way to communicate with the pharmacy staff. "When you send messages, they go directly to the pharmacist," he says. "You can ask questions regarding your prescription or ask, 'what is the timeframe for the prescription to be filled?'"
Martin says that most people really like the app. "It makes refills seamless, and it has dosing reminders," he says. "Pharmacies are trending to using technology. We are a bit ahead of the curve. I am not aware of other compounding pharmacies in the area doing this."
The app is just the latest of several options for customers and others to obtain information and services from the pharmacy. NW Remedies also has a website, a Facebook page and multiple phone numbers (local, toll-free and fax). The pharmacy also has a walk-in storefront on State Avenue on Olympia's eastside (next to Ralph's Thriftway) for in-person services and purchases, and where curb-side pick-up is also now available.
Eight staff work at the pharmacy. In the store, customers can pick up their prescriptions and talk with staff, as well as browse the aisles. The aisles have over-the-counter high-end nutritional supplements made by Thorne, Integrative Therapeutics, PURE Encapsulations, Standard Process and Metagenics, among other brands, as well as other nutritional and health products.
For compounded medications, customers need a prescription from a licensed practitioner. The pharmacy compounds medicine for a variety of medical reasons. It specializes in hormone treatment prescriptions for women and men, as well as veterinary compounding.
Martin says the last few years have shown significant developments in hormone replacement therapy (HRT). "We are starting to see more sublingual dosage (like a dissolvable tablet)," he says. Sublingual methods of taking medications have some advantages, such as they are absorbed quickly and do not go through the digestive system which means a patient might need a lower dose. "And we have newer and better creams that go through the skin very nicely and are cosmetically elegant," he says. He adds there have been dramatic shifts to using more bioidentical hormones, rather than synthetic hormones which can have some unintended side effects. He says that the ingredients NW Remedies uses meet high quality standards, and the prescriptions are personalized to each patient.
NW Remedies can also help with prescriptions for children with special medical needs, such as those who must use feeding tubes. "We can also flavor medicines for a particular patient," Martin says. "We can simplify medicines, such as (compounding them with) fewer fillers that are not tolerated well in some patients."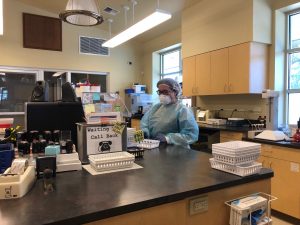 The veterinary side of NW Remedies prescription compounding is also a big part of what they do. Martin says they work with veterinarians to meet an individual animal's needs. That service includes providing a variety of medicine dosage forms better suited to a particular animal, such as using a prescription cream that can be rubbed on the animal's ear rather than a pill that must be swallowed. For example, the pharmacy helped two cats get the treatment they needed without stress to the owner.
NW Remedies has a high customer retention rate, Martin says. He explains that the compounding business is dynamic as well as highly regulated. To keep pace, NW Remedies is continually developing its services to meet the modern needs of its customers. The mobile app, as well as staff staying current on HRT advances, are just two examples.
NW Remedies
1851 State Ave. NE #105 Olympia (in the Ralph's Thriftway parking lot)
360.491.0607
800.455.6888 Toll Free
Monday – Friday, 9 a.m. – 6 p.m.
Sponsored