Take The Public-Opinion Survey
Even after a trying, pandemic-filled year – it's an exciting time to be in Lacey. The City of Lacey is home to well over 50,000 residents and is growing daily. In addition, Lacey serves as a premier destination in the South Sound for recreation, travel, and commerce. In fact, WalletHub just named Lacey as the 2021 Best Small City to Start a Business in Washington and 138 out of 1,300 U.S. Cities.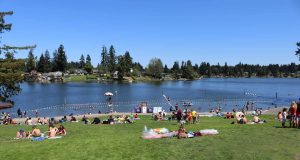 As Lacey continues to grow and evolve, the Lacey City Council encourages the community to help envision and shape the City's future.
Through the Lacey Cares Community-Engagement Initiative, Lacey residents, visitors, business owners, and other community stakeholders are invited to provide comments, concerns, and suggestions for Lacey's present and future.
"After what has no doubt been one of the most challenging years in the City's history, we're excited to engage with Lacey's residents, businesses, students, visitors, and other community stakeholders to learn how they believe Lacey can become an even better place to live, work, learn, visit, and play," says Steve Kirkman, public affairs manager for the City of Lacey.
The City of Lacey recently launched Phase One of the initiative. During this phase, community members can provide open-ended feedback on topics like parks and recreation, the economy and employment opportunities, natural resource and stewardship, housing, arts and culture offerings, and more by filling out an online, public-opinion survey. Survey participants may comment on one or all topics. The survey is available now through May 31 and can be taken in English, Spanish, Chinese, Vietnamese, and Korean. Five survey participants will be randomly selected to receive a $250 gift card.
After the survey closes, the City will use participant responses to help inform and shape future City efforts.
Because of Lacey's multi-faceted identity, Kirkman says a wide range of community stakeholders, including residents and out-of-town visitors, can provide a valuable perspective.
"We definitely are very interested in information that's provided by our residents and business owners," says Kirkman. "But we also have a lot of visitors who come in, and those visitors probably have perceptions or ideas about how Lacey can improve things. Or if there is something we are doing particularly well that they don't see much of in other communities."
Since its formation in 1966, the City of Lacey has valued open and consistent communication with community members. Continuing this important City practice, as many face uncertainty due to the COVID-19 pandemic, the Lacey City Council wants to hear from community members on future opportunities for employment, education, commerce, travel, and recreation.
"Ongoing communication with our residents, visitors, and businesses is so important to successfully running a thriving, livable community," says Lacey Mayor Andy Ryder. "The Lacey Cares Initiative provides a meaningful way to share what matters most to you with our City Council, as well as how you would like to see Lacey become an even better place to live, work, learn, and play."
The online, public-opinion surveyis just the first of three phases of this initiative.
During Phase Two, the City will use participant responses to help shape community discussions that will take place in late summer.
"Survey feedback will be organized into major areas of interest," says Kirkman. "Creating an outline for a series of community conversations centered around the interests that will help shape community goals and opportunities. If public health conditions allow, which we hope they will, the City will hold many of these conversations in person at community events, neighborhood meetings, and other venues."
This fall, the Lacey Cares Initiative will enter Phase Three. During this phase, Kirkman says City leadership, residents, and other stakeholders will be invited to prioritize what is most vital to the community, and the potential pathways to make Lacey a better place to live, work, visit, and play.
"Information received through the survey, as well as a series of town hall meetings, community events, and other venues, will be used to help establish and prioritize community goals and strategies for the coming decade," explains Kirkman. "And consider potential implementation approaches toward reaching the identified goals."
To learn more about the Lacey Cares Initiative, or to fill out the online survey, visit the Lacey Cares Community-Engagement Initiative website. "We really hope to hear from you," says Kirkman in closing.
Sponsored