South Puget Sound Community College (SPSCC) is one of three schools in Washington State chosen to conduct a Running Start summer session pilot program. Running Start has long been a practical way for high school students to earn community college credits while continuing to work toward graduation. It saves those students both time and money, allowing some of them to graduate from high school with an associate's degree already in place. But the program hasn't worked for all students. Athletes or others who are involved in extracurricular activities often can't commit to a full year of spending so much time off-campus yet there hasn't been any summer option that would enable them to participate – until now.
The program's focus is to evaluate interest, explore barriers that have kept students from participating, and assess the viability of offering a year-round program. "We know that some students have scheduling issues during the academic year," says Director of K12 Partnerships and Recruitment Anne Molenda. "Some are passionate about particular classes they're enrolled in at their high school and that prevents them from attending full-time."
The pilot aims at reaching traditionally underserved students from both rural and urban areas. It's limited to 250 students from the Elma, Olympia, Shelton, Tumwater and Yelm School Districts, earning a maximum of five credits per student. "One of our goals has been to have enrollment in Running Start match our community," says Molenda. "We know we haven't achieved that yet because we have predominantly white and Asian American students participating, but not a lot from underrepresented groups."
While typically SPSCC leads Running Start outreach efforts to students, in this case, high school counselors in each of the five target districts will be connecting with students they believe would be a good fit. The college is supplementing those efforts with fliers and information. "The materials will still have the Running Start branding but the high schools will have control over how that gets distributed," says Molenda. "It's an interesting reverse of how we normally do things."
For students who participate, the impact can be substantial both financially and academically. Until now, the only way for high school students to take community college courses during the summer was to pay for them, a prohibitive factor that priced out many families. "Cost can be a huge barrier to participation during the summer quarter," says Molenda.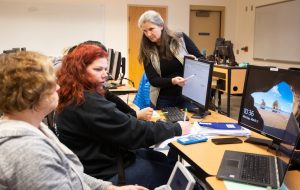 Through this program, the costs will be covered by funding from the Office of the Superintendent of Public Instruction (OSPI), a result of House Bill 2864 which allocated money specifically for the summer pilot.  Because it comes from a different source than the larger pool used for regular Running Start programs, it won't impact participating high schools' other funding.
It will also potentially allow more students to complete associate's degrees by the time they graduate. "We have a large proportion of Running Start students who are 15 to 20 credits short of earning an associate degree at the end of their two years," Molenda explains. "The opportunity to make up the difference during summer would mean that so many more students could achieve that goal without having to sacrifice the connection to their high school."
Like all SPSCC students, participants in the pilot program will be assigned to an educational planner when they enroll, with one distinction: the planner will be attached to their school districts. "Our educational planners have built strong relationships with the individual high schools, their counselors and the administrators," Molenda notes. "Each school has committed to this partnership, which means they have to have some sort of operations open during the summer." Each school has a point person who will work with the educational planner to monitor the students and make sure everything is on track.
Although financial assistance programs aren't open during the summer, the Student Services office will be providing wrap-around services to any student who needs them such as counseling, tutoring, and food.
Any student from the participating school districts who is interested in learning more about the program should contact their high school counselor, according to Molenda. "It's natural for people to reach out to the college and of course we'll answer questions and be here to help direct them, but the bottom line is that we're doing this in partnership with the school districts," she explains. "They are the ones who are going to help us get these students in place."
Of the community colleges in the pilot, SPSCC is the only one in this region. The other two are Skagit Valley College and Yakima Valley College. "We're just very honored and excited," says Molenda. "There are so many possibilities with the flexibility that year-round Running Start could afford students and their families. It's phenomenal."
Learn more by visiting the South Puget Sound Community College website.
Sponsored