Madelin White is known for many things in the Lacey Community: her 47 years as owner of Merle Norman Cosmetics, Wigs and Day Spa; the ongoing support and resources she provides for cancer patients; and a well-developed sense of humor and a penchant for corny jokes. At the end of a year during which she had served as Board President for the Lacey South Sound Chamber of Commerce, the executive director and marketing department put together a video montage highlighting that sense of humor, or as she puts it, "My blooper reel."
"The event was being televised," she recalls. "They put on a tape that showed all my bloopers and had me stand on stage while they played it. That is a moment I will never forget. Some people were laughing so hard, they were crying."
White's initial purpose for becoming part of the chamber was simple. She remembers sitting in one of her stores and having an "aha" moment. "I realized that I can't expect people to come to my store unless I find a way to let them know we're here," she says. "Hence, I joined the chamber."
Once she had committed, it wasn't long before she was taking on leadership roles, first as a board member, then as Vice-President, followed by President-Elect, President, Past President and now Secretary. "I guess I'm a glutton for punishment," she laughs.
Not every board member attends the many ribbon cuttings, after-hours events or grand openings which occur every year but from the start, White has been one of the group's ambassadors who is present at every function. The reason has to do with her approach to life. "If I'm going to be involved in something, I'm going to be fully involved," she says. "I help other people become part of the chamber by example. I've been told that I'm the energizer bunny."
Her interest in the community is clearly reciprocated. Before the pandemic struck, White hosted a business after-hours event at her Lacey Merle Norman store. So many people showed up that they couldn't fit into the building and spilled out into the street. "Luckily, it was a nice day," she says. "We had well over 100 people there." She attributes some of the event's success to Chris Lester, a fellow chamber board member and business development manager for Thurston County Title whose side business is The Tailgate BBQ. "Chris was set up and people love barbecue, so that helped," she says. "We all had a really good time, and it was because of being in the chamber that it happened."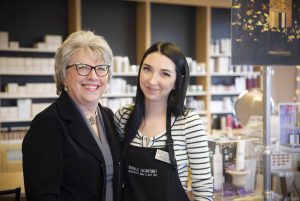 In addition to her chamber responsibilities, White has been helping female cancer patients for nearly 30 years by supplying wigs, cosmetic support and advice through Look Good, Feel Better. The international program relies on volunteer support to provide lessons on skin and nail care, cosmetics, wigs, turbans and more to assist cancer patients in managing the appearance-related side effects of treatment.
In 2016 she was honored by the American Cancer Society for her years of service. In the process, she discovered that she had helped more cancer patients in the Washington State than any other volunteer. "My heart goes out to anyone who has this issue," she says.
As pandemic restrictions begin to ease, White is anticipating the resumption of in-person activities, starting with the chamber's annual Golf Classic in May. "That's the first event we've been able to have in well over a year now," she notes. "I'm looking forward to things opening up and people being able to interact again. So many people that I have spoken with are waiting until we can have these get-togethers to renew their chamber memberships. It appears that we may be able to have some forums again, although they will be with a limited amount of people."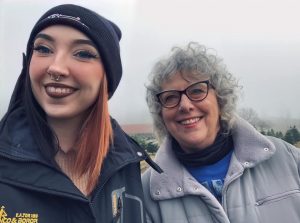 At nearly 76, White has no thoughts of retiring from either her company or her multiple volunteer roles. "What keeps me going are my business and my appreciation for the community," she says. "I care about people and I have a feeling that if I gave up on the chamber, the Gateway Rotary Club, or the cancer patients, I just wouldn't be the same person."
Learn more about getting involved by visiting the Lacey South Sound Chamber of Commerce website.
Sponsored