If you are an oyster lover, then you probably know the best thing to do is only eat wild caught ones in months with the letter "r" in them, from September to April. This is a practice that is believed to have been around for over 4,000 years! Thankfully, farmed oysters are available year-round for those who just can't get enough of yummy bivalves. Whether you like oysters raw on the half shell, pickled, fried or cooked up in yummy chowder, the Puget Sound area is full of great places serving them up. Here are a few places to eat oysters in Olympia, throughout Thurston County, and the surrounding area.
The Olympia Oyster House
320 4th Avenue W, Olympia
360.753.7000
Of course, no list on where to eat oysters in Olympia would be complete without The Olympia Oyster House. The company has been harvesting oysters since 1859, so to say they know what they are doing is an understatement. The Oyster House Dinner is a favorite, with your choice of lightly floured or cajun corn meal oysters fried. View menus and order online. They have a curbside menu for those looking to get something to go.
Budd Bay Cafe
525 Columbia Street NW, Olympia
360.357.6963
Budd Bay Cafe serves up oysters and chips during lunch and dinner for those wanting a light meal of their favorite bivalve. And of course, if you are dining with someone who is not a fan of oysters, Budd Bay Cafe has plenty of other yummy menu items. You can view their menu and order online.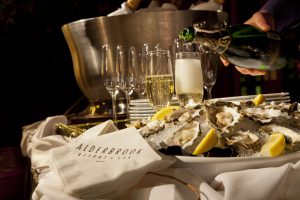 Alderbrook Resort & Spa
10 E Alderbrook Drive, Union
360.898.2200
Alderbrook Resort & Spa has declared April "Oyster Month" and they are celebrating with all kinds of unique events.
Oyster Harvest: All month guests are invited to view the oyster harvest. Watch the chefs gather the region's freshest oysters. Happening Thursdays – Sundays at 2 p.m. on the Alderbrook dock.
Oyster 101 Walk: On Wednesday, walk the property (tide dependent) and discover the variety of oysters on-site at Alderbrook.
Oyster Barbecue: Enjoy an outdoor barbeque, serving up oysters, fresh seafood, local cuisine and beers on draft. Happening Thursdays from 5 p.m. – 6 p.m. on the upper cottage lawn.
Union City Market Hook & Fork Takeover: Head to the waterfront checkerboard for favorites from the Union City Market Hook & Fork, served on the Alderbrook lawn. Dishes include the oyster chowder, arugula and pickled oyster salad, oyster sliders on a house-made brioche with chips and more. Happening Fridays – Sundays from 3 p.m. – 6 p.m. on the waterfront checkerboard.
Oyster Cart: Experience a variety of fresh oysters paired with house sparkling wines. Happening Fridays from 5 p.m. – 6 p.m. in the lobby.
Beau Legs Fish N Chips
8765 Tallon Lane, Lacey
360.915.6328
Beau Legs Fish N Chips has an oyster basket with hush puppies, coleslaw and French fries that will make you feel like a kid again on the beach at a bonfire. View their menu online.
Tugboat Annie's
2100 W Bay Drive NW, Olympia
360.943.160
Tugboat Annie's is right on the water and a great place to go if you like to watch the boats go by, or maybe even get something to go and take it to your boat or dock to enjoy. Try their PO'BOY if you love a fried oyster sandwich. They also serve fresh Taylor oysters, fried up.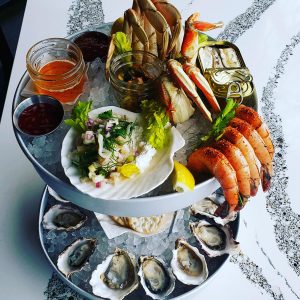 Chelsea Farms Oyster Bar
222 Capitol Way N, Olympia
360.915.7784
Chelsea Farms Oyster Bar is owned by second generation shellfish farmers. They sustainably raise their own oysters, which they then serve up at their Oyster Bar. They have several choices when it comes to oyster dishes, and they even tell you on the menu where the oysters are from! Whether you like your oysters baked with butter and cheddar, fried, or on the half shell, they have you covered. They even have a po'boy oyster sandwich. View their sample menu online and call to make reservations.
Anthony's Restaurants
704 Columbia Street NW, Olympia
360.657.9700
Anthony's Restaurants have a great selection of oyster items in their Oyster Festival! Get local oysters on the half shell, fried oysters on top of a Caesar salad, oyster stew, crisped oysters with a Tonkatsu sauce over ginger slaw and almond basmati rice pilaf, steak and oyster and more. If you love oysters, this is a good place for a variety of menu options. View their menu online and order for to go or curbside pick up via the website or by calling.