Trailing late in the deciding fifth set of its season finale, it would had been easy for the Pope John Paul II High School volleyball team to close up shop, accept defeat and call it a season.

From COVID to scheduling conflicts to potentially not even having a place to practice – It had been one obstacle after another this year for the Eagles.
Despite all the trials, in its final match, just like it did with everything else that was put in their way, the team rallied and overcame.
Featuring an extreme young squad with Allison Nichols and fellow senior Anna Brown being the only upperclassmen on a roster littered with freshmen, the Eagles closed out the year with a victory, defeating Evergreen Lutheran on the road in a dramatic five sets (25-20, 22-25, 25-20, 21-25, 16-14) to claim second place in the Sea-Tac League South Division with a record of 6-2.
After dropping the fourth game, Pope John Paul II trailed in the fifth, 13-7, before turning the tables and closing things out on a 9-1 run to post the win. Nichols finished with 11 digs and eight aces, while freshman middle blocker Mimi Ceesay registered seven kills and four blocks and Brown added four kills.
"In this sport there's always a ton of ups and downs," Nichols said, "but it was a bit different this year with everything going on."
While every high school sports program faced the challenges of the COVID pandemic, it was actually one of several hurdles Pope John Paul II had to clear to simply make it onto the court this year. Tops on that list for the small 1B school was finding a place to even play.
"Our school doesn't have a gym," Pope John Paul II Coach Audrey Howard said. "So, our major concern was being able to find a place to practice. The usual gym we had been using wasn't opening its doors to outsiders. So, we had to go in search of a different facility."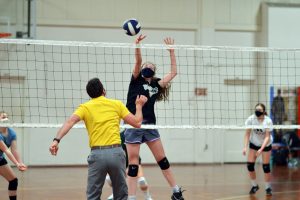 Enter Olympia's National Guard Armory, which provided the Eagles with a court. "We were very grateful that the Armory was willing to open its doors to us and that Capital Volleyball Club lets us borrow their equipment," Howard said. "In addition, we also have had to have all of our matches on the road since we are unable to find a gym for games."
But that was hardly the end of it.
"There was also the issue of finding another coach to help us this season," Howard said. "With the change in season start date, I was unable to be at practices and matches on Tuesdays and Thursdays. Luckily, we met Julie Ash who joined our coaching team and has been a great addition to the team."
With a court and coaching staff in place, the team was finally able to solely focus on volleyball.
"Our first match of the season was against the Olympia High School C-Team and I remember overhearing Anna and Alli talking about how excited they were to be able to play and that there was a time that they thought they wouldn't be able to have a senior season," Howard said. "It made me think about everything these girls must have gone through and how blessed we are to be able to have a season."
The Eagles opened the year by winning five out of their first six matches with the highlight coming in a 3-2 win over Evergreen Lutheran.
"I think that's something that will stick with me forever, the way we played in that match," Brown said. "To open the season by winning the first two sets, then losing the next two and then winning the fifth, it was just an awesome moment."
The Eagles would duplicate the feat against Evergreen Lutheran by closing out the season in similar fashion.
"We started with the possibility of not even having a season, which made me appreciate everything 100 times more," Brown said. "Every moment we work out together as a team, every time with play and laugh together, I really appreciate it."
Brown, Nichols and Ceesay were joined on the Eagles' roster this season by sophomores Miriam Aust, Elizabeth Alba and Erica Logan, and freshmen Cassandra Brinlee, Michelle Kinard, Catherine Evans, Sarah Hackl and Isabelle Larson.
"I just remember the excitement of that first practice," said Nichols, the team's only four-year player. "It was something I was really looking forward to. Looking back on it, I am so thankful and grateful that our teachers and everyone at our school pulled through so we could play this season."