Easter is just around the corner and truly kicks off the fullest delights of spring. At The Rolling Pin, they're organizing gadgets and goodies galore to celebrate this floral season. Whether glazed ham or scalloped potatoes, chocolate eggs or bunny-shaped cookies, they'll help you prep for the best meal ever from start to finish.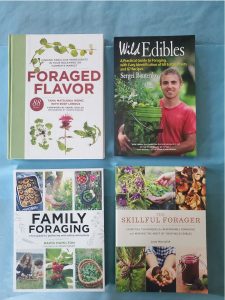 The store saves the day with their Spring & Easter Sale items which are available for a limited time. "The Rolling Pin also offers a wide variety of items that are perfect companions for your springtime adventures," says Marty Lauer, who works at The Rolling Pin. There are bunny-shaped cookie cutters, compostable dishcloths decked in chickens and eggs and a hedgehog spoon rest so cute you won't be able to sully him with sauce drippings.
For those with an outdoorsy, culinary bent, try books about foraging in the wild or building a backyard homestead. There are sprouting jars for healthy greens and juicer jars for tasty sips. Then get ready to welcome back family and friends with a feast. There is a roasting pan with rack, large—and stunningly teal—stock pot, and the self-described 'World's Greatest' Dual Action Potato Masher. Your spuds won't know what hit them.
Want to surprise your beloved bunny with a gift? Consider a bundle for their Easter basket. The Easter Baking Bundle includes a pie pan, pastry stamps, cookie cutters galore, a bunny-shaped pie funnel and Jamie Oliver baking tray. The Forage and Picnic Bundle comes with a packable lunch tote, stainless steel water bottle, food container with cutlery set and copy of Foraged Flavor by Tama Matsuoka Wong.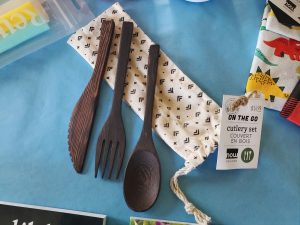 While you search for recipe inspiration, call Marty and Jacci Butler to arrange for mobile knife sharpening. Trust me, your knives probably need a face-lift. Dull blades will be returned to your door fresh and new. This service is only $5 on top of their usual sharpening rates and can be scheduled by calling 360.754.3955.
If your schedule is tight, consider their pick-up or delivery services. "Curbside Pick-up from The Rolling Pin has never been easier," says Marty. "Now that the outdoor shelter at the West Central Park has been completed, customers may choose to meet our staff under at the shelter to pick up their orders. This means that if you are picking up items during some inclement weather, you can stay dry as you wait for our staff to bring your order to you!"
Or skip the drive altogether. "For a small fee, customers can get all their kitchen wares delivered," Marty continues, "and that includes their sharpened knives. We can also pick up knives to be sharpened and bring them back once finished." Shears and hand tools can also be sharpened, call to request a quote.
Not ready to tackle a large holiday meal? That's ok. At The Rolling Pin they have items for all tastes. Coffee and tea aficionados can up their game with kettles and teapots, coffee makers, and accessories like filters, scoops, grinders and carafes.
More of a take-out diner? Visit their food storage selection for reusable wraps, jars, bottles, bags and containers to hold leftovers. Pitmasters and grillers will enjoy scrolling through their wide selection of cast iron skillets, sauce pots and grill pans since barbecue season is fast approaching. There's even a cast iron mussel pot for that perfect local shellfish dinner.
Staff do more than simply sell tools of the trade. They're also happy to answer questions, brainstorm solutions or suggest items for any quandary. Don't get in a pickle when making pickles, they'll gladly help you out. And yes, they have an array of pickle-making items.
Spring fever makes us want to move and eat lighter. As seasonal fruits and veggies roll in, let The Rolling Pin help you decide how to prepare them. Crafting fresh, home-made goodness not only fills the time when we're home, it's a great healthy way to prep for mingling with friends and family again. Consider a lush CSA share from the Olympia Farmer's Market your very own weekly Chopped mystery basket. Except this time, the staff at The Rolling Pin are on your side providing guidance and motivation.
Follow them on Facebook for their newest additions, store changes, and specials. And get your Easter orders in quickly for pick-up or delivery. The shop is open daily between 10 a.m. and 4 p.m. After a long winter, spring holidays and normalcy are just around the corner and the bunny waits for no man.
Sponsored