Olympia High School head football Coach Nick Mullen has been involved in the sport his entire life. He played at every level, including collegiately at the University of Puget Sound, comes from a family of coaches and has spent the last two decades coaching himself.

So, when he says something is rare, it's carries a little more weight.
"Yeah, I've never had anything like this on a team before," said Mullen, who guided the Bears to a 4-1 record during his first season at Olympia.
What he is referring to is the amount of brothers his roster featured this past season. One or two sets of siblings is certainly not out of the ordinary. Even three, albeit unusual, pops up from time to time, but four pairs of brothers? That's uncommon.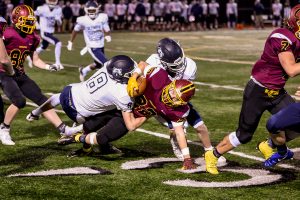 But that's exactly what the Bears had this year, and the brothers believe it was a factor in the Bears winning their final four games to claim second place in the conference after dropping their season opener.
"It brought us together as a team," said senior Braden Matthews.
Braden, a starting safety this past season for the Bears, was joined by younger brother, Logan, who started at linebacker. They were joined by fellow siblings Keoni and Max Tuitele, Hunter and Cole Irish, and Kenyatta McNeese Jr. and Wes Williams, the latter of which being sophomore stepbrothers who transferred this season from Alabama.
"We already were a brotherhood on the football field," said junior Hunter Irish, who started at center for the Bears, "but when you actually have your sibling out here it definitely adds more to it."
Making the scenario even rarer is the fact that out of the eight brothers, six started on defense with a seventh player in Hunter Irish receiving plenty of snaps as defensive end during games.
"Our blood brotherhood translated onto the field," Braden Matthews said. "It helped with our chemistry. We see that on Friday nights especially at the end of games when we need to rally to make plays."
And that was the case on more than on occasion this season for Olympia as the Bears successfully rallied multiple times to pull out victories.
"That brotherhood mentality just carried over onto the entire team," said Logan Matthews. "We all hold each other accountable as brothers."
After Olympia stumbled in its season opener, losing 31-7 to eventual conference titlist Yelm, it would had been easy for the squad to go through the motions during the shortened season. They team elected to go the other way.
The Bears fall behind, 14-0, at halftime to Timberline in their following game only to win, 21-14, in overtime. The next week Olympia stopped a two-point conversion attempt with 16 seconds to play to defeat North Thurston, 30-29, then capped their season with a 17-13 win over River Ridge in a battle for second place. In their game against the Hawks, the Bears had a goal line stand at the end of the both halves to close out the season on a four-game winning streak.
"It just makes you want to fight that much harder because you're fighting for your blood out there," Hunter Irish said about the team's outlook. "This has just been a fun group to play with. We're a lot tighter than we've ever been. We're a lot more competitive because we are taking more pride in our school name and pride in who we are this year."
While the others have played together for several years, sophomores McNeese and Williams moved to Olympia this past summer. It did not take long for them to be accepted into the Bear brotherhood.
"When we first came here, we felt bad because we had to leave our team back home that we had been with for a while," said McNeese, who started at free safety, "but we came in and this team immediately took us in as one of their own."
"It was different moving here," added Williams, an outside linebacker, "but it was a good change because how we've been treated."
Max Tuitele believes he knows why that was the case.
"We're Bear football," said the junior linebacker. "We're just one big brotherhood. We accept everyone."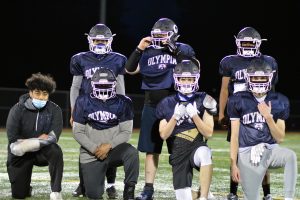 For Keoni and Max Tuitele and Braden and Logan Matthews, the season had added importance as it marked the last time both sets of brothers would play together for Olympia.
"Just being able to have this season was special for me because it meant I got to play with Max one last time," "said Keoni Tuitele, one of the Bears starting defensive ends.
"It's pretty cool to have all these brothers on the team," Hunter Irish said. "You don't see that happen often and having that bond on the field can be dangerous. From the start of the season we quickly formed that bond and it got stronger and stronger as the year went on. It's a special feeling."