Thurston County is filled with exceptional people that choose to live their lives serving the community. The Lacey Fire Department has a dedicated and committed team of firefighters that strive to always keep our community safe. This year, battalion chief Patrick Harn is celebrating his 30th year of service with the Lacey Fire Department and shares his experiences over the years.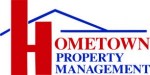 Patrick Harn has lived in Lacey his entire life. He is one of three firefighters in his family, with two of his older brothers also in fire service. As a kid his parents always pushed them to get involved in the community, so all of the Harn children ended up going into lifeguarding as teenagers. "Every year we had a training with paramedics and firefighters on drills and learning responder techniques," Patrick recalls. This was Patrick's first exposure to the world of first responders and he knew this was the right path for him. "When I turned 18, I went down to the fire station and asked if I could be a volunteer," he says. He has been with the department ever since.
The department helped Patrick go through the proper training so he could eventually move from volunteer to career. Upon completion of the training program, he landed a resident spot at a substation and helped the career staff. At the time, Patrick was also working toward a degree at South Puget Sound Community College and looking to obtain his paramedic license. Before long, though, the station was testing for another career position, and at 19 Patrick had done well enough to land an interview and then get offered the job. "My plans changed from going to school to just going straight into firefighting," he says.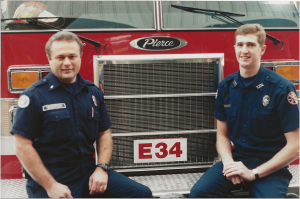 Over the years, Patrick has been able to be a part of some amazing community efforts. This has been his favorite part of the job overall. "There is so much more that we do as a fire district than just putting out fires," Patrick explains. "We get involved with educating the public by going to elementary schools every year and working with HOAs on fire safety." He has loved establishing these relationships in the community and supporting every effort to keep people safe and informed.
One of the first programs Patrick was a part of was the Hendy Bear Program, put together by Lieutenant Henderson. The program provides teddy bears to children as a way to comfort them during an emergency. "If we go to a call where kids are distressed, we give them a Hendy bear," Patrick explains. The program has become nationally recognized, and the department has continued it in honor of Lieutenant Henderson, who passed away in 1999. Patrick was grateful for the chance to learn from and serve alongside Henderson and brings the same level of care and pride to the job today.
Patrick has been dedicated to helping the department continue to bring new efforts to the community, including the water rescue program. Before this, firefighters would get called to drownings but were not trained to help. The team would have to wait for the dive team to come in. "I have always had a passion for water rescue, so I helped lead the effort at the station," Patrick says. They joined forces with the Thurston County Sheriff's Office and put together a scuba team to respond to drownings.
This program is pretty unique, so the Lacey Fire Department has made it a priority to ensure this service can be shared across the county. "Our fire district helps other districts that don't have this program, so if someone needs help, we respond to their calls as their neighbors," Patrick says. He is very proud of the connections the department has made with other public service institutions in the community. "The fire departments really help each other out and provide support to our smaller departments as needed." This sense of comradery and togetherness is what keeps our county safe as a whole.
Togetherness is an essential part of every station. For Patrick and many other firefighters, the station is like a second family. "My kids have multiple dads looking out for them," Patrick says. "We really support each other." The team is incredibly family-oriented, and the chiefs have made it a priority to give their staff the time they need with their families. This job can be very demanding, so the commitment to family has really made a difference in the lives of firefighters. Patrick loves that he has such an understanding team so he can maximize his time with his own family.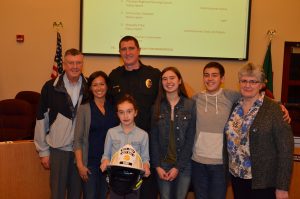 Patrick has been married 24 years and has three kids, who are ages 21, 20, and 16. His whole family has always been very involved with the station and has spent countless hours helping support their efforts to help other families in need. "My wife runs the Adopt-a-Family Christmas program," Patrick says. "We help over 50 families every year with presents and family baskets." They bring in the whole family and get everyone involved with wrapping the gifts. "They all really look forward to it every year." The program has been a wonderful way for the department to help even more people in need.
Being able to serve the community the last 30 years has been a true honor for Patrick. He is grateful to be part of such a dedicated team of people and is looking forward to the years to come. If you know someone in public service, be sure to thank them! It is through them that our community can thrive.
Every month ThurstonTalk.com highlights a public service member as a way of thanking them for their dedication and service to our county. If you know of someone we should highlight, please email submit@thurstontalk.com.