I have to admit, St. Patrick's Day is actually my favorite "food" holiday. I love the Irish-American feast of corned beef and cabbage, Irish soda bread smothered in honey butter and Irish breakfast tea. If you are hungry for some corned beef, green beer or other fun Irish-themed fare, you don't have to go very far. Here are a few places to get corned beef in Olympia and surrounding areas for St. Patrick's Day 2021 (or any day this month!).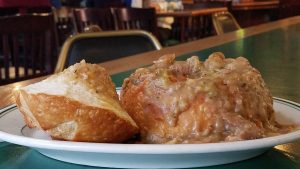 O'Blarney's Irish Pub
4411 Martin Way E, Olympia
360.459.8084
O'Blarney's Irish Pub is an obvious choice if you are looking for Irish food in Olympia. They were not able to have their big St. Patrick's Day celebration last year, so this year owner Mike Heelan is working on a plan to allow people to come together to have some fun. They have rented a 3,400-square-foot tent that will allow them to have socially-distant tables and heaters. And what's St. Patrick's Day without music? "Baring unforeseen circumstances, the Puget Sound Firefighters Pipes and Drum core, the Irish Rock band Slainte', and Ethan Tucker and his band will be playing on our outdoor stage," says Heelan. "We will be open for indoor dining as well. We look at this as an opportunity to do something special for the community, and for our loyal customers who have been so amazing with their support for our business and our staff over the last year."
The Parkside Cafe
1909 Harrison Ave NW, Olympia
360.352.8344
You don't have to be a meat lover to enjoy St. Patrick's Day fare! If you are looking for some yummy vegan Irish dishes to go, check out The Parkside Cafe. March 15-21 they will be highlighting some annual favorites on their mix and match menu. The menu will include shepard's pie and Irish stew. "Our mix and match menu includes some classic and seasonal dishes such as our biscuits and gravy, breakfast sandwich, and our roasted beet and carrot kale salad as well as dessert options," says owner Alicia Elliot. You will not need to order these items ahead, since they are part of their mix and match menu. Pick up to 4 items for $17, 3 for $13 and 2 for $9.
Alderbrook Resort & Spa
10 E Alderbrook Drive, Union
360.898.2200
If you would like a bit of a drive and a view that reminds you of Galway Bay, head to Alderbook Resort & Spa. Normally home to the St. Paddle's Day non-sanctioned Hood Canal race, you can still get a Ruben sandwich made with corned beef, sauerkraut, gruyere, 1000 island on rye bread. Pair it with their Vintage Coffee (baileys, tuaca, coffee and cinnamon) or a Woodinville Whiskey Co. drink.
Uptown Grill
514 Capitol Way S, Olympia
360.338.0340
Uptown Grill always has a Ruben sandwich on their menu, complete with sauerkraut, 1000 island dressing, Dijon mustard and swiss. For St. Patrick's Day, you can also order a full Irish dinner, including corned beef, cabbage and potatoes. Pair it with their Uptown Irish Coffee, the perfect blend of Irish whiskey, Irish cream and fresh whipped cream. If you're looking for beer, try their Irish Death for the holiday. You can order online or call ahead for takeout or delivery with GRUBHUB.
HASH
1807 Harrison Ave NW, Olympia
360.489.0163
If you would like to start your St. Patrick's Day celebrations early, head to HASH in Olympia. There, you can start your day off right with their point-cut corned beef hash. Corned beef is fried up with shredded potatoes and sweet onions. Comes with eggs cooked in the style of your choice and toast. You can order online or dine in.
River's Edge
4611 Tumwater Valley Drive SE, Olympia
360.753.5100
The River's Edge has a traditional Ruben on their menu, made with corned beef, sauerkraut, swiss cheese and 1000 island on rye toast. It's served during lunch and dinner from 11 a.m. to close.
Well 80
514 4th Avenue E, Olympia
360.915.6653
Well 80 is celebrating St. Patricks's Day with a themed quiz night on Tuesday, March 16. "Our trivia nights are broadcast on zoom for people that want to play at home, and we will also be streaming to the TVs in the pub," says Chris Knudson, owner of Well 80. Trivia starts at 7 p.m., and more information about trivia can be found on our weekly Instagram and Facebook trivia posts. That night as well as on St. Patrick's Day, they will also have green beer available while supplies last. This year the beer will be Paul O'shea McFlannery's Emerald Isle Lager.
5th on 4th Sandwiches & More
926 4th Avenue E, Olympia
360.943.9106
5th on 4th Sandwiches & More has Rueben sandwiches for take out or drive through ordering. Their Rueben is grilled on marbled rye with swiss, sauerkraut and house-made 1000 island dressing.
Bayview and Ralph's Thrifways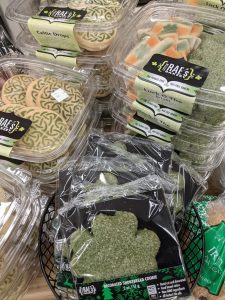 516 4th Avenue W, Olympia
360.352.4897
1908 4th Avenue, Olympia
360.357.8011
Looking for something to go with your at-home celebrations for St. Patrick's Day? Both Bayview Thriftway and Ralph's Thriftway have fresh-baked Irish Soda Bread all March long. They also have a variety of St. Patrick's Day themed sweets and treats, including local favorite Chehalis Mints.
St. Patrick's Day Music Gone Virtual
Once you've grabbed some corned beef take-out, watch the Washington Center for the Performing Art's virtual performance of We Banjo 3: Live From Ireland on March 13. What better way to celebrate St. Patrick's Day then a virtual performance streaming live from Ireland! We Banjo 3: Live From Ireland tickets are on sale now for $25​. "The Washington Center receives a portion of each ticket sale purchased by our patrons," says Jill Barnes, Washington Center executive director. "This is a win-win for the artists and our venue." Each ticket includes on-demand streaming access for seven days post-event.
The Galway, Ireland, and Nashville-based quartet––comprised of two sets of brothers, Enda & Fergal Scahill and Martin & David Howley––continually push musical boundaries while maintaining an unwavering devotion to the essential audience experience. WB3 seamlessly converge the shared and varied traditions of Americana, Bluegrass, and Celtic music with pop-sensible songcraft to create a truly unique and gratifying signature sound.
All four We Banjo 3 band members will be together and performing live for the first time since the pandemic shut down concerts one year ago. This very special March show will be streaming live, in real-time, from the stunning Pearse Lyons Distillery in Dublin.
Have a safe St. Patrick's Day and may the luck of the Irish be with you!