While stacked high with locally-sourced ingredients, and complemented by a side of crispy tater tots, Well 80's Brown Bag Breakfast is an ideal start to any Sunday morning. Whether gearing up for a day of football, or a walk along the waterfront, the Brown Bag Breakfast features a classic Olympia breakfast without having to dine in.

Sourcing from the same artesian well used by the historic Olympia Brewing Company, Well 80 specializes in crafting a range of lagers and IPAs in addition to their pub-style restaurant menu. In November, Well 80 introduced a new morning meal, the Brown Bag Breakfast.
Available every Sunday, the Brown Bag Breakfast features locally-sourced ingredients and several takeout friendly options. With limited breakfast options available in the region, Chris Knudson, the co-owner of Well 80 says the Well 80 team sought out a menu that used high-quality ingredients, sourced from companies around Thurston County. "We had the sandwich," says Knudson. "We had the burrito. We wanted to keep it as simple as possible. We wanted to do it with minimal contact as possible, so we've set up an online interface for people to be able to go order online, and they can order anytime during the week, up until about 6 p.m. on Saturday night is usually when I cut off the ordering."
Designed for people who want a high-quality breakfast to go, the Well 80 team sought out local ingredients and menu options that could be enjoyed anywhere from a picknic bench, to the living room couch.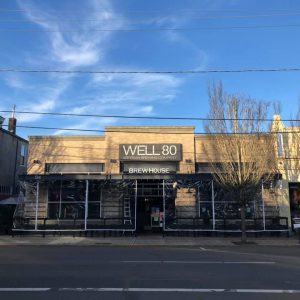 "The Brown Bag Breakfast is a good option for people that are still a little hesitant to go out to restaurants," says Knudson. "It's cool, because it helps our staff get more hours, but it's also pretty unique to the area. I can't think of another place that is doing something like this, where you preorder, can grab it and go."
Using an online portal, customers can preorder their Sunday breakfast of choice with options to customize their drink, or to add additional food to their order. Created to accommodate social distancing measures, the Brown Bag Breakfast is available for curbside pickup and each customer is assigned a certain time window to pick up their meal. Knudson says that using an online preorder model has streamlined the process, leaving enough time for kitchen staff to prepare each meal, and shorter waiting times for customers. "We're making sure we've got stuff ready to go when customers arrive," says Knudson. "That way, nobody's waiting. So, we're able to get people out of there in a couple minutes."
After experimenting with breakfast menus in past years, Well 80's initial Brown Bag Breakfast included both old and new favorites. Originally featuring two breakfast sandwiches and one breakfast burrito, the Brown Bag Breakfast menu has since evolved and by popular demand, now includes more breakfast burrito options for a range of tastes and diets.
"When we first did the Brown Bag Breakfast, it was more of a sandwich contest," says Knudson. "And we had a few different sandwich styles. But we found that the burritos have been much more popular."
A cult favorite at Well 80, the big breakfast bomb burrito features multiple South Sound ingredients, including Olympia Salsa and breakfast sausage from Delmonico's Heritage Butcher. Also stacked high within the burrito are tater tots, bacon, cheddar cheese, avocado and chipotle bacon ranch sauce.
Showcasing the herbed breakfast sausage from Delmonico's Heritage Butcher in Olympia, the brewhouse breakfast sandwich will also include a fried egg, cheddar cheese and bacon, all finished off with Well 80's drive-in sauce and a potato roll.
For a meatless option, the vegetarian breakfast burrito has Olympia Salsa, eggs, Beyond sausage, cheddar cheese, avocado, tater tots and chipotle ranch sauce. The vegan breakfast burrito is stacked high with arugula, grilled onions, Beyond sausage, tater tots, tomatoes and sun-dried tomato aioli.
Accompanying each menu option is an order of crispy tater tots, and a drink. Customers can choose from a range of craft beers brewed by Well 80, including a four pack of Artesian IPA, or Original Lager Year '64. Additional drink options include a 32-ounce prosecco mimosa, or a bloody mary that features Sandstone Distillery's Stone Carver Bacon Whiskey. When pre-ordering online, customers will have the option to customize their drink and will also be able to add additional food onto their order.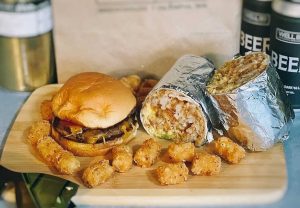 Since November, the Brown Bag Breakfast has become a new tradition at Well 80, providing for a busy restaurant in the early hours of Sunday morning, and as more people line up each Sunday, Knudson has enjoyed seeing how the breakfast has evolved. "It's just kind of fun and interesting," says Knudson. "It's like two hours of just jamming and kick out some cool breakfast. And we were able to get a few employees in here for a few extra hours. It's fun because it's different. And it's fun to just see people show up and grab some food. And we're starting to get some regulars now that are doing it every week."
The Well 80 Brown Bag Breakfast is available every Sunday, with preordering available throughout the week. To learn more about the Brown Bag Breakfast, or to place an order, visit the Well 80 website.
Well 80 Brewery and Brewpub
514 4th Avenue E, Olympia
360.915.6653