With the restrictions of the pandemic, it can feel like a challenge to be able to really celebrate special occasions. Most people go to dinner for birthdays and anniversaries, but the options are limited as many restaurants are only able to offer food to-go, and possibly outdoor dining. Local Olympian Chris Strode decided that for his wife Ashlynn's birthday this year, he would make his own outdoor seating for their celebratory dinner. On December 6, he set up a two-seat table on the 4th Avenue bridge, complete with candles and dinner to celebrate her 34th birthday.
Chris got the idea from a story he had seen circulating about a couple who had celebrated on the Brooklyn Bridge in Manhattan. "When I saw that, I thought, 'Ya' know what, there is a great bridge in town with the best view for 60 miles,'" Chris recounts.
He hid everything in the trunk of his car so Ashlynn wouldn't see it and ordered food to go from Mercato Ristorante. That evening he brought Ashlynn down to the Bayview Thriftway parking lot so they could walk up to the spot on the bridge together. "I was like, 'what are we doing?'" Ashlynn says with a laugh. She quickly realized her husband had planned a wonderful experience for them to share despite the shutdown. All throughout dinner, people were happily honking their horns at the couple. "People loved it!" Ashlynn adds. Seeing this birthday on the bridge really showed people that even with the circumstances, we can still create memorable experiences.
This isn't the first time Chris has gotten creative for a celebration. "He has always been more about experiences than gifts," Ashlynn shares. One anniversary they shared a bottle of wine on the bench at the top of the switchback trail leading up to the Capitol Campus. Even their first date wasn't necessarily traditional. "It was at a dump in Tacoma," Ashlynn adds. "Chris is a birder, and there was a rare bird alert at the dump for a slaty-back gull." This gull is native to Japan, so seeing one around Washington is quite a unique sight. The couple didn't see it on their first date, but they ended up going back a second time and spotted it then.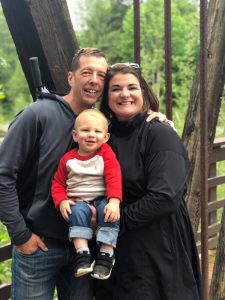 The couple has been together since that first date in 2012, and over the years Ashlynn has joined Chris in the bird-watching community. Even throughout the pandemic it has been the perfect activity to stay busy without unnecessary exposure risks. "It is a chance to get outside and enjoy nature," Ashlynn says. "We find beauty wherever we go and enjoy the time spent together." They follow lists on eBird to learn about the best places nearby to discover new species to add to their personal sighting lists.
If you want to see some birds, you might not have to go as far as you think. "You can birdwatch in your own backyard," Chris says. "We don't own any birds of our own because we can feed the ones outside and enjoy them all the same!" With a bird feeder and some patience, bird watching has proved to be a great pastime through the pandemic.
Ashlynn and Chris are both frontline health workers, so outdoorsy activities like birding have been essential for them. "We are keeping a pretty tight circle because we don't want to expose anyone or get anyone sick," Ashlynn says. This has been most challenging with their baby Cooper, who turned 2 on December 30. As much as he loves being outside with them, Ashlynn says he has been more intrigued than ever by other people. "The lack of interaction has made other kids and even adults really interesting to him," she says.
As much as they would love to have family over and have play dates, Ashlynn and Chris are sticking to social distancing to keep themselves and others safe. They have done virtual calls with family members, like Cooper's grandparents, so that they don't miss out on each other during the pandemic. It was hard not to feel the frustrations that come with such a difficult time. "We would have loved to take him to Boomshaka," says Chris, "but we can't do those things right now." So instead, the Strodes celebrated as a family in the safety of their home by making cookies with Cooper and enjoying his birthday gifts.
It can be disheartening to think of all the things we used to do a year ago for special occassions, but the Strode family proves that there is still so much we can do to celebrate. "You can still do amazing things with each other with a little creativity," Ashlynn says. Chris suggests people try some of the local sights in Olympia for special occasions, such as Boston Harbor, Beverly Beach, or the top of Views on Fifth. Chris and Ashlynn have proved that in a community with so much to see, we can celebrate anything by finding beauty and sharing it with those we love.