The long months of quarantine have many of us cleaning, organizing and finally getting to those honey-do projects we've kept on the back burner. At Intercity Transit, they are tackling a few projects of their own, albeit on a much larger scale than our messy closets or chaotic basements. Their Pattison Base Renovation and Rehabilitation project is a labor of love that will benefit the community by better supporting all fleet-wide operations for decades to come.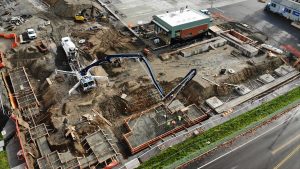 "The existing maintenance, operations and administration facilities were completed in 1985," explains Ann Freeman-Manzanares, General Manager. "It was designed to support service and maintain up to 80 vehicles. The community has grown over the last 35 years, as has the need and support for transit service. The existing facility currently supports over 400 vehicles. This renovation and expansion is needed to accommodate the existing fleet, to support expanded service approved by voters in November 2018, as well as to equip us for future growth."
Unlike the rest of life, COVID-19 slow-downs haven't impacted progress. "Thanks to the coordination and cooperation between the Intercity Transit team, the architects and engineers, contractors, suppliers, as well as collaboration with the City of Olympia, we have been able to keep the project moving forward according to schedule. Everyone is working diligently to keep the project on-track and exercising great care with COVID-19 safety precautions in place.
Expected to take three years, aspects of the project will become operational in phases. From the Pattison Street site, IT will continue to operate fixed-route bus service, Dial-A-Lift, Vanpool, Village Vans, community vans and travel training programs. "In addition, we'll have enough space to bring our Walk N Roll youth education program back onsite," says Freeman-Manzanares. "This project allows us to play a role in the redevelopment of the Martin Way corridor and invest in the future of our community."
Intercity Transit has used local companies throughout this project. FORMA Construction is serving as general contractor, Sare Electric of Tumwater and Sunset Air in Lacey are also key contributors. Stantec, the project architect, specializes in transit facility design worldwide and Lacey's SCJ Alliance is an engineering subconsultant. When completed, the building will meet or exceed LEED environmental design standards.
Why expand now, with so many uncertainties on the horizon? "This project has been in the works for a long time" says Freeman-Manzanares. The general contractor was hired in June 2019 with the design work and grant writing taking place many years prior to that. This construction project comes at a time with the community really needs the economic stimulus. In addition, the number of people living within our service area continues to grow and with the passage of IT Proposition 1 by over 65 percent in November 2018, voters showed their support for additional public transportation services. Investing in this infrastructure is necessary to provide the transformational system voters wanted." And, as has been evident throughout the COVID public health crisis, many essential workers get to their places of employment on public transit.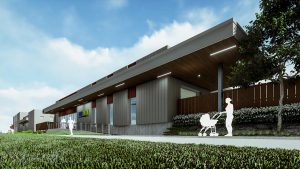 In addition to COVID-19 there are plenty of other challenges. "The site we are working with is tight," admits Freeman-Manzanares. "We are fitting a lot of function into a small space. It is a challenge to construct and renovate while we are operating service. Fortunately, we have great staff and a construction team committed to making this work."
Intercity Transit has long been dedicated to our region. Whether through clean, safe and zero-fare buses to help people accomplish their essential trips or helping school kids (back when things were normal) go on exciting, educational field trips, they're a fixture in and around the community. Buses roll in parades, attend festivals and colorfully ring in the holiday season. With the new Pattison facility, they'll also offer a welcoming space to meet, mingle and learn…pandemic-permitting.
You can follow the project's progress in a variety of ways. Watch the site grow and change on Instagram, Facebook, Twitter or through the FORMA website. There are also renderings, maps and a project timeline available from Intercity Transit as well. Call Intercity Transit's customer service line at 360-786-1881 with questions. Then download OneBusAway and hustle to the nearest stop, your groceries and honey-do list won't take care of themselves.
Sponsored