Inked in black, a shaded heart reveals a greater eco-system of flora, fauna and fungi. A spotted deer, salvaged from a piece of shattered ceramic, is made anew and fixed to an antique bronze-toned chain. An explosion of pastels, flowing to a painting's edge, hinting at inner nebulas and cellular structures. Through recycled materials, eco-friendly construction practices, a love of the surreal and a touch of vintage flair, creativity knows no bounds for the artists of Gallery Boom.
Through the themes of transformation, surrealism, anatomy and the natural world, Gallery Boom artists explore the many facets of the human experience. Not confined to one medium or art style, the creations that line the walls of Gallery Boom contribute to a greater community that celebrates a diverse exploration of art and culture.
Sally Lopercio
What was once ready to be discarded, is made beautiful and functional once more through artist Sally Lopercio. Specializing in upcycled craft jewelry, Lopercio sources elements of her jewelry from objects that are damaged or broken. After dabbling in various artistic mediums throughout her life, Lopercio first turned to jewelry making after having children, using her art as a support when experiencing post-partum anxiety.
Lopercio says through hand-crafting jewelry, she can utilize materials that would have otherwise gone to waste. "I really enjoy being able to work with my hands and repurpose broken and unused materials," says Lopercio.  "I'm inspired by my local surroundings, the beautiful Pacific Northwest and creative minds. I appreciate people who are community-minded and have the capacity for empathy."
Artbyhaka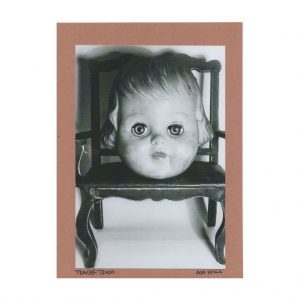 A baby doll's gaze captured in a candlelit reflection, its sepia eyes fixed to the upper left distance. A skeletal figure emerges from a shadow, its faint left iris catching a sideways highlight. With a study in surrealism and high key and low-key lighting, artistic duo Artbyhaka explores an eerie underbelly of life and art.
Established in 2015, Artbyhaka consists of Seattle-based artists AXEHAKA and Lady HAKA, who say they aren't afraid to take on life's more creepy side in their work. Artbyhaka combines both AXEHAKA's and Lady Haka's artistic pursuits, including Lady Haka's witch-inspired pieces and AXEHAKA's elaborate dolls scenes. Through Artbyhaka, AXEHAKA and Lady HAKA not only make art, but use their creativity to contribute to charitable causes for both animals and humans.
Megan Teutchel
At the heart of Megan Teutchel's artwork is a study of anatomy and the surrounding natural world. As a former emergency medical technician and paramedic, Megan Teutchel's knowledge of the body's complex systems has served as a guiding force for her artwork. After a back injury forced Teutchel to resign from working in an ambulance, she then turned to art during her recovery.
Moving to Olympia in 2018, Teutchel opened an illustration business the next year, incorporating elements of anatomy and Pacific Northwest fungi into her black ink illustrations. Teutchel says art encourages her to work through roadblocks in her life, helping her to view things in brighter light and eventually, has helped her to pave a clear path forward in both the art and medical field. "I think the natural word is hugely inspiring," says Teutchel. "From our own bodies, to the planetary ecosystem that we are all a part of. I think the more we see that we are a part of the natural world, the more we can celebrate it and protect it. Art is a beautiful way to bridge many gaps in conversation and introduce new ways of thinking about the world and the role that we all play in it."
Martie Carroll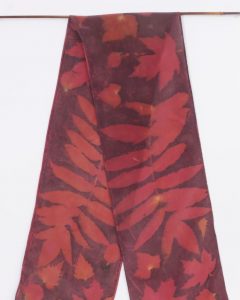 Leaves, stems and blooms melt together onto a textile reminiscent of a watercolor painting and autumnal walks in nature. Working with natural fibers, textile artist Martie Carroll uses embroidery and several fabric dyeing techniques to transform blank fabric surfaces into unique prints that draw on  the Pacific Northwest landscape.
Through her eco-friendly printing process, Carroll decorates her textiles by taking the pigment from local leaves and using the pigment to dye various fabrics, scarves, socks and fingerless gloves. "I find it fascinating to change the surface of cloth to create something beautiful and functional," says Carroll. "The magic in the transformation, from plain to lovely, is my motivation to continue to permanently mark cloth in any way possible."
Ahlix Hale
Bursting with color and mystery, Ahlix Hale's fluid art is reminiscent of both celestial and biological structures. Using a mix of pigments, alcohol inks, resin and fluid acrylics, Hale draws inspiration from watching an abstract thought become tangible through art. Recently moving from Arizona to Washington State, Hale uses art as a means of expression and as a tool to help cope with past trauma and loss. For Hale, art has become a driving force in life, creating meaning, healing and a sense of self.
Grateful for those who have served as inspiration, Hale hopes to pay it forward by continuing to help others through art. "Art is my conduit of expression and a reprieve from the, at times, very harsh reality in which we live," says Hale.
Deborah Smith
With decades of experience as a mixed media artist Deborah Smith says she can't recall a time when she wasn't using art as a means of expression. Through paper mâché, watercolor and acrylic paint, Smith creates art prints, greeting cards and personalized journals with covers centered around life's many themes including, dreaming, dancing and wisdom.
Featuring scenes from a snowy cat and a moonlit waterfront to winter's holly, Smith's illustrations highlight whimsey, the vivid beauty of nature and self-reflection. For Smith, exploring the arts have saved her life and have given her the gift of introspection. In addition to visual art, Smith is also a singer and songwriter, composing lyrics tied to her visual art and creative process.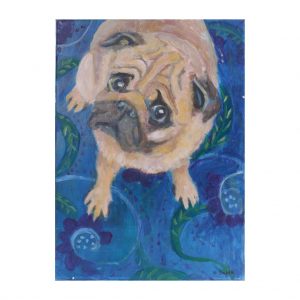 An excerpt from "The Collage I'm Working On" by Deborah Smith:
"The collage I'm working on,
integrates reality,
sprays and drips with mystery
of what is and what will be.
I piece things together
on a canvas of light and dark.
I'm a character witness
to what dwells in my heart."
To learn more about the artists and collections available at Gallery Boom, visit the Gallery Boom website.
Gallery Boom
201 Wilson NE, Olympia
360-259-3412
Make appointment via email at galleryboomolympia@gmail.com
Sponsored