Your favorite local insurance agent is ready to help you take control of your auto insurance rates. Melanie Bakala, owner of Melanie Bakala State Farm Insurance offices in Lacey and Shelton, is excited to help you maximize discounts on your auto insurance rates with the help of State Farm's Drive Safe & Save program.
Simply set up the beacon State Farm provides in your car and download the State Farm app onto your smartphone. The beacon communicates with the app on your phone via Bluetooth, which then communicates with State Farm about your driving habits.
Don't worry, it doesn't tell State Farm if you were going five miles per hour over the speed limit, but it will take note of excessive speed. It also tracks your acceleration and how fast you take corners, as well as how many miles you traveled. This information allows State Farm to reward you with discounts for safe driving, and adjust your policy price if you don't drive as many miles as you thought you might when you enrolled.  "The future of car insurance is going to be based on your driving habits and frequency," Melanie says.
She herself is enrolled in the program and has noticed a 10 to 15 percent discount on her policy price. Enrolled participants are eligible for up to 30 percent off the cost of their policy.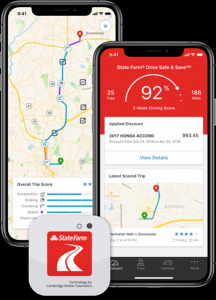 With traditional auto insurance policies, rates are based on other people your age and where you live. Rates could change based on the driving habits of other people in your bracket. If you are a person frustrated by seeing rates increase due to the actions of others, and you have a smartphone, Drive Safe & Save might be a great option for you. "This is a great way to truly control your auto insurance rates," Melanie says.
The app gives you a grade after every drive. This program is incredibly popular with parents of young drivers because it allows them to track their new drivers' habits.
To get a quote and enroll in State Farm's Drive Safe & Save program, call one of Melanie Bakala's two State Farm offices. Thurston County residents can call the Lacey office at 360-972-7905 or request a quote on their website. Mason County residents can call the Shelton office at 360-426-2428 or request a quote on their website.
Sponsored