It's been nearly three years since the Thurston Investment Network (ThINk) funded its first startup in early 2018, and the program is going strong. Facilitated by the Thurston Economic Development Council (EDC), ThINk is a group of over 40 local individuals who have decided to keep investment dollars in the local economy by funding new and growing businesses in the greater Thurston County area. The first business funded by ThINk has grown into a sought-after purveyor of stylish, high-quality apparel and unique outdoor gear available in select retail outlets across the country.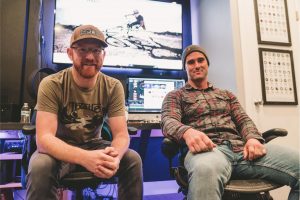 ThINk funded Lacey-based Trxstle in March 2018. John Smigaj and Morgan Misek pitched their start-up in a tight 10-minute presentation they practiced countless times in front of EDC team members as well as family and friends. They showcased a prototype for their flagship product, the CRC System. It's a car top carrier that holds two fishing rods. It then telescopes into a case for convenient travel.
"It wasn't part of the plan to land in a chain of retailers," John explains. "We started out direct-to-consumer by way of social media, our blog and our website." They had their eye on brick and mortar stores as well, but it was always relatively local specialty fly fishing shops. "Chain retail stores seemed like a big fish. Because we offer such a niche product, we weren't sure we'd be able to offer the margins or volume they needed," John goes on.
Scheels All Sports is a national chain of over 25 sporting goods stores, nearly 20 of which contain specialty fly shops where Trxstle's gear will now be sold. The buyer for the Johnstown Scheels fly shop, located outside of Denver, saw Trxstle's ads and posts on Instagram and contacted them about stocking their apparel line in his store. Their apparel line sold incredibly well in Johnstown, and other Scheels locations took notice. "It's going to be a weird transition going from several years of working hard to sell product to now having to keep up with demand," John says.
Gary Andrews is a founding member of ThINk's investor network and stepped forward as one of two investors in the Trxstle project. Gary has been a vocal proponent of local investing in Thurston County since the 1980s and happens to be an avid fly fisher, so it was fitting that his first investment was Trxstle.

"We hear a lot about 'buy local,' but not much about 'invest local,'" says Gary. "By investing local, you're multiplying dollars that stay in the community and create employment." Gary is a huge fan of Trxstle's products, particularly the CRC System, and continues to sit on their board. "I really like working with John and Morgan," he adds. "They've weathered several storms and that shows me they've got what it takes to succeed as a small business."
Of the $56 billion Americans hold in investments, less than 1% goes to small businesses. "Shifting even a small portion of our investments to local businesses would capture a tremendous amount of wealth that would otherwise leave our community every year," explains Aslan Meade, the EDC's director of strategic alliances. To date, 10 deals valued at just under $800,000 have been made between ThINk investors and local businesses.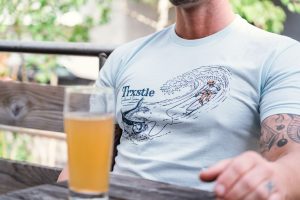 John and Morgan continue to stay at the head of the curve when it comes to building hype around their products and serving compelling content to their customer base. Morgan explains how they got their name off the ground with apparel and goods featuring designs by local artists, including Devin Finely of Define Arts and Megan Brown, who designed their iconic Tumbleweed series. They even produce video content, like their latest 13-minute film, "Door Man," that anyone who loves to fish will enjoy.
Trxstle began with John and Morgan. Today, they employ 3 team members in Lacey, 7 sales reps across the country, and 11 pro staff members. You can find Trxstle apparel and swag in Olympia at Ember Goods. You can shop for their gear and get installation assistance at their showroom in Lacey or on the Trxstle website. You can follow them on Facebook or Instagram to keep track of presales, new film releases and more.
If you are a small business owner in need of business coaching and funding, reach out to Jennifer Dye at the Small Business Development Center (SBDC). Jennifer is a certified business advisor and the center's director. She is the best starting point for businesses that need to identify issues preventing their growth and who need to be connected to funding sources such as ThINk.
If you are an individual living in greater Thurston County and you are interested in becoming a member of the ThINk panel of investors, contact Aslan Meade. You can learn more about the ThINk program on their website.
To read about ThINk's latest deal with a rural health clinic in Mossyrock, read here.
Sponsored