When everyone can't go to their favorite class, their favorite class comes to the neighborhood. East Olympia Elementary teacher Kaci Anchors loads up her equipment each week and hits the road to set up for PE class during COVID-19. "Students and staff are longing to connect, and right now," says Patty Kilmer, principal of East Olympia Elementary, "we are not able to do that in the school building. The specialist team came up with a plan to take it to our neighborhoods. We knew the activity had to be a 'no contact' activity and that's when our PE teacher suggested an obstacle course." They had the equipment, the outdoors, and with PE being a popular favorite, they had the right ingredients to generate some activity.

East Olympia Elementary is in 100% remote learning mode, which means all learning is being done from home, including physical education. However, the joy of PE class is often associated with participating alongside others. "I love getting to create the courses and seeing the students of all ages move their bodies," says Anchors. "Seeing the smiles and hearing the laughter makes my day during these tough times." Relay races, cheering each other on and all the noise that accompanies class is part of the fun. Anchors this to the students via their mobile obstacle course.
The Invite and Set-Up
The school reach out to families in the vicinity of particular bus routes and alerts families on the next location. The school's PTO shares the location via the East Olympia Elementary PTO Facebook page, and even some homeowner associations share the information on social media as well.
The school counselor, Spanish teacher, librarian, para educators and others help load up Anchor's vehicle with equipment. Out of the coffers from Field Day, comes the agility ladder and the tire run made of pool noodles. Off they go. Anchors and the support staff set up obstacle courses in local parks. It's not the structured physical education course like when learning in person, but it has all the elements that keep the spirit of fitness alive: physical exercise, fellowship, hula hoops and pool noodles of course.
"If you build it, they will come," is an iconic quote from "Field of Dreams," and it certainly fits here. At each location the students come to the built course, excited to have something to do off screen. The average group has numbered 15 and the largest about 30. Parents, elementary students and siblings young and old show up to enjoy the obstacle course activities. No kids are turned away. Everyone wears masks and none of the equipment is hands-on.
Each obstacle course has a start and finish line. Sometimes dueling courses are set up next to each other. Once the students have mastered the usual course, they challenge themselves to run it backwards or race against time. Students can practice their foot work stepping quickly through a rope ladder laid out on the grass.
Getting Kids Moving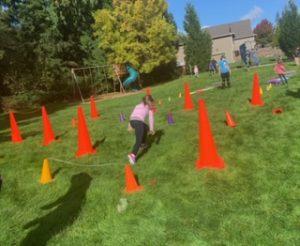 Clearly, it's a success, and the reviews are raving. "I thought it was cool," says Jaxon, a middle schooler, "that even though I'm in middle school, they let me join in with my little sister. The obstacle course was fun, and it was neat to see my old teachers."
"It's pretty fun!" Brady, a fifth grader, reports. "I liked seeing my teachers and friends!"
"It was really fun," says Alice, an elementary student, "and challenging, but I knew that if I tried hard I could do it, and I did! I loved seeing my teachers!"
Through ladders, cones and hula hoops, students practice balance, agility and coordination. Competitions between students commence along the dueling courses. Sometimes they want to race the teachers, staff or even their principal. It's also an opportunity for providing other learning support. "At some of the events," says Principal Kilmer, "we have had books compliments of South Sound Reading Foundation to give to the participants. No one is turned away. We have had two-year-olds join as well as high school students."
"Our traveling obstacle course gives our students the opportunity to engage in physical activity while connecting with their peers and teachers in a safe environment," says Erin Novak, a Spanish teacher at East Olympia Elementary. "Traveling to our students' neighborhoods allows students to participate without relying on an adult to transport them to the school. I love seeing the kids, being able to encourage them and check in on them. Mrs. Anchors has done an outstanding job organizing each weekly event."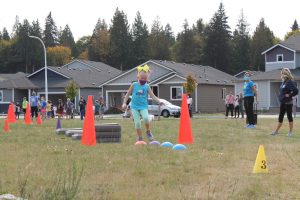 Each Wednesday, the group has been visiting two different neighborhoods. It is a rare opportunity for teachers and staff to meet and interact with families and students. It's also an opportunity to share experiences and advice as well as to give support regarding online learning.
"Watching all the kids in my neighborhood out in the fresh air getting exercise, seeing friends and teachers, and having fun, was so wonderful," says Jillian Schneider, a parent. "After months of social distancing, giving students the chance to safely interact with their teachers and classmates in an active and fun way was just what these kids needed! A big thank you goes out to the teachers who had this idea and organized it for our kids!"
Teachers and staff will aim to continue based on weather, check the East Olympia Elementary PTO Facebook page.