A handcrafted breakfast can be a uniting force on a Sunday morning, whether waking up to catch a football game, or hitting the hiking trail for an outdoor stroll. And at Well 80, their new take on breakfast is a fitting start to any Sunday activity. With a trio of sandwich options stacked high with locally-sourced ingredients, Well 80's Brown Bag Breakfast is ready for those seeking an unforgettable Sunday meal on the go.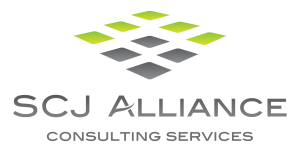 As a brewery and brewpub, Well 80 is known for crafting in-house ales and lagers since March 2018. Following in the footsteps of the Olympia Brewing Company, Well 80 sources water for their beers from the same local artesian well as the historic brewery.
"We have an artesian well in the back of the building and that's what we brew our beer with," says Chris Knudson, co-owner of Well 80. "Kind of like the Olympia Brewing Company used to do years and years ago. The water we are using is from the same aquifer. It's perfect, brilliant water and it works great for us. We're also a full-service restaurant, serving unique pub food with our own twist."
In addition to their on-tap selections, Well 80 serves a pub-style menu, including burgers made with a ground chuck and short rib blend, and pizzas baked on a stone hearth. For early birds looking for a hearty morning meal, Well 80 is set to offer a new to-go breakfast menu with a socially-distanced spin.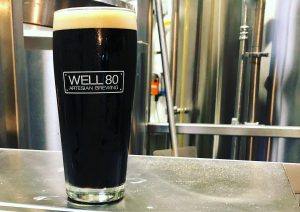 Beginning Sunday, November 8, Well 80's Brown Bag Breakfast will recreate past menu favorites, while also featuring a number of ingredients sourced from around the South Sound. To accommodate social distancing, the Brown Bag Breakfast will be available for curbside pickup on Sunday mornings. "People can preorder, and then they can drive up to this spot right out in front of our restaurant," says Knudson. "After preordering, you'll be able to pick up your breakfast within a 30-minute window."
Between the hours of 9:00 a.m. and 11:00 a.m. each Sunday, there will be four separate pickup times for the Brown Bag Breakfast. Preordering breakfast over the phone will allow for a more streamlined pickup process, and will grant customers the freedom to take part in their favorite Sunday festivities.
"Ideally you would arrive during your 30-minute window and pick up your breakfast," explains Knudson. "And we will hand them a brown bag with their breakfast. There's no need to make any sort of transaction at the time and it should all be prepaid. Kind of like a drive thru, people will pull up, tell us who they are, we grab their meal and give it to them. That allows them free time to go watch football or go to a park."
After dabbling in the breakfast game in the past years, Well 80 will reintroduce both old favorites and new creations fresh from the test kitchen. The debut Brown Bag Breakfast menu will include three separate breakfast sandwich and burrito options, accommodating a variety of tastes and diets.
Using a unique sausage blend from Delmonico's Heritage Butcher in Olympia, the signature sausage breakfast sandwich will stack a seasoned blend of pork sausage, bacon and a fried egg, all topped with a variety of Well 80's signature sauces. "The Delmonico's sausage patty is just fantastic," says Knudson. "It has a really nice herb profile in it. And then it works just so well with the sauces that we put on it and the melted cheese."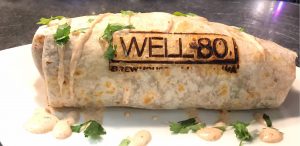 A new take on an old Well 80 favorite, the big breakfast bomb burrito will feature Olympia Salsa, tater tots, cheddar cheese, bacon, eggs and bacon chipotle ranch sauce, large enough for multiple meals.
For vegetarian and plant-based eaters, the Well 80 team has devised a never-before-seen vegan sandwich. The brain child of Well 80's kitchen staff, the vegan breakfast sandwich will feature a Beyond Sausage patty, arugula, roasted tomatoes, roasted tomato aioli, stacked atop a ciabatta bun. To accompany the main course, all three breakfast options will be paired with a signature cocktail and crispy tater tots.
"We're going to initially have two drink options," says Knudson. "A bacon bloody mary, using Sandstone Distillery's stone carver bacon whiskey, which is really tasty and makes for an awesome bloody mary. And then we will also offer a mimosa."
When formulating a to-go breakfast menu, the Well 80 team sought out staple breakfast ingredients in the finest quality they could source. To finish off each menu option, Well 80 has combined tried and true breakfast flavors, in combination with their house sauces, for an increased spice and flavor profile. "We are trying to do something that's really, really high-quality ingredients," explains Knudson. "And really tasty. Something you think of when you wake up on a Sunday morning and you want breakfast, but don't want to make breakfast."
To order the Brown Bag Breakfast and schedule a pickup time, call the restaurant at 360-915-6653 or order online. To learn more about the Brown Bag Breakfast and the brewpub menu, visit the Well 80 website.
Well 80 Brewery and Brewpub
514 4th Avenue E, Olympia
360-915-6653