Are you starting to feel the holiday spirit in Thurston County? That's right, I'm talking about Halloween, or All Hollow's Eve if you are so inclined. Quite a few Olympia area homes have transformed into delightfully ghoulish sights to behold for this fun and festive season. So, load the family up in the car and take a leisurely autumn drive to these Halloween displays in Olympia that that are sure to bring out the spirit in mortals young and old.
Olympia
The Agatha Smith Cemetery
The corner of Capitol Way S and 18th Ave SE
Every year, as the leaves begin to fall, bones rise from the ground along with a long-lost local legend. The Agatha Smith Cemetery has become a perennial favorite in in the South Capitol Neighborhood. On a signboard at the corner of the property, onlookers can stop and read the ghastly tale the of wedding night double murder and learn of the long-forgotten cemetery which once stood the very ground. If you wander by after dark keep an eye out for the restless phantasm of Agatha Smith as she seeks justice… or vengeance.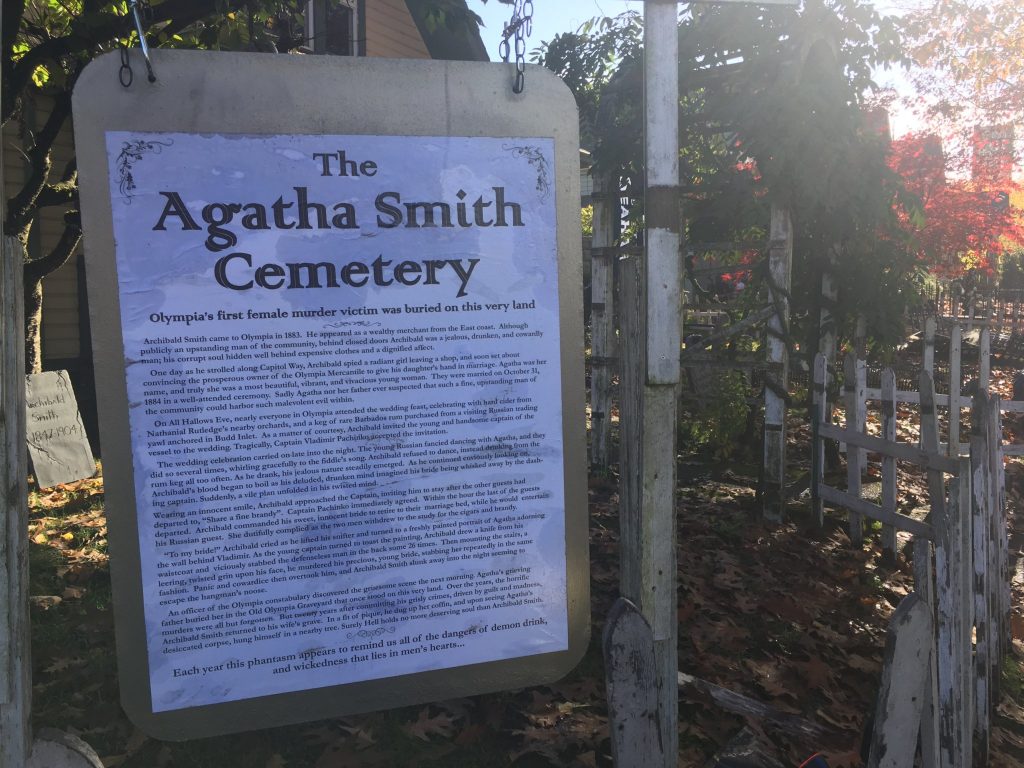 The Monster House
Located at the far south end of the South Capitol Neighborhood on Capitol Boulevard, just before the I-5 bridge.
At the southern end of the South Capitol neighborhood, just as the road begins to curve and turn from Capitol Way to Capitol Boulevard, a strange occurrence has taken hold of the home located at the south end of the South Capitol neighborhood. A massive eye peers out from the home's upper window and sharp teeth protrude from the front porch. Giant webs cover the yard and plenty of victims that got a little too close can be seen from the safety of the sidewalk. The Monster House is not the only one of its kind, but it is certainly the most dramatic. Keep an eye out, as you may notice this strange affliction has taken hold of more than one home in the South Capitol neighborhood, as eerily massive eyes peer out from behind the curtains of more than a few homes in the southern end of South Capitol. Do monster homes roam in packs, or is the affliction spreading? Who knows?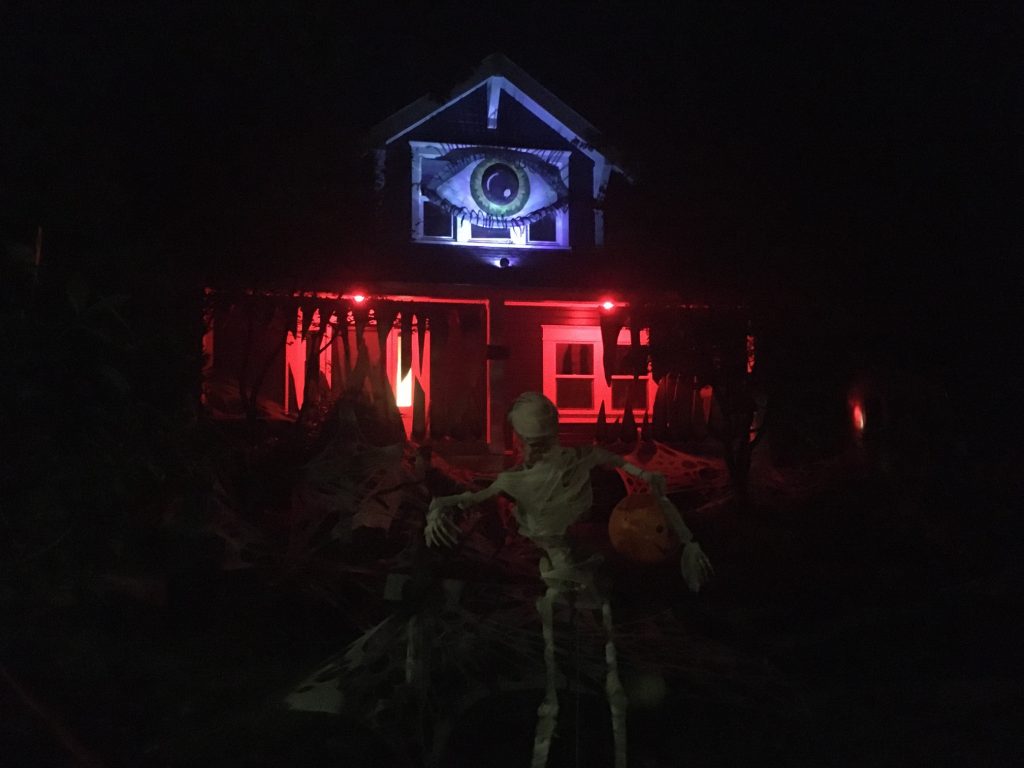 Capitol Way S before it curves to Capitol Boulevard
Several homes at the end of Capitol Way, just before the curve, are also expressing fine Halloween spirit. Ghouls enjoying a wicked holiday drink sit on one porch, while ghosts swirl in the trees above another. Keep an eye for another monster house too.
Corner of North Street SE and Lorne St SE
Perhaps the proximity to a graveyard inspired the spooktacular decorations that adorn this house on North Street. Filled with all kinds of Halloween inflatables, this house is an especially fanciful sight that even the younger, more timid viewers will appreciate. Check out the skeleton pirate ship, massive dragons, pouncing black cat and more.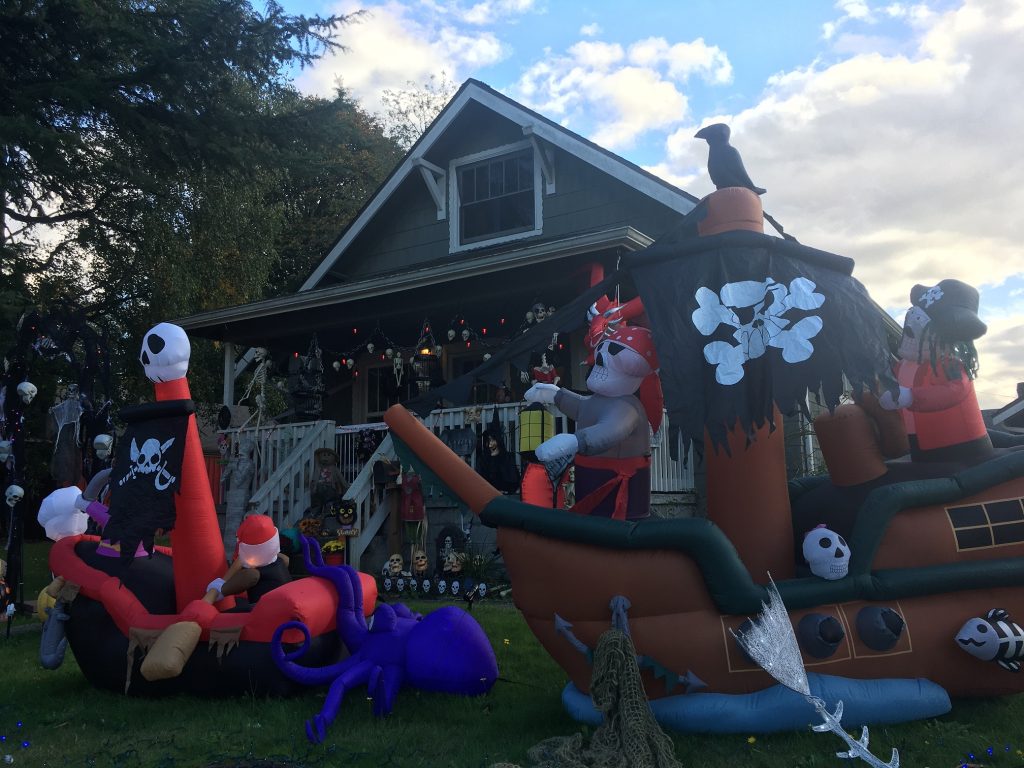 Corner of North Street SE and Hawthorne Place SE
Just down the way, near Olympia High School, fans of the 1980s cult-classic film Beetlejuice may recognize the spotlight feature decoration of the house at the corner of North and Hawthorne. "Whoa, Sandworms, ya hate 'em right? I hate 'em myself!" exclaims Michel Keaton's character Betelgeuse. No, Betelgeuse, we love the sandworm and the other ghoulish decorations at this North Street house.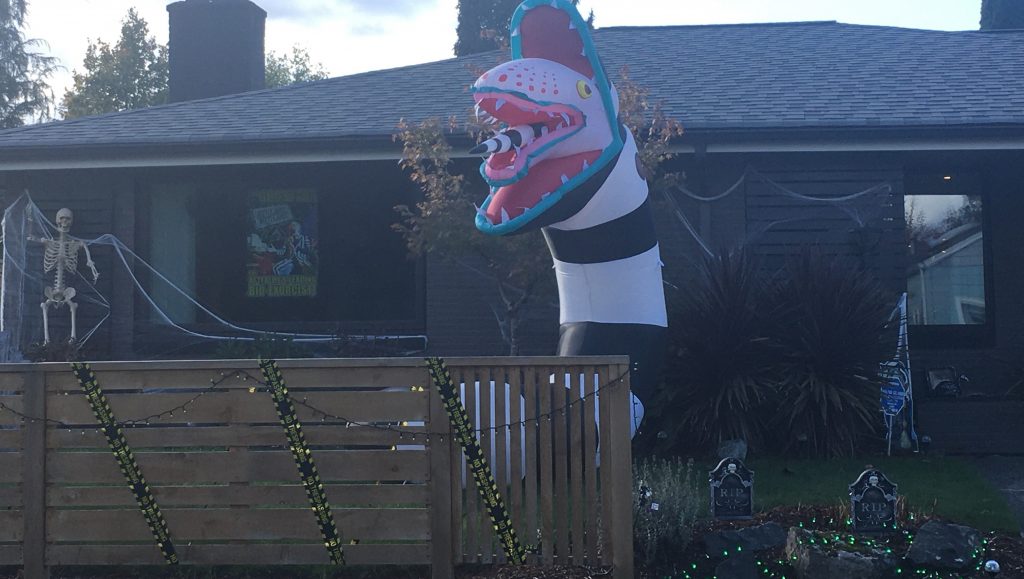 Sherwood Drive/Raintree Court
Off Cain Road
Be sure to check out this neighborhood for a fully decked out house featured pirates, pumpkins–including a giant vampire pumpkin!–and lots of skeletons. A seven-foot T-Rex stands out above the rest, with some dino eggs underfoot.
The Halloween House on 10th
Find the Halloween House on 10th Ave SE between Fir and Fairview
Spinetingling, awe-inspiring, and bewitching are just a few words that describe over-the-top haunted Halloween home in Olympia's Eastside neighborhood. With so much to see, on-lookers could marvel at the home for a full hour and still be surprised by an unexpected detail that they had yet to see. On less than a quarter of an acre, the owners of this fantastic Halloween marvel pack in more mystical macabre decorations than you can imagine. Carefully peer into the horse-driven haunted hearse. Tally up the total human skulls that fence the front of the display. The Halloween house even features a clocktower complete to count down the day until Halloween.
Corner of Boundary St SE and 9th Ave SE
On your way to the Halloween House at the top of 10th, swing by the charming Victorian house on Boundary Street. With festive holiday lights, a neat little graveyard and ghosts illuminating the upstairs windows, this lovely house has transformed with Halloween spirit.
Nut Tree Loop Skeleton Troupe
A few houses into Nut Tree Loop, off 22 Avenue SE
A seemingly normal suburban style neighborhood hides this honorable mention on Nut Tree Loop. If you find yourself out this way, take a moment to appreciate the skeleton troupe that carries a fallen comrade on a stretcher. Hate to break it to you, skeleton pals, but I don't think he's going to recover. A determined vulture searches the ground for remaining carrion while mysterious eyes peer out from the bushes.
4009 Henderson Blvd SE
This fun house has a spooky graveyard complete with a zombie pit. At night, the zombie pit glows red and the zombie torsos hanging from the house are illuminated, according to owner Angel de Leon.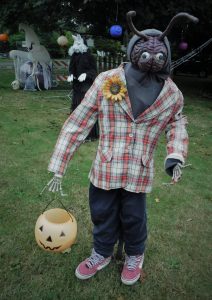 Lacey
5705 22md Avenue SE
Clint and Sara Biehler have been building their Halloween display for over 5 years, according to Clint's mother, Tanya Biehler. They have monsters, creatures, witch and spiders – oh my! Look for lots of webs, spooky graves and many more spine-tingling decorations.
5965 Crimson Ct SE
This home has a spooky cemetery scene, complete with mood lights, and spooky fence. Look for skeletons, zombies, and something coming out of the earth!
If you head out to these area attractions, please be courteous to the property owners and their neighbors. Do not impede traffic and view each property from the road or sidewalk as appropriate. Demonstrate your appreciation of these fine festive decorations in a safe and courteous manner.