Attention all middle and high school students! Stream Team is excited to sponsor the very first Lights, Camera, Action for Clean Water – Video Contest where participants can win a $100 Visa gift card grand prize for their efforts.
This contest is open to middle and high school students in Thurston County. Each student is invited to create a video showcasing actions that help to protect Puget Sound. Creativity and originality are highly encouraged as well as displaying a powerful message for each video. Ideas for videos can stem from one of the Stream Team's Actions for Clean Water. These actions include yard care, car washing, pet waste, car leaks, and native plants. To elaborate on these clean water actions, consider fun ways to document being a responsible pet owner by picking up pet waste; fixing leaks on cars and other vehicles; taking cars to a commercial car wash instead of washing them at home; or other actions that keep pollution out of streams and Puget Sound.
Video submissions can take many different forms and genres such as comedy, music video, clay-mation, stop motion animation, or mini-documentary, to name a few. Students may enter entirely on their own or join forces with friends and create their video as part of a team. If students are in need of some inspiration, head to the official contest webpage where sample videos are available to watch.
One of the few rules for the submissions is that videos may be no longer than three minutes in length. The contest runs from September 21 through October 31 at 5:00 p.m. and is open to all middle and high school students residing in Thurston County. Before getting started, be sure to read the complete contest rules and guidelines. Each entry must include an official entry form and either a Minor Waiver of Liability or an Adult Waiver of Liability for each student.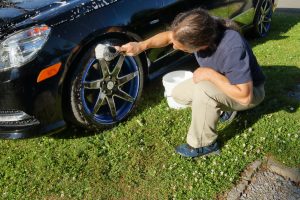 The top five entries will be featured on Stream Team's website and social media platforms, including Facebook and Instagram.  The top five winners will also receive gift cards with first place receiving a $100 gift card, second place a $75 gift card, third place a $50 gift card, and two honorable mentions that will receive a $25 gift card each. Plus, all the video entry winners will earn bragging rights for years to come!
"Puget Sound is in trouble and needs our help," says the Stream Team coordinators. "This video contest gives students a chance to show how important clean water is to all of us and how pollution affects local streams and Puget Sound. Unhealthy water hurts people and wildlife in a variety of ways and can create long-term problems for future generations."
So, middle school and high school students, put your creativity on full display and demonstrate to others how we can all work together to keep our water and the fragile Puget Sound clean.
Email StreamTeam@ci.lacey.wa.us or visit the Stream Team website to learn more about Actions for Clean Water and for information on how to enter the video contest (including acceptable video file formats). This contest is funded thanks to the Stormwater Utilities of Lacey, Olympia, Thurston County, and Tumwater.
Sponsored