If you like being able to go from the shore to the woods in a matter of minutes and cozy privacy paired with history and modern conveniences, the Robin Hood Village Resort should be your next destination for a vacation on the Hood Canal. Since 1934 this historic village has been a focal point on the golden mile in Union, Washington.

"This whole area was kind of like the Venice of the US at that time," shares Tami Barry, who owns the Robin Hood Village Resort with her husband, Darin. "People would come on ships from all over." She goes onto to explain that Orre Nobles, who had a road named after him next to the Robin Hood Village Resort, had a huge pipe organ that he would play and the music would echo all down the canal. It was a haven for artists. "It used to be like an art colony, it was all just artists and musicians out here," she adds.
It could be that this is why Don Beckman, in 1934, decided to build his Robin Hood Village, which included two cottages, a pub and a restaurant. The artistic look and authentic feel of the place caught the attention of Hollywood. Beckman was asked to build the sets for the 1938 "The Adventures of Robin Hood" movie starring Errol Flynn and Olivia de Havilland. (If you have not seen it, you can rent it on Amazon, it's an action film laced with comedy that will definitely remind you of "Robin Hood Men in Tights" and "The Princess Bride.").
Over the years, the Robin Hood Village Resort expanded as different owners added on to it, explains Tami. She notes that the two larger homes to the right of their big welcome sign were most likely lived in by owners of the Village at some point.
Darin Barry bought the place about 20 years ago and he and his wife have worked hard to update, add more cottages while keeping the original feel of the place as a true oasis for artists, musicians and anyone just looking for a place to get away from it all for a bit. When Darin bought the property, Tami explains that cottage 5 was a hair salon, cottage 6 was a laundromat, and cottage 15 was the town liquor store. None of the park models, as Tami calls them, in the back of the Village, where there. Those have all been added by Darin.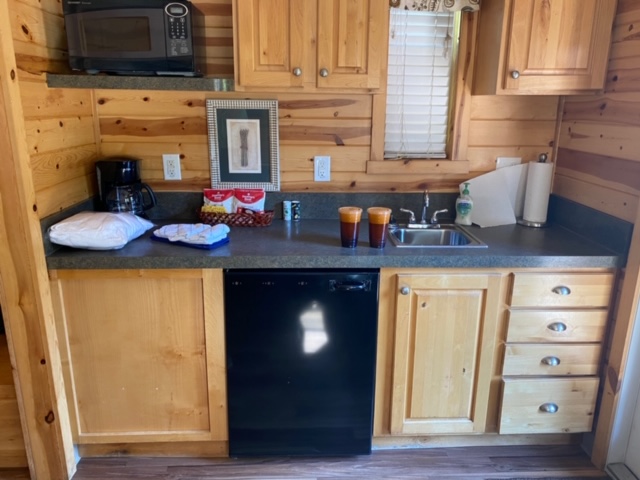 Originally, the Barrys owned the Robin Hood Village Resort and the Robin Hood RV park up the hill, but not the pub or restaurant. "The pub and restaurant were always in the Nordstrom family until about six years ago when they sold it to us and it all got merged back together," says Tami. "Elmer Nordstrom had his first dance and kiss with his bride when this was a speakeasy in the '30s and it's been in their family ever since then, but none of their kids wanted to own a restaurant in Union, Washington." The Nordstroms do own three houses just past Alderbrook, next to Bill Gate's six houses.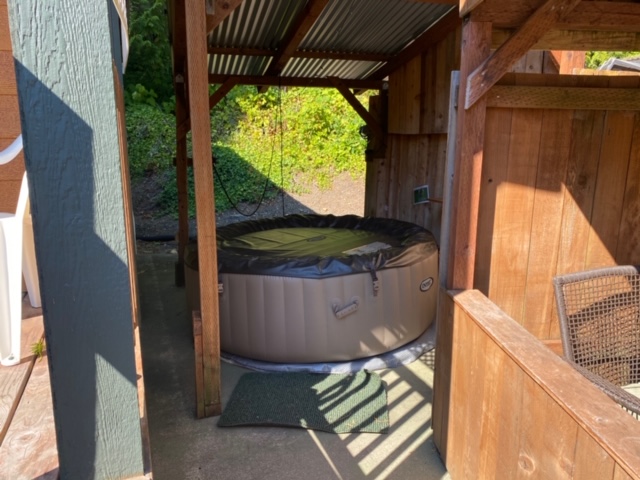 The Barrys then sold the RV park, so they could focus on the cottages, pub and restaurant. And they have really done a phenomenal job. Stay at one of the cottages and you will find they are cozy and up-to-date with rustic touches. Wood paneling gives them the rustic feel, while free wi-fi, kitchenettes or full kitchens, and TVs give them modern convivences. A big plus for anyone looking to relax are the private hot tubs: Twelve of the cottages have their own hot tubs with covers and sides fencing for quiet relaxation by the occupants of those cottages only.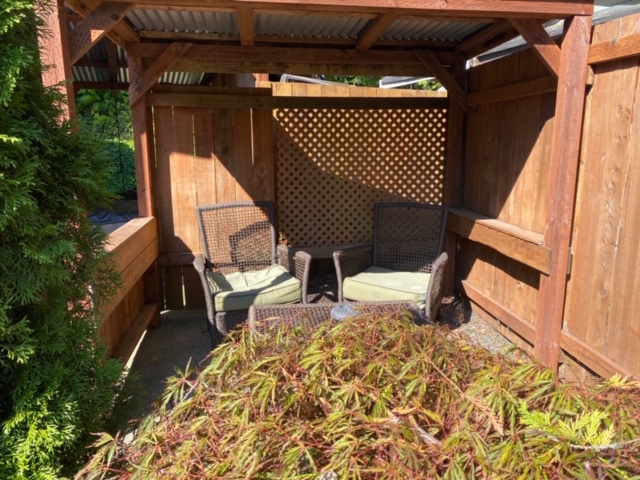 Your cottage porch has seating for you to relax on, or you can head into Swingwood Forest (a delightful play on Sherwood Forest), and you will find all kinds of rustic seating, including swings, waiting for you to relax in while you read a book, paint a picture, write your next bestseller, or simply sit and listen to the beautiful creek that runs through it. Other small touches that remind you of the place's history are cute signs inside your room as well as around the Village.
Don't forget that across the street are kayaks, free to use with your stay at the Robin Hood Village Resort. Just a short walk down the street is Alderbrook Golf and Yatch Club. Definitely check out Cameo Boutique & Wine Shop for some cute souvenirs, wine for your stay and other fun local flavors. For those wanting another fun experience on their vacation, the Skyline Drive-In is not far from the Resort and offers a fun and affordable outing for anyone.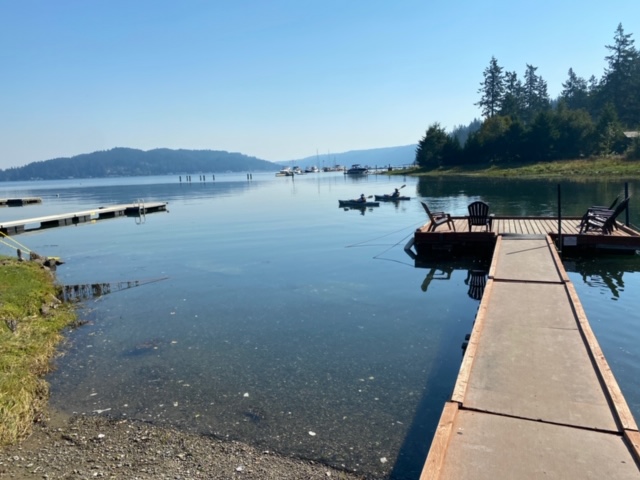 You can rent the entire Village for special occasions like weddings and family reunions. Keeping to their artist mecca roots, they have live music and open mic nights three days a week. When open, the restaurant serves lunch, dinner and a brunch on the weekends. Currently the restaurant and pub are closed. To keep everyone safe, they have completely contactless stays. Reserve online, come and "check-in" via text at the Pub, and leave your key in your cottage upon check out.
To reserve your cottage, visit the Robin Hood Resort website.