By now, many of us are familiar with the term "Coronavirus fatigue," a state of mental and physical exhaustion that sets in after months of adapting to life during the shutdown. For Joan Lombardi, the issue has been compounded by what she calls "hip revision fatigue." Over a nearly four-year period, Lombardi has been dealing with the aftermath of not one but two hip surgeries. After the original hip implant became infected, she needed revision surgery in 2019 to correct the problem.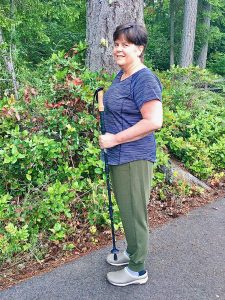 Lombardi had already begun visiting Penrose & Associates Physical Therapy when COVID-19 hit. Because she has underlying conditions that put her at higher risk of contracting the virus, she was offered the option of doing telehealth even while other patients were still visiting the office in person. "I'm always open to new things, so I said sure," she explains. "I had Dr. Patrick Van Den Akker and he was very patient and clear with directions."
The appointments went smoothly. While her husband Mark held up the phone, Lombardi performed exercises and movements under Van Akker's guidance. Later, he would send links to diagrams and short videos that explained each exercise in more detail. "We had a lot of backup after the actual telehealth visit to make sure that I knew what to do and how to do it," she says. Her visits are now down to once a month.
More importantly, she's seeing results. Dr. Frederick Lee of Swedish Hospital in Seattle performed the revision surgery and estimated her recovery time would be a year and a half. Just over six months in, she's feeling better. "It's remarkable," says Lombardi. "I just take Tylenol now. I feel pretty darn good."
In June she visited Penrose & Associates in person for the first time since March. Van Akker watched her walk and gave her tips on how to perform routine daily tasks without aggravating joints or muscles. That's when they agreed to reduce her monthly appointments to just one.
"I definitely think I'm going to walk normally again, maybe by December," she says. "It's made a huge difference with mental health as well as physical. The whole team at Penrose keeps you motivated."
For more information or to schedule an appointment with the Penrose Team, visit Penrose & Associates Physical Therapy online or call them at 360-456-1444.
Sponsored