Washington is the Evergreen State in nature, nickname and lifestyle. One recent study found that we top the charts in highest percentage of energy consumption from renewable resources. Green power is thriving, whether it's harnessing wind, water or sunlight. Thanks to Puget Sound Energy's Green Power Community Support Grants, local groups, nonprofits and the environment will benefit for years to come.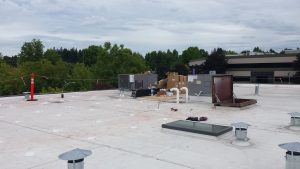 Though most of our renewable energy comes from water, the Solar Energy Industries Association reports that "The solar industry has invested $669.6 million in Washington, including $98.15 million in 2019." To fully understand the power of harnessing sunlight, consider that "There are more than 70 schools across the state of Washington that have already gone solar. These schools have a combined capacity of more than 1.04 MW, enough to power 105 homes."
Puget Sound Energy (PSE) has a longstanding commitment to green energy. They report that more than 65,000 of their existing customers participate in the Green Power Program which supports generation of more than 480,000 MWh annually of green power in Washington, Oregon and Idaho—enough to power 40,000 homes for a full year.
In their recent round of grant funding, PSE initially hoped to award $350,000 in solar installation to regional nonprofit organizations and public agencies. But as it happens, they were able to fully fund all submitted applicant's projects at a total cost of $580,000.
"The opportunity to provide solar grants to local nonprofit organizations that serve our communities was exciting," says Tyler O'Farrell, PSE's product manager, clean energy solutions. "By helping these organizations reduce their electricity costs with solar energy, they can pass on the savings to the families they serve which is critical during these uncertain times."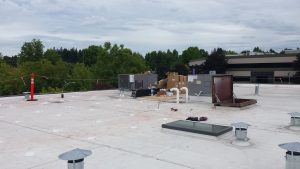 To be considered for a grant, PSE looked at several key factors. Primarily, the organization must have a broad and positive community impact and help raise awareness of renewable energy and PSE's Green Power program. Grant monies could be used towards 100 percent of design, installation, permitting and equipment costs of new, grid-connected, solar PV systems. In Olympia, the Family Support Center of South Sound was delighted to be a 2020 recipient.
The Family Support Center works tirelessly to end homelessness, poverty and domestic violence in and around Thurston County. They facilitate education, emergency shelters, and criminal justice services, as well as helping source daily staples like food, clothing, transportation, housing and benefits.
"Family Support Center was selected by PSE in 2018 for a Powerful Partnerships award," explains Trish Gregory, executive director for the Center.  "This was a yearlong collaboration, which included a financial contribution to our organization and multiple engagement opportunities where PSE provided our clients and staff with education and access to resources that support energy conservation. This partnership inspired FSC to continue identifying ways of conserving energy and reducing our overall energy costs. PSE staff we collaborated with through the Powerful Partnerships program reached out to us directly to let us know of this new competitive grant opportunity."
The grant funding will install solar panels at Pear Blossom Place family shelter and are estimated to save FSC approximately $5,300 each year. But more than just hardware, staff are using it as a teaching tool. "We plan to work with South Sound Solar to develop educational signage to display in the family room of the shelter and will develop fun and engaging activities to teach the children about energy production and conservation efforts," says Gregory. Installation began in mid-August 2020 and should take approximately one week to complete.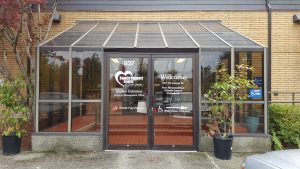 If you're able, consider signing up for PSE's Green Power Program. If you opt to cover 100 percent of your electric usage, for example, a $136 monthly bill would increase by $12. That extra money equates to 173 trees planted, 25,712 miles not driven, and 16,875 pounds reduced from your overall carbon footprint. You can choose any level of offset and the funds will simply be paid with your monthly bill.
The Family Support Center also appreciates both financial and household item donations. You can support their Help Us Move In campaign, make a one-time gift, or set them as your beneficiary for the Combined Fund Drive, Amazon Smile or Fred Meyer Community Giving Program. Prefer to shop? They're always looking for items like non-perishable foods, bedding, toys, cleaning materials and school supplies.
Going green often means staying local. When we buy, shop and eat locally everyone wins. If 2020 has taught us anything it's that supporting neighbors next door or small businesses down the street can make a world of difference to the community as a whole. Puget Sound Energy is planting seeds of renewable, sustainable energy that will benefit Pacific Northwest families for generations. And the Family Support Center will do their best to keep those families healthy, happy and strong.
For more information, visit the Puget Sound Energy website.
Sponsored