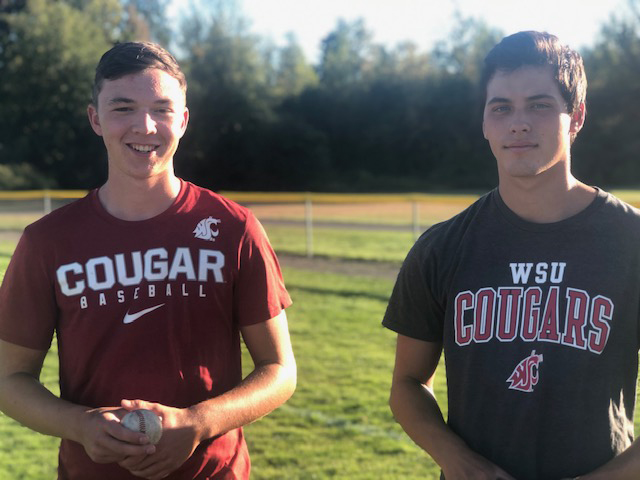 Rylan Haider and Ryan Orr have yet to play an inning of high school baseball as upperclassmen, but the two hard-throwing right-handed pitchers already know where they will play their college ball.

The two incoming juniors have both committed to Washington State University (WSU), giving the Cougars an early start on building a strong 2022 recruiting class.
"WSU has the rich tradition in baseball and with the new coaching staff I am really excited about going there and being part of that program," Orr said. "With the recruits they are getting in the 2020, 2021 and 2022 classes I believe WSU can win a PAC 12 Championship and get back to the College World Series."
Orr, who attends Tumwater High School, and Haider, who attends Olympia High School, last played together on the same roster in 2014 as members of the Black Hills Youth Baseball and the Black Hills All-Star Team.
"We haven't talked about going to college together," Haider said, "but once I heard Ryan committed to WSU, I knew the coaches were pushing hard to get good talent."
"The last couple of years we have been on separate tracks as I was playing for the NW Futures down in Vancouver and began traveling out of state more.  We have some really good memories playing when were young," said Orr, who also received interest from Oregon State University, University of Utah, University of Washington, University of Oregon and Sacramento State before ultimately deciding on WSU.
Both pitchers have been clocked at throwing around 90 mph.
Orr first caught the attention of the Cougars staff when he played at the 2019 Pacific Northwest Regional Games in Bellevue. He received an invite to a small WSU prospect camp in February where he met the coaches and toured the facilities.
"The most important thing to me was the coaching staff. Coach Brian Green, Terry Davis and Anthony Claggett were in the first year and we had heard really good things about them and how good they were," Orr said. "We began to consider WSU much more when we began hearing about all the good things the coaches were doing to turn the program around. At the camp I really liked the way the pitching coach, Claggett, talked and related to me when I threw for him.  When I began talking with coach Davis, it was clear that I really related to them. Head coach Brian Green is very energetic and gets in and works and relates with the players and that was important to me."
Green and his staff led the Cougars to a 9-7 shortened season last year, giving the program its first winning season since 2015. WSU went 11-42-1 in 2019.
"Based on what I have been told by my coaches and the people that helped me along the way, it is rare for a sophomore to receive an offer from D1 college baseball program," Orr said. "I know that the pitchers with good velocity are the typically the first ones to get offers at that level. It was my goal for a long time to get an offer by my junior year and we worked really hard training, practicing and playing on a good travel team that travelled nationally to make it happen."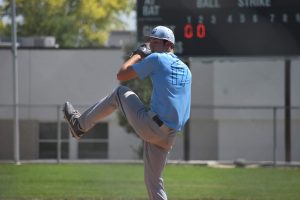 Orr, however, wasn't the only local talent the Cougars have had an eye on for a while as WSU contacted Olympia High School Head Coach Derek Weldon at the end of last summer, inquiring about the gifted Haider, who had just help the Bears to the Class 4A state championship game as a freshman.
"I went to a camp and pitched a few innings," Haider said. "Then they contacted coach Weldon again at the beginning of spring and we started sending them video and I talked on the phone with their pitching coach and they offered me after about a month of talking."
Like Orr, Haider already boasts a stellar resume despite having two years of high school baseball remaining. Prior to the start of his freshman year at Olympia, he participated in the Baseball Northwest and Pacific NorthWest (PNW) showcases. In addition, he has also traveled to Minnesota and North Carolina to play with NW Elite and played in Arizona at the Perfect Game Fall National Championships.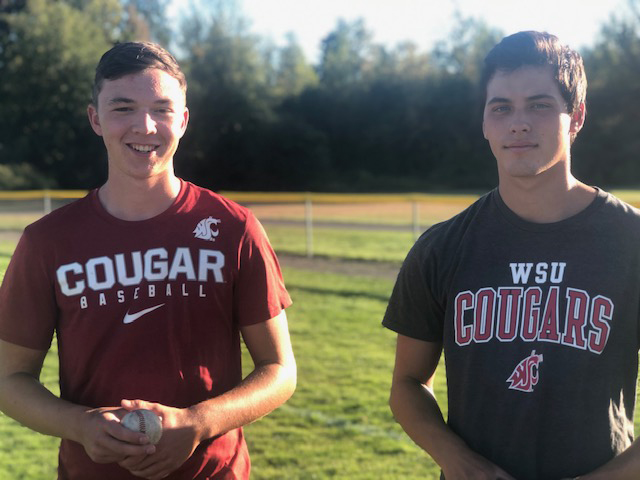 Haider most recently attended the Underclassmen All American tournament in Georgia at the end of August.
"The atmosphere of (WSU) appeals to me and fits me. I feel that the new coaching staff is going to improve the program greatly. I love the fact that they are a small college town with a lot of support for their athletes," Haider said. "There were a few other offers on the table and I had to review all the options and see which school fit me best and would give me the best opportunity to grow as a person and as a player."
For both Orr and Haider that turned out to be WSU.