As our first presidential election during a global pandemic draws near, Thurston County Auditor Mary Hall does not mince words: "If you know who you're going to vote for, fill out and return your ballot as soon as you get it."
Washington has been a vote-by-mail state since 2011. We are in a better position than many other states to process what will likely be a massive number of ballots because we are already accustomed to receiving and handling ballots this way. The greatest challenge the COVID-19 pandemic presents to Hall and her team is the reduced human capacity of the ballot processing center. When it comes time to count the ballots, there will only be 30 or 40 workers on the processing floor rather than the typical 80 to 100.
"We anticipate receiving 30,000 to 40,000 ballots on Election Day and the day after," Hall explains. You can help reduce that number by returning your ballot as soon as you can. Reducing the number of ballots returned on and after Election Day means Thurston County's votes can be counted faster, doing our part to speed Washington's results. "Auditors have talked across the state and results are going to be a lot slower, mostly because we have half the staff working at a given time," Hall goes on.
In the past, in-person voter registration and ballot replacement took place at the Thurston County Courthouse. "In the 2016 general election, we had lines out both doors," Hall says. She and her team knew they had to come up with a way to offer these vital services at a safe physical distance for the 2020 election cycle. They also needed a way to offer the disability access units to voters accustomed to having that equipment brought to them to vote.
In a cooperative effort between South Puget Sound Community College (SPSCC), and the Auditor's Office, Hall's team has taken over SPSCC's bus loop to operate the Voting Center. Intercity Transit will reroute their buses during the election cycle.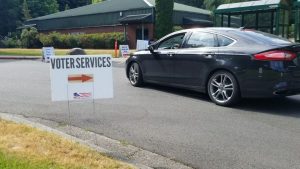 When a car pulls up, a masked member of the auditor's team greets the driver to find out if they need to register, get a replacement ballot or utilize the disability access units to vote. The team member radios the request to a colleague at the next station, who prepares a ballot packet with the necessary materials.
Although the system ran smoothly for the most part in the primaries, the auditor's team did time studies and feel they can make the wait times shorter for the general election. A two-person team was handling primary traffic. Hall says there will be five or six team members working for the general election in an effort to keep what will likely be a higher volume of voters moving as quickly as possible.
The hope is that most people will take care of their registration prior to the October 26 online deadline. The Voting Center at SPSCC's Mottman Campus will open Wednesday, October 14. In-person voting is not an option in Washington State, so it's important to note that the Voting Center is for in-person voter registration and ballot replacement only all the way through 8:00 p.m. on Election Day. Only voters with a disability are eligible to vote using the disability access units. Register to vote or check the status of your registration on the VoteWA website prior to October 26.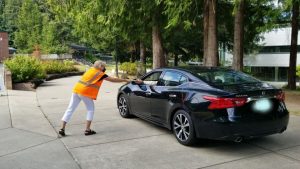 Ballots will be mailed to all registered voters on October 9. Once you have your ballot, vote. "Voting by mail is the most secure way to vote," Hall says confidently. "We verify the signature on the envelope against the signature we have in our voter registration system. A signature is like a finger print so we know the person who voted and signed that ballot is the person that had the registration with that ballot." When you register online, the Auditor's Office pulls your signature from Department of Licensing records.
If you are concerned about sending your ballot by way of the U.S. Postal Service, Hall strongly recommends returning your ballot in one of 29 ballot drop boxes around Thurston County. "Those ballots are regularly collected by two of my staff and come directly to us," Hall explains.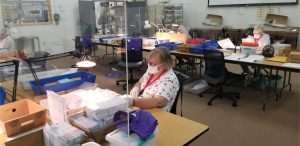 If you vote early, you will be able to verify that your vote was counted sooner. Votewa.gov lets you check the status of your ballot. If you wait until Election Day to return your ballot, you will most likely have to wait several days, if not longer, to verify the receipt of your ballot.
You can also update your address on votewa.gov if you've moved since the last election. You are also welcomed to call the Auditor's Office at 360-786-5408 to update that information as well. If you have any questions or concerns about the upcoming election, call the Auditor's Office or email them at elections@co.thurston.wa.gov.
Sponsored