The past five months have really tested our mettle. We have been forced, both individually and as a society, to adapt in ways we had never expected. Organizations like Senior Services for South Sound have innovated as well, creating clever new ways to continue to connect with those they serve, and the results have been nothing short of impressive.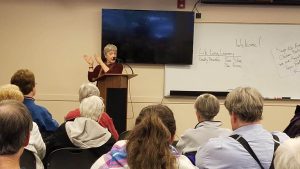 If there's one thing we have during this pandemic that our ancestors did not, it's robust digital technology. And though we are physically apart, the use of technology allows us to continue to stay connected. Senior Services for South Sound has adapted much of their formerly in-person offerings to our now primarily virtual world. "It's so important for us to connect with each other, and fortunately we have Zoom," says Chris Quimby, senior centers director. "Zoom is the closest thing to meeting your group of friends that you're used to seeing in-person."
To adapt to this new form of face-to-face interaction, and meet the needs of their audience, Senior Services has created a Virtual Senior Academy where lifelong learning continues over Zoom. Participants may register for classes via phone. With many well-known returning faculty and a wide range of topics, there is a class and time for everyone!
Most classes are fee-based, (scholarships are available), but this quarter, Become A Community Oral Historian, taught by Elaine Vradenburgh, in collaboration with Window Seat Media is being offered free-of-charge thanks to a grant the oral history and storytelling organization has earned.
Other courses such as Nutrition for Life, Travel Writing As Memoir and Essay, and Election 2020 Political Roundtable are available, with complete course descriptions and additional offerings on the Lifelong Learning Virtual Offerings page on the Senior Services website.
"What we are trying to do is resemble normalcy as best we can, Quimby says, "and break that isolation that is so unhealthy for all of us, but particularly for seniors."
Senior Services has also created a weekly Virtual Senior Cafe. Every Monday at 10:00 a.m. seniors can meet over Zoom for a primarily social visit, sometimes including a certain topic, speaker or other activity. Senior Services is also looking at adding a second day in the week to meet virtually as well.
Getting started "Zooming" can sometimes be a little intimidating at first, but Sara Thiessen, education coordinator, is available via phone or email to help troubleshoot. "Depending on the situation, I may refer them to SeniorPlanet," she says, which is an amazing resource for seniors where they can access a national helpline (920-666-1959) to get answers to their technology questions.
Visit Senior Services for South Sound's website to explore all that they have to offer, including free Chair Yoga, Zumba Gold,  Virtual Speaker Series, and much more, or call them at 360-586-6181.
Sponsored