Commemorating 20 years in practice, Olympic Dermatology has seen an evolution of patients, providers and services since its opening in 2000. What was once a small medical office has now become a team of 21, offering multi-faceted medical and cosmetic dermatology services to South Sound patients. Over the past two decades Olympic Dermatology founder, Dr. James Brazil and his team have treated generations of patients, establishing a one-stop-shop for dermatology in Thurston County.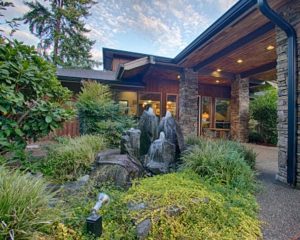 "The practice itself has been successful beyond what I could have ever imagined back when I came out of residency," says Brazil. "I've been lucky that I've been able to hire people who have helped me achieve goals. People like my nurses, my practice administrators, my physician assistants. I've been really lucky to get hardworking, intelligent people who work well in a medical setting and have made my job so much easier."
For Brazil, opening a dermatology practice in Olympia has provided both robust career opportunities and a close-knit community to raise his family. After attending medical school in Oregon and completing his dermatology residency in Southern California, Brazil moved to Olympia in 1991. For nine years, Brazil practiced dermatology at a local multispecialty medical group before founding Olympic Dermatology in 2000. Brazil designed the practice to best fit his medical interests while also providing a wide range of dermatology services for patients.
"It's really fun to offer so many services," says Brazil. "And what I really like about my field and the way I built this office, is I can provide medical services, surgical services, pathology services and cosmetic services. I can do all these things, which makes my day very creative. And we offer a lot to our patients, more than most dermatology practices can."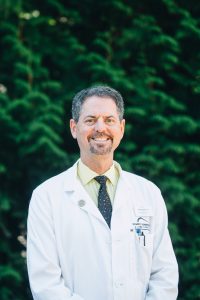 Over the years, the Olympic Dermatology team has expanded to include Physician Assistants, Lawrence Robinson, Suzanne Magann and Emma Heidbreder, who work with Brazil to provide diagnosis and treatment for medical concerns like acne, psoriasis and eczema, in addition to surgical services like scar revision and mole removal. Olympic Dermatology also provides skin cancer management, including treatment for pre-cancerous lesions and cancerous growths.
In addition, Olympic Dermatology offers a robust menu of cosmetic dermatology services provided by Registered Nurse, Sharon Olson, Licensed Practical Nurse Lin Watkins, and Master Esthetician Lindsay Deskins. Olson, Watkins and Deskins have a combined total of 50 years of experience practicing at Olympic Dermatology. And their cosmetic services include facial treatments, chemical peels, laser hair removal, laser rejuvenation, and resurfacing and injectable treatments.
Olympic dermatology's team of providers and support staff have allowed for not only a wider menu of services, but also more reasonable waiting times to book an appointment. Brazil says it takes teamwork to provide such a wide spectrum of services.
Celebrating 20 Years
For Olympic Dermatology staff, commemorating 20 years in practice, will remain a smaller affair this year due to the ongoing COVID-19 pandemic. In addition to intra-office celebrations, Olympic Dermatology is offering anniversary specials for certain cosmetic services. Brazil says he hopes to host a larger event next summer to celebrate 21 years in practice.
Reflecting on the practice's 20-year anniversary, Brazil wants to celebrate Olympic Dermatology patients most of all. After practicing dermatology in Olympia for almost three decades, Brazil says he has treated multiple generations of patients and they have been a highlight of his career. Patients who were first pediatric age are now bringing their own children to Olympic Dermatology for care, and for Brazil, these full circle moments have instilled in him a great sense of community.
"Over the years, the patients here have been great," says Brazil. "I practiced in Los Angeles when I was a resident. People there are nice, but it's a huge, sort of anonymous city. Seeing patients from Olympia, Thurston County and surrounding counties, I have been so happy with the people who come here. They've been both respectful, but also engaging. They have been good patients in terms of following recommendations. It's been a great 20 years here in practice and 30 years overall."
Looking ahead, Brazil plans to further expand his practice by hiring a second physician. By early 2021, Brazil hopes a second doctor on staff can help provide additional supervision and opportunities to see more patients. And although Brazil has no plans to step back anytime soon, he hopes a new physician on the Olympic Dermatology team can be a transition into the future.
To learn more about Olympic Dermatology services and providers, visit the Olympic Dermatology website.
Olympic Dermatology
424 Lilly Road NE Olympia
360-459-1700
Sponsored