Submitted by Thurston County
Early on the morning of August 4, 1974, the first units to serve the citizens of Thurston County's Emergency Medical Services (EMS) system went into operation. Since those first shifts, Thurston County's Medic One EMS providers have been serving the citizens of Thurston County for 46 consecutive years.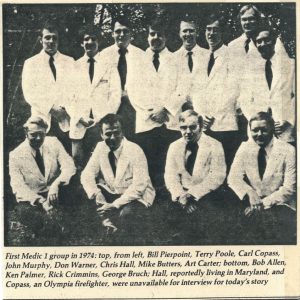 Thurston County Medic One (Medic One) was the first countywide, paramedic tiered EMS response system in the nation. This tiering system allows for the closest EMS resources to be dispatched to those in need of emergent medical care throughout Thurston County. Medic One has now grown to support seven Medic Units (paramedic) stationed around the county. They are in Rochester (Medic 14), Tumwater (Medic 5), Olympia (Medic 4 and Medic 10), Lacey (Medic 3 and Medic 6), and Yelm (Medic 2). These Medic Units help support the 126 licensed Aid Units (EMT) deployed throughout the 12 fire agencies in Thurston County.
"Thurston County is fortunate to have one of the best Emergency Medical Systems in the country. Our system works cooperatively from the time a call is received, arrival of an EMT and/or Medic unit, to treatment and then to transport, if necessary," said Emergency Medical Services Council (EMSC) Chair, Margaret McPhee. "Our well-trained paramedics and EMTs are prepared for broken bones, seizures, car accidents, heart attacks, and more."
Medic One funds also provide free citizen CPR training; Advanced Life Support (Paramedic) personnel, continuing education, vehicles, equipment, and supplies; Basic Life Support (EMT) initial training, continuing education, equipment, and supplies; and EMS system coordination and support.  
Over the years, as the county has grown, demand for EMS services has increased. EMS calls in 1999 were 15,688. By 2009, there were 26,469 EMS calls, and in 2019 there were 35,985. In addition, just last year, Medic One trained more than 6,400 Thurston County citizens in compression-only CPR.
"I feel truly privileged to have been a part of this system for close to ten years. Excellence and professionalism, coupled with an innate sense of duty and heartfelt care for their communities, makes all of these providers a pleasure to work with," said Dr. Larry Fontanilla, Medical Program Director for Medic One. "These providers, from young volunteers to career professionals, make this system, and they make this system great."
Medic One would like to sincerely thank all of the citizens in Thurston County for their continued support over the past 46 years and would also like to equally thank all of the 700+ hard-working and talented responders serving Thurston County.
"I believe nearly every soul in this county has been touched by our EMS system and many can attest to that impact. But our caregivers, our responders, do not do this job for public acclaim, but for their own private recognition that they make a difference," added Dr. Fontanilla. "This is why I hope to remain a part of Thurston County Medic One, and all of the good work that they do, for many years to come."