In February, the 60,000-square-foot Mason Clinic opened to the public after almost 16 months of construction. The two-story medical facility was designed to house multiple Mason Health outpatient practices under one roof. Coinciding with the Mason Clinic's grand opening, though, was the spread of COVID-19 throughout Washington State. As cases were recorded in and around Mason County, Mason Health quickly adapted move-in plans and everyday clinic operations to safely serve patients.
"We had to suspend moving all of our current clinics into the Mason Clinic," explains Mark Batty, chief operating officer of Mason Health. "The practices we already had in there, we had to spread them out for social distancing, so that they would not be working side by side and in close contact."
At the height of the COVID-19 pandemic in Mason County, Mason Health limited the number of patients seeking in-person medical care, instead relying on virtual care and telemedicine visits. Although many medical practices remained open, only patients with urgent needs were seen in person. Inside of Mason General Hospital, visitors were also restricted to help reduce potential spread of COVID-19.
In addition to increased social distancing inside the Mason Clinic, Mason Health has continued additional protective measures to treat patients, while also reducing potential exposure to COVID-19. From the mandatory use of masks, to a modified patient registration process, these new guidelines are helping to provide a safer environment for patients in need of care.
Now that Mason County is in Phase 3 of Governor Jay Inslee's Safe Start Washington, though, several restrictions have been loosened and more patients are able to seek in-person medical visits. To help ensure the safety of patients and clinic staff. In addition, visitor restrictions have been changed and are dynamic in nature due to the current surge in positive cases, social distancing measures are still in place, including fewer chairs in the clinic's waiting room and distance markers for patients waiting in line. Masks are mandatory for anyone who enters the clinic and all visitors to the Mason Clinic will be screened for COVID-19 symptoms at the door. There may be additional protective measures for patients in a higher-risk category.
"We're leaving it up to the doctors and the nurse practitioners, if their patient is a part of the high-risk population," says Batty. "We're still being very diligent about who and when we're letting those patients into the clinic."
Inside Mason General Hospital, similar precautions have been set in place. Two visitors are now allowed for each patient. Masks are required for all visitors entering the building and any visitors not wearing a mask will be refused entry into the hospital building. Upon entrance, hospital visitors will be screened for fever and other COVID-19 symptoms and many hospital entrance points have been limited to ensure proper screening. Patients are also asked to wear a mask, unless their medical condition directly prohibits the use of a mask. All pre-operative patients will be automatically screened for COVID-19.
For patients seeking diagnostic imaging and mammography services, a socially-distanced registration process has been set up for higher-risk populations. "We're piloting a process where patients call our registration from the car," explains Nicole Eddins, senior director of ancillary services at Mason Health. "The patients wait in their car instead of the waiting room and once we're ready for them, we call them back and escort them straight in, so that there's no waiting and there's no touching chairs. There's minimal exposure, except to just a clean, fresh exam room."
As social distancing practices continue, Mason Health is hoping to expand this registration system to additional practices.
For Mason County patients who are experiencing COVID-19 symptoms, Mason Health has both a triage phone line and a drive-through testing program. Before seeking in-person care, symptomatic patients should first call their primary care provider, or the Respiratory Illness Triage Call Line to determine the best course of diagnostics and care.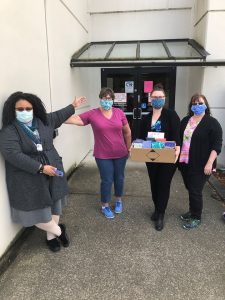 "If a person is having symptoms, they should call the triage line," says Mason Health's Chief Medical Officer Dr. Dean Gushee. "We ask some questions there to determine if they are appropriate for testing at the drive-through test site. If they do qualify for testing, there's a process. They are directed to come through the testing tent and they get tested. If in that initial triage conversation, they're deemed to be ill, they may be directed to the emergency department, or the appropriate place to seek care."
With several precautionary measures set in place, Gushee says that it is safe to seek out non-COVID-19 related care at Mason Health. From mandatory masking, to temperature checks at the door, receiving medical care is encouraged for those in need.
"It is safe to get care anywhere in the organization," says Gushee. "We are making sure of it. I would argue it is safer to come into a hospital now than to walk into a supermarket. If you feel that you need care, we would encourage you to contact the clinic, or the hospital depending on where you think you need care and seek that care. We don't want people to delay being seen. Chronic illnesses can become acute and life threatening. And its really important to seek care when you need it."
To learn more about Mason Health's COVID-19 response, or for current safety protocols at the Mason Clinic or Mason General Hospital, visit the Mason Health website.
Sponsored