The mission of South Sound Parent to Parent is as follows: All families caring for someone with special needs will receive the support and resources they need to feel empowered, encouraged and supported. The resourceful team at SSP2P are continuing to fulfill this directive for families in our community. The agency was early to accept and adapt to the changing circumstances COVID-19 put into play. This new reality facilitated a shift for all their programs to function in various online formats. These new pathways are creating impressive results. For example, the Mom to Mom's support group that formerly met on a monthly basis is meeting twice weekly and will continue to do so. Sylvia Davenport, Helping Parent transition coordinator, noted that since going virtual the Mom's support group has welcomed back those who have been unable to attend for years.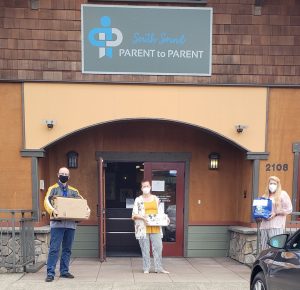 Another benefit of technology is the ability to reach more people. Those who have transportation or mobility issues can tune in at their own home. "It's a joy for me knowing families are feeling connected," Sylvia said, who knows that isolation, especially now, is being experienced more deeply by many. The ease of connecting at home has made inclusion in groups and events possible.
South Sound Parent to Parent has been active in our area for over 30 years, offering a rich diversity of programming for families with children who have development delays, disabilities or chronic illnesses. It began with parents and professionals working together to identify support for all members of the family, acknowledging that there are extra demands for the parents and siblings. SSP2P values the abilities of parents helping each other as well. Services are provided in Thurston, Grays Harbor and Mason Counties.
The agency is pleased and excited to be a grant recipient from the Perigee Fund. The thrust of this grant is to increase virtual connections and reduce isolation, in part by providing technological resources and access to families. The Perigee Fund, a national philanthropic organization, maintains a focus on healthy emotional and social development to advance equity across society. Their research shows that involvement from the earliest ages (especially prenatal through age five) via support and strong relationships are important for everyone, and critical for those affected by poverty, trauma and racism. A child's growing ability to trust others, manage emotions, communicate and learn are primarily in the hands of their parents and caregivers. These life skills are highly predictive of success in academics, economics and social wellness.
SSP2P is also enthusiastic to announce the incorporation of Compass 360, a software developed specifically for nonprofit organizations. Although this may not sound hugely exciting to those outside of the agency, it is actually noteworthy. It makes online registration for classes and activities easy. It tracks data for information that is used for grant writing and fundraising. With more specific and complete information comes greater understanding of all aspects of the families and people being served. It also gives staff members the ability to see and share information at the same time. SSP2P expects to utilize all components of this comprehensive system that streamlines data while moving into a truly digital age.
South Sound Parent to Parent Virtual Events Keep Families Connected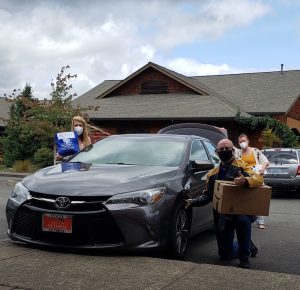 SSP2P knows how essential social connections are for families caring for a loved one with special needs. Recently there was a family BINGO night via Zoom. "It was really fun and successful," said Sylvia who reported 81 participated. Both young and old were safely at home using BINGO cards that had been sent out before the event. Of course, there were door prizes delivered safely. Look for another BINGO session towards the holiday time. Stayed tuned for family juggling is coming up in September – another event held remotely.
On August 8, SSP2P is hosting a picnic lunch complete with hot dogs, chips and balloons. and a goodie bag. The annual picnic's theme this year is safety.  SSP2P will host the fire and police departments giving out information about stranger danger and biking and hiking safety. This year the picnic will be a drive though – a parade of participation.
A July class for developing success through challenging behaviors filled up quickly so there are plans to offer a second course in November. Check the website for upcoming information.
There will be a Developmental Disabilities Administration (DDA) Town Hall on July 23 via Zoom. This event will help families navigate the application process and allow for one-on-one help with DDA representatives.  All event registration will be handled through SSP2P's website with links also found on Facebook.
Regardless of what sort of new normal is achieved in the world, SSP2P has reached a new normal of successful, remote connections. Yes, seeing people in person is wonderful, but in these times, being safe is critical for the well-being of the whole family. Stay current with all South Sound Parent to Parent events and activities by going to their Facebook page or signing up for the newsletter. Also check out and subscribe to their new YouTube channel.
Sponsored