The debate was been brewing between Tumwater High School baseball teammates Kaden Lewis, Shea Bowen and Damon Gaither for quite some time now. Which pitcher would be able to strike out the others should they ever meet in an actual game?

Well, they are about to settle the argument.
All three 2020 Tumwater graduates will be playing college baseball at Northwest Athletic Conference schools.
Lewis is headed to Edmonds College, Gaither to Everett College and Bowen will play at Umpqua College. They will not be the only Thunderbirds playing baseball at the collegiate level, however, as outfielder Reid Little has signed on to play at Saint Martin's University.
"This will be a very new feeling because we have been on the same fall, spring, and summer baseball teams for the last four years and even the same basketball teams," Lewis said about the four long-time teammates wearing different uniforms next season.
Three of the players – Lewis, Bowen and Little – all started playing together when they were around 10-years-old, before Gaither join forces with them during the group's freshman year at Tumwater. The quartet immediately clicked both on the field and off.
"A moment that sticks out more than others would be our freshman year when we got to play our first complete year together and we realized by the end of that year that our senior year was going to be special," Little said.
Little recalls an early game that season against Centralia when Lewis made a spectacular catch in center field, denying the hitter of an extra base hit. The magnitude of that one play carried over the entire season, showing them just how good of a team they could be.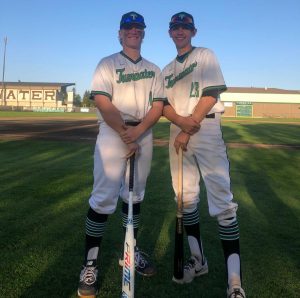 "The momentum this play created sent us to the bottom of that inning where we scored five runs on consecutive doubles just trading places," Little said. "We just had fun all year and ended up going undefeated."
The T-Birds had ben a staple in the Class 2A state tournament, making five consecutive appearances between 2013 and 2017, highlighted by a pair of top 3 finishes.
A year after just missing the cut, Tumwater, behind its strong senior class, and new head coach Lyle Overbay, a 14-year veteran of the MLB with stints in Arizona, Toronto, Atlanta and with the New York Yankees, was expected to end its two-year state playoff drought this season.
Unfortunately, the team never took the field as their season was cancelled due to the COVID-19 pandemic, leaving all four players wondering what could have been.
"When I heard the season was cancelled, it was very disappointing," Lewis said. "Especially because of how good of a team we had and what the season could have been."
Its true as few rosters in the 2A ranks could match the talent the T-Birds were returning. Little and Gaither were both first-team all-2A EvCo performers as juniors, while Bowen and Lewis were second-team players in a conference consistently regarded as one of the best in the state.
"It was a very tough first few weeks realizing that we may not have a season," said Gaither, who was also a standout basketball player for Tumwater, earning 2A Evergreen Conference MVP his senior year. "Then when it was cancelled it hit us all very hard. We kept holding on to the possibility of starting late, but even that slipped away so that was even more tough. It wasn't as tough for Kaden, Reid and I, knowing we are within a couple hours of each other. But with Shea being in Oregon, that was a little tougher."
Now, the players have turned their focus on playing at the next level, but still supporting their former teammates.
"Each program is getting something special out of Kaden, Shea and Damon," Little said. "Kaden is an extremely intelligent guy who gets outs on the field by knowing what pitch to throw and when to throw it while also having different arm slots that will help him get an advantage over hitters in his future.
"Shea is one of the most athletic guys and it doesn't matter what position you put him in he will listen and grow into the player that any coach would want. Damon is able to use his frame fluently and efficiently better than most people his size that I have ever met. This truly is a special group of guys that are dedicated to the game and our team and I can't wait to watch them grow in the game and take it to a level past college."
While their days wearing kelly green and white maybe over, don't rule out some kind of T-Bird baseball reunion at Saint Martin's in a few years if Little gets his way.
"I always liked the idea of playing college ball with old teammates and for a while I tried to get both Shea and Kaden to consider coming to Saint Martins with me," Little said. "I never really asked Damon because none of us knew if he would focus on basketball or baseball by the time senior year came and he decided. I still talk to Kaden about maybe joining me after attaining his AA at Edmonds."