Despite learning their first six games would be scrapped, Chandler Sam and his teammates on the Olympia High School boys soccer team remained optimistic their season would not be cancelled.

Sam, a two-time all-league selection as a defender and one of the Bears' captains, was one of eight seniors on the roster. Many in the group had played together since elementary school and this was going to be the culmination of four years of hard work, one last opportunity to play together as Bears before they graduated and go their separate paths.
Sadly, it was not to be, and like all the other high school sports this past spring Olympia saw its season cancelled without ever playing a game.
"I watched old games from previous years as a way to relive some of the best moments of my soccer career at Olympia High School," Sam said, "but of course none of that could make up for the fact that I lost my last year of school soccer."
Although it would hardly be an equal substitute for the lost high school season, the goal now is to try to capture some of that feeling of playing together.
"My friends and I were planning on making a summer rec team and just having our friends join, so we can have one last hurrah before we all leave for college," Sam said. "We're praying this can still be a reality."
As Thurston County begins to make the shift into Phase 3 of the reopening from COVID-19 closures, Sam and his teammates remain hopefully this will materialize, but even if it doesn't he knows the sport he has played since he was four years old will continue to have a strong presences in his life even if he's not kicking the ball around.
Sam is one of the state's top soccer referees, first taking up the activity at just 11-years-old. As talented as he is player, he is equally gifted at refereeing as he was named the 2020 Young Male Referee of the Year by the Washington State Referee Committee.
"When they said my name as the winner of that award, so many emotions ran through me during that time. I felt a profound sense of gratitude for everyone who had helped me get to where I was," Sam said. "I was thinking about my parents who drove me to most of my games on weekends and even sometimes weeknights, fellow referees like Eric Lee and Betty Schmeck, who have served as mentors to me, teaching me not just lessons on how to be a better referee, but on how to be a better individual. My recent soccer coaches (James Charrette, Kurt Gress, Kyle Jones) who taught me everything I needed to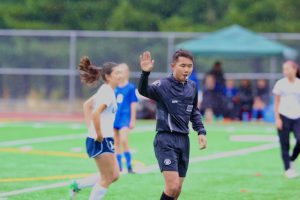 know about the game, and my Leadership teacher at school Mrs. Costello and my principal Mr. Grat who have both been one of the biggest contributors to the development of my leadership abilities as well as my character."
Much like playing the sport itself, refereeing does not come easy with Sam describing his early days as being rough.
"I started as a horrible referee," Sam said. "Everyone does. Eight-year-olds would be tripping over each other and I would let them keep playing. I obviously knew what a foul looked like, but there was a fear factor that plays into actually blowing your whistle."
With the rocky start behind him, Sam has excelled at referring. He served as a referee during the Class 1A/2A state girls high school semifinals and finals this past year – one of only a handful of individuals in the state selected to work the championships.
Additional highlights include referring the boys Under15 state finals and being one of only 22 referees from Washington at the Olympic Development Program in Phoenix, Arizona.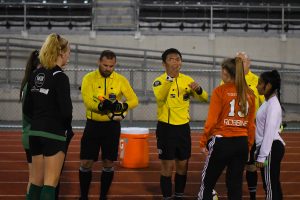 "No one is born to referee," Sam said. "The only way to improve, as with most things, is through repetition. I had to keep refereeing constantly, seeing a new type of game each weekend, and learning from the mistakes and telling myself I won't make that mistake again. The process to become a decent referee takes a long time and people need to understand that the only way for referees to improve is
for them to make mistakes. I made lots of mistakes when I was younger, and the constant barrage of comments by parents as a 12-year-old made me want to stop many times. Luckily, I kept at it, but I know way too many people who just gave up because they couldn't handle the verbal abuse."
Sam will be attending the Elliott School of International Affairs at George Washington University and plans to pursue a double major in international relations along with political science or history. A former ASB president at Olympia, Sam initially planned to attend the United States Air Force, receiving a principal nomination from Washington Congressman Denny Heck, but was denied due to medical disqualification (allergies).
"I plan to pursue refereeing a little more when I am in college," Sam said. "I'd like to start doing college games. That's the next step for me. The college I am going to has a lot of opportunities with regards to refereeing, so it would only make sense for me to take advantage of that."