For most of us, the simple act of stepping up on a curb is something we take for granted. It requires no conscious thought and zero strategy. But until Diana, aka 'D' Forrest began small group classes at Penrose & Associates Physical Therapy in Olympia, every curb demanded its own battle plan.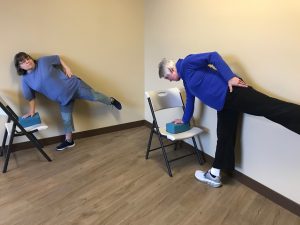 Thus, it was a small miracle when she realized recently that she'd stepped over her former obstacle-in-chief without noticing it. "I just walked up to the curb and I didn't even think of it," says Forrest.
Penrose & Associates offers multiple small group classes throughout the week to help patients improve bone density, build balance and full-body strength, and gain flexibility and endurance. Class size is limited so each participant gets customized training suited to their needs and challenges. The classes serve as a bridge for those whose formal physical therapy has ended but still have higher level goals they want to achieve.
"Insurance will only cover what's medically necessary," says owner Jennifer Penrose. "However, most patients have other goals. They want to go hiking or be able to get in and out of a kayak and to achieve that, they have to invest time and have the mindset that they want to get stronger and more mobile. D is a great example of what people can do when they work with us to stay accountable for their health."
Forrest's original purpose in visiting the clinic was to work on a sore shoulder. However, she was still coping with the aftereffects of a 2010 stroke that had left her unable to walk, meaning she needed to relearn the process. "I had balance issues," she explains. "I couldn't walk up a stair without holding onto someone. Every time I went in an elevator, I worried about whether I could get to a railing to hold on to it."
Then, in the course of talking with Patrick Van Den Akker, a Penrose physical therapist, she learned that Marissa Ang, athletic trainer and group fitness instructor, would begin offering classes in fall 2019. "He mentioned that maybe the classes could help me with my balance issues," says Forrest. "The physical therapy took care of my shoulder, but I didn't realize the classes were going to take care of the issues with my legs."
She credits Ang with knowing exactly what challenges every member of the class is dealing with and modifying movements accordingly. "Marissa knows what you have concerns about," she says. "If we're doing an exercise and she thinks maybe you should be doing it a little bit differently, she'll work with you. She does that with every single person in the class."
These days, curbs are no longer Forrest's nemesis. She's equally unconcerned about elevators and can stand up in church without needing to grab the chair in front of her for support. "If I go to the grocery store, I can shop without taking the special cart," she says. "I'm so grateful to Patrick for telling me about these classes."
For a limited time Penrose Physical Therapy is offering to new clients 3 small group training sessions for $45. Learn more by visiting the Penrose & Associates Physical Therapy website or calling 360.456.1444.
Sponsored