Throughout the month of July, the City of Lacey will celebrate National Parks and Recreation Month. Recognizing the vital work of local Parks & Recreation staff, National Parks and Recreation Month is an opportunity to highlight not only the city's parkland, but also the dedicated employees who organize the city's recreational programming. With over 1,200 acres of parkland, and numerous opportunities for recreation available throughout the summer, National Parks and Recreation Month is an invitation for residents to enjoy the local outdoor space, amenities, and programs available through the City of Lacey.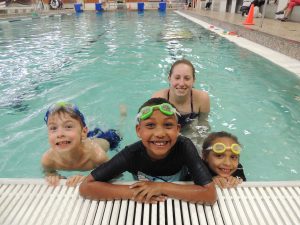 National Parks and Recreation Month was created by the National Recreation and Park Association, a nonprofit organization that advocates for health, conservation, social equality, and recreation through creating equal access to public park space for all Americans. Highlighting a different theme each year, this year's National Parks and Recreation Month will celebrate local Parks & Recreation professionals across the country. Throughout July, Lacey Parks & Recreation employees have planned a series of activities for all ages and interests, including family-friendly swim lessons, day camps, and family entertainment in Lacey parks, all modified to comply with social distancing regulations.
"National Parks and Recreation Month is a campaign that is celebrated every year to remind the community of how important Parks & Recreation is," explains Jeannette Sieler, recreation supervisor for Lacey Parks & Recreation. "Here in Washington State, summer is a perfect time for this. It's a time where we can really enjoy all the Pacific Northwest has to offer outdoors."
Lacey Parks & Recreation will also celebrate the department's dozens of employees through a month-long social media campaign. Each week, a different Parks & Recreation group will be introduced, sharing the work they do, fun facts about Lacey parks, and the importance of maintaining public parkland.
Due to the COVID-19 pandemic, Sieler says that this year's celebration of National Parks and Recreation Month will look different than in previous years. In accordance with Governor Jay Inslee's Safe Start Washington plan, in-person events organized by Lacey Parks & Recreation will have to abide by proper social distancing regulations. Many longstanding Lacey events have been significantly modified or cancelled for the community's health and safety.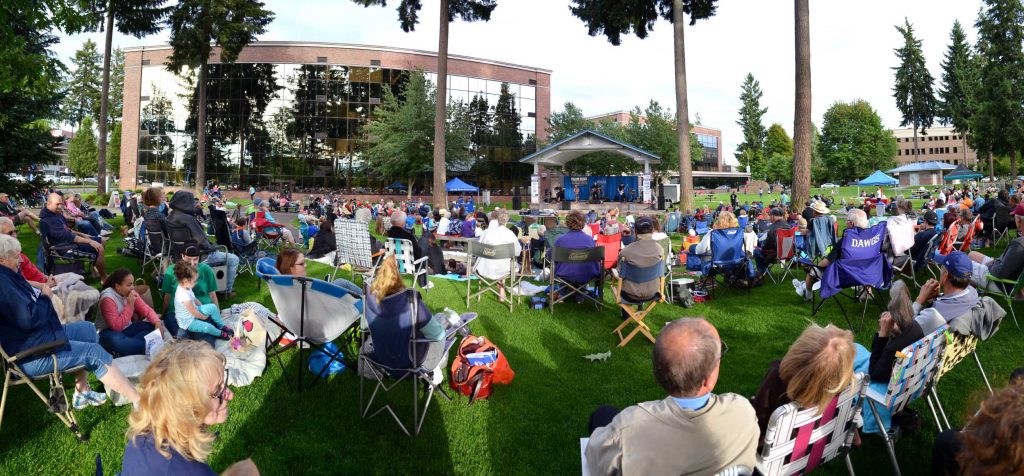 Despite challenges related to COVID-19, Lacey Parks & Recreation staff have adjusted their regular programming to provide virtual activities and in-person camps, classes and events that are both safe and fun. Sieler says under normal circumstances, her job is to create events that thousands of attendees can enjoy, but because of the pandemic, her team has had to organize activities for smaller and more distanced groups.
"I am really proud of our department and what our team has been able to do for the community," says Sieler. "We've really had to pivot the way we do things. My specific branch of our department is special events and my goal for the last 13 years has been to plan something amazing so tons of people can come and enjoy together. And that is the exact opposite of what we're able to do right now."
As an alternative to festivals with thousands of attendees, Lacey Parks & Recreation will focus on smaller entertainment events, including a modified Thursday Family Entertainment at Neighborhood Parks series. From July 9 through August 13, a series of live, family-friendly performances will take the stage at parks throughout Lacey. While under Phase 3 of Safe Start Washington, there will be a limit of 50 attendees for each event. Event tickets are free of charge, but will be required for entry.
Lacey Parks & Recreation is also moving forward with a series of Movies in the Park, beginning in August. Typically hosted at Huntamer Park, this year's series will move to Rainier Vista Community Park, so attendees can have more space to spread out. While in Phase 3 of Safe Start Washington, movie attendance will also be limited to 50 guests.
Throughout the summer, Lacey Parks & Recreation will also host a series of day camps to help kids learn and have fun during summer vacation. Modified to meet social distancing regulations, there are multiple camp themes, from sports camps, to STEM camps.
As residents begin to look for safe ways to learn, play, and engage with the community throughout the summer, National Parks and Recreation Month will continue to highlight the importance of providing recreational programming to the community.
"The importance of Parks & Recreation has so many aspects, from physical fitness to mental wellbeing," explains Sieler. "It's vital for people to have the chance to be out in nature, get some fresh air, and exercise. We've been able to provide this during much of the COVID-19 stay home, stay safe order with our parks, trails, and facilities. But, we've been chomping at the bit to plan events, classes, camps, and sports like we normally do, though now we're having to do it in a different way. We know the importance of quality leisure programs in everyone's life and we can't s back and not let recreation happen. We want our community to know we are here for them, and looking forward to providing recreational opportunities in the art, sports, fitness, and even the social aspects that enrich lives as we move through COVID-19 and beyond."
To learn more about Lacey Parks & Recreation programming, visit the City of Lacey website.
Sponsored